Fish Head Noodle (Yu Tau Mai)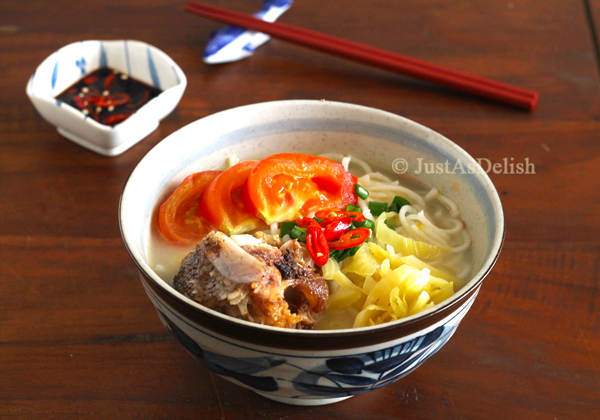 Recipe type:
Noodles / 1 Dish Meal
500g Garoupa Fish Head - cut into 2x3 inch pieces, clean & pat dry.
450g thick Rice Vermicelli - soaked in water for at least 30mins to soften & strain
70g young Ginger - thinly sliced
1 packet Pickled Mustard Green - thinly slliced
3 Pickled Plums
1 bunch Green Onions/Scallion - thinly cut
2 Tomato - cut into quarters
1 tablespoon Fish Sauce
1 bunch Choy Sum (Optional) - cut into 3 inches long
60ml (¼ cup) Evaporated Milk (I use 30ml milk + 30ml water)
A handful (about 30g) Dried Anchovies (Ikan Bilis)
1.5 liter (6 cups) Homemade Chinese Chicken Stock
2 tablespoon Chinese Rice Wine (HsaoTsing Wine)
Black pepper
Vegetable Oil - for shallow fry
In a medium pot, simmer chicken stock with the anchovies for 10 minutes. Drain out the anchovies.
Marinate fish head lightly with salt and pepper.
Heat up the wok with 1 cup (250ml) of oil, when the oil is hot enough (bubbling when a wooden chopstick is dipped into the oil), slowly add in the fish head to shallow fry on all sides until it's brown and crispy. It will take about 15 minutes.
Heat up a another large pot, stir fry ginger with 1 tablespoon vegetable oil until fragrant.
Add in drained chicken stock, tomato, 1 cup of chopped mustard greens, and pickled plums to the pot. Let it boil over high heat for 10 minutes and lower the heat to simmer for another 10 minutes.
In another medium pot, bring 1 liter water to boil, add vermicelli to boil for about 1 minute until softened, then drain dry with a strainer. Set aside. Blanch choy sum for 1 minute.
To serve, put the cooked noodles and fried fish head into a serving bowl. Add evaporated milk and rice wine into soup, bring to a quick boil, then pour the soup over the noodle.
Garnish with tomatoes, pickled mustard green, green onions and choy sum. Serve with the soy sauce mixed with chopped bird's eye chillies or red chillis.
Fish fillet can be used instead of fish head
Recipe by at https://justasdelish.com/fish-head-noodle-yu-tau-mai/