Homemade Chinese Chicken Stock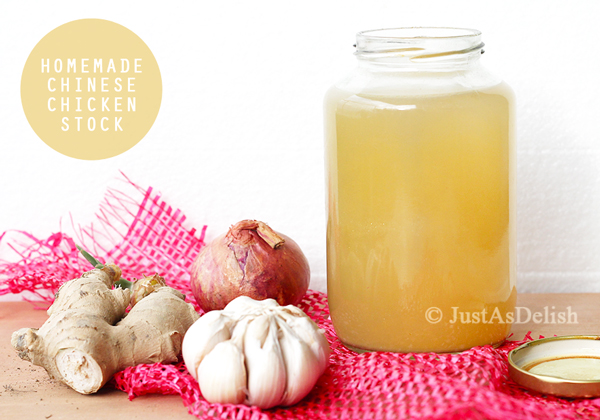 Recipe type:
Made from Scratch
1.5 kg chicken carcass - trim off excess fat & cut half pieces
2 inch Ginger - thickly sliced
10 Garlic Cloves
1 Red Onion
1 medium Carrot
3.5liter Water
Bring water to a boil in a 5 liter pot. Place chicken carcass in a big bowl and pour some boiling water over the bones to blanch off the impurities and scum.
Drain the bones and place them with the remaining ingredients into pot and bring to boil on high heat.
Reduce heat to a gentle simmer for 3 hours. Skim off the impurities and fat with a ladle.
Pour the stock over a fine sieve into a big bowl. Don't press the vegetables or the soup won't be clear.
Cool down and store in refrigerator for up to a week or in freezer for 2–3 months.
You can freeze the chicken stock into an ice-cubes and store in a sealed plastic bag for up to 3 months.
Recipe by at https://justasdelish.com/homemade-chinese-chicken-stock/