Kuah Kacang Ayam (Satay Sauce Chicken)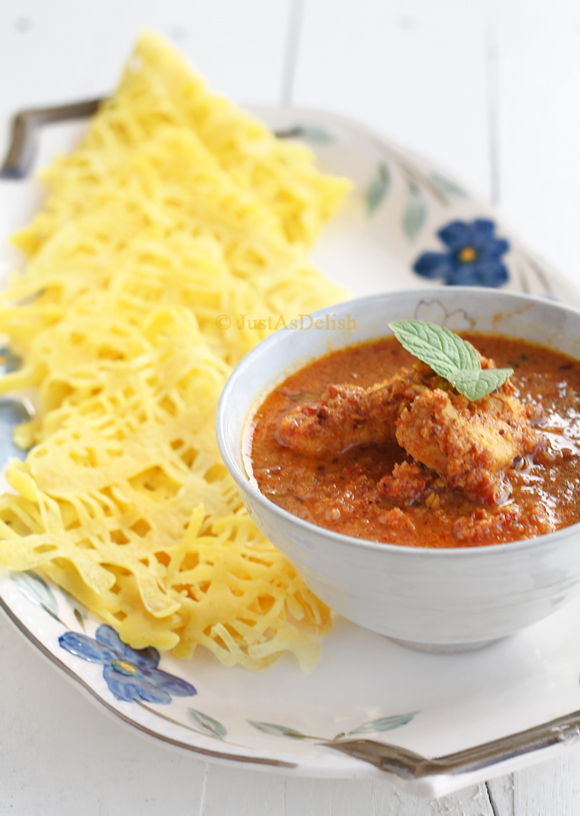 500g Deboned Chicken Thigh - cut into 2 inch pieces
500g (2 cups) Roasted Peanuts - pound / grind roughly
2 tablespoon Brown Sugar / Jaggery
1 teaspoon Salt
2 inch Turmeric Leaf - chiffonade (roll up and thinly slice) - optional if you can't find turmeric leaf
250ml (1 cup) Water
10 Shallots
3 Garlic
1 inch Ginger
1 inch Lengkuas / Galangal
2 stalks of Lemongrass
10 Dried Chili - remove seeds & soak in warm water
Grind chili paste ingredients in processor or pound with pestle & mortar into paste. If using blender, add some cooking oil to assist the blending.
Heat up a medium pot with 3 tablespoon of oil, add in chili paste and saute until the oil breaks away from the paste. Add chicken and saute 2-3 minutes until it is fragrant and cook through. Add in ground peanuts, turmeric leaf and 1 cup of water, bring to a boil and reduce heat to simmer for about 15 mins until the sauce thickens. Remember to stir the sauce occasionally so that it doesn't burn at the bottom of pot.
Finally add sugar & salt to taste. Serve warm with roti jala or nasi impit (compressed rice cake).
Recipe by at https://justasdelish.com/roti-jala-kuah-kacang-ayam/