Ten-Minutes StoveTop Granola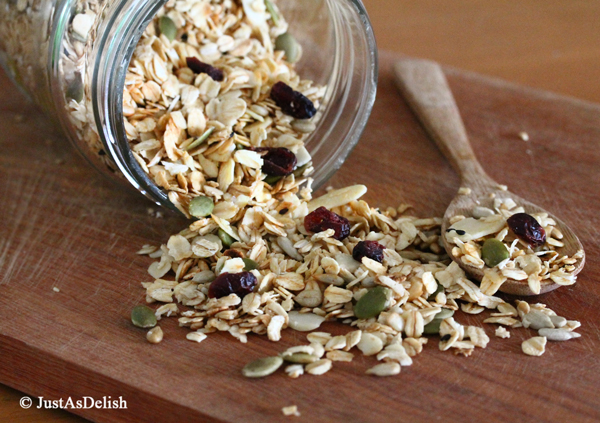 Recipe type:
Breakfast, Snack
2 cups (350g) Rolled Oats (other options: millet flakes/quinoa flakes/barley flakes)
1 cup (100g) Nuts – I use slivered almonds & chopped walnuts
½ cup (50g) Seeds – I use sunflower seeds, pumpkin seeds and sesame seeds
½ teaspoon Spices – I use ground cinnamon & a pinch of ground cardamom
2 tablespoon Wet Sweetener – I used Grade B Maple Syrup
3 tablespoon Oil – I use Olive Oil
a pinch of Sea Salt
½ cup (100g) Dried Fruit – I use Dried Cranberries
Place all ingredients (except dried fruits) in a big mixing bowl and mix well with a spatula.
Heat up a large pan on medium heat, pour mixture into pan and stir occasionally for about 5 minutes, making sure the mixture gets toasted evenly.
* This recipe can be doubled or made into bigger batches. You will need to divide the cooking into 2 times or more on the pan. Make sure the granola is spread on a thin layer on the pan for even cooking.
Recipe by at https://justasdelish.com/ten-minutes-stove-top-granola/