Musabaha (Whole Chickpea Hummus)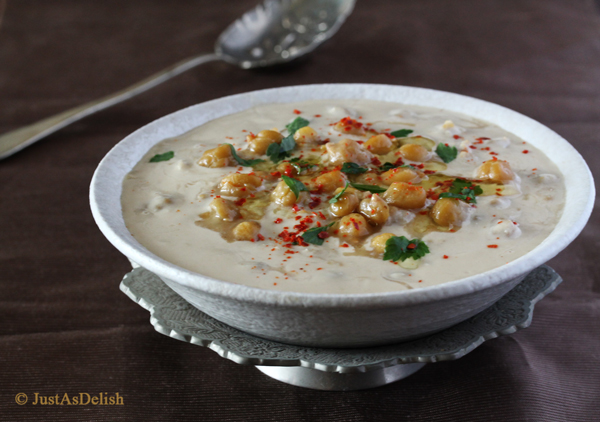 Recipe type:
Appetiser / SideDish
125g Dried Chickpeas
½ teaspoon Baking Soda
½ tablespoon Ground Cumin
35g Tahini
2 tablespoon Lemon Juice
1 clove Garlic
1 tablespoon Iced Water
1 tablespoon Oiive Oil
1 tablespoon chopped Parsley
½ teaspoon Paprika
Salt and Black Pepper
35g Tahini
30ml Water
½ tablespoon Lemon Juice
¼ clove Garlic - crushed / finely minced
Pinch of Salt
5g Parsley - finely chopped
½ Green Chili - finely chopped
2 tablespoon Lemon Juice
1 tablespoon White Wine Vinegar
1 clove Garlic - crushed / fined minced
Pinch of Salt
Start a day before to soak chickpeas with cold water, at least twice their volume, and leave to soak overnight.
The next day, place a medium saucepan on high heat and cook chickpeas with sodium bicarbonate for 3 minutes, stirring constantly. Add 700ml water and bring it to boil. Cook, skimming off any foam and any skins that float to the surface. The chickpeas can be cook for anywhere between 30 and 40 minutes, depending on the type and freshness.
While the chickpeas are cooking, prepare tahini sauce by mixing all the ingredients in a small bowl. Add a little water if needed to get a consistency slightly runnier than honey.
In another small bowl, mix together all the lemon sauce ingredients.
Once the chickpeas are done, they should be very tender, breaking up easily when pressed between your thumb and finger, almost but not quite mushy. Drain the cooked chickpeas, reserving 40ml of the cooking water. You should end up with roughly 300g of cooked chickpeas. Keep ¾ (225g) of the chickpeas in a bowl, mixing them with the cooking water reserved earlier, cumin, ¼ teaspoon salt and freshly ground black pepper. Keep them somewhere warm.
Place the remaining chickpeas (75g) in a small food processor and process until you get a stiff paste. While the machine is running, add tahini paste, lemon juice, garlic and ¼ teaspoon salt. Finally, slowly drizzle in the iced water and allow it to mix for about 3 minutes until you get a very smooth and creamy paste, that has turn into hummus.
To serve, place hummus into a shallow serving bowl, don't level or press it down. Spoon warm chickpeas on top, followed by tahini sauce, the lemon sauce and a drizzle of olive oil. Garnish with chopped parsley and a sprinkle of paprika.
Recipe by at https://justasdelish.com/musabaha-whole-chickpea-hummus/