Zucchini Noodles (Zoodles!) with Sundried Tomato Pesto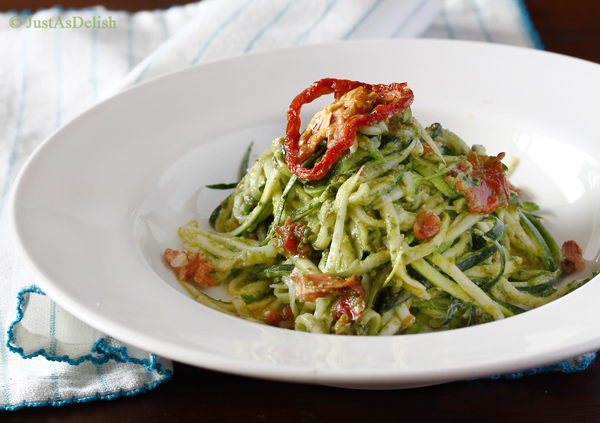 ½ cup (20g) Sundried Tomatoes + 2 pieces for garnish
2 cups (50g) Basil Leaves
2 Garlic cloves
Juice of ½ Lemon + plus more for storage
¼ cup Olive Oil
1 cup (100g) Walnuts
1 teaspoon Sea Salt
Use a vegetable peeler to drag along the zucchini to create long, spaghetti-like noodles. Rotate around the zucchini, and continue to peel into noodles until you hit the seeds.
Place noodles in a large bowl, add the pesto and toss until everything is well coated.
In a bowl, cover sun dried tomatoes with just enough water to soak it for 10 minutes till soft. Set aside 2 pieces, cut into small chunks for garnish.
In a food processor, blend all the ingredients until well combined. Refrigerate with extra lemon juice squeezed on the top to prevent oxidation, until ready to serve.
Recipe by at https://justasdelish.com/zucchini-noodles-sundried-tomato-pesto/