Hong Kong Style Steamed Cod Fish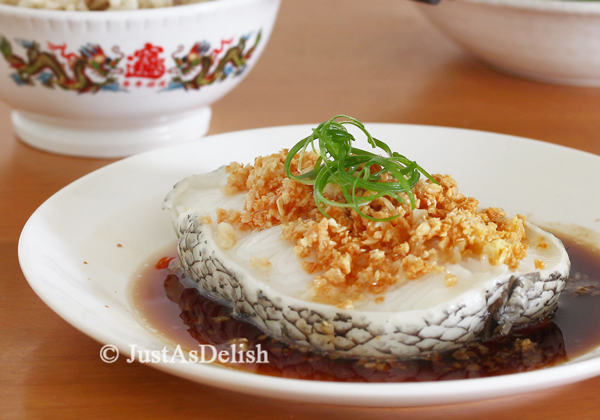 1" (2.5cm) thick Fresh Cod Fish Steak
2 slices Ginger
a dash of White Pepper
3 clove Garlic - finely chopped
1 tablespoon Cooking Oil
1 Spring Onion (green part) - cut into 1" length, thinly sliced and soaked in ice cold water
Clean fish and pat dry. Place ginger in the middle of the steaming dish, and place fish on top the ginger.
Bring water in the steamer/wok to a boil on high heat and place dish to steam for 7 minutes.
While waiting, heat sauce ingredients in a pot to melt the rock sugar.
In another pan, fry chopped garlic with oil until golden brown.
Check for doneness of fish. When done, remove fish from the steamer and pour away the liquid that condensed on the dish.
Add a dash of white pepper and pour the sauce over the fish.
Recipe by at https://justasdelish.com/steamed-cod-fish/