Flourless Peanut Butter Cookie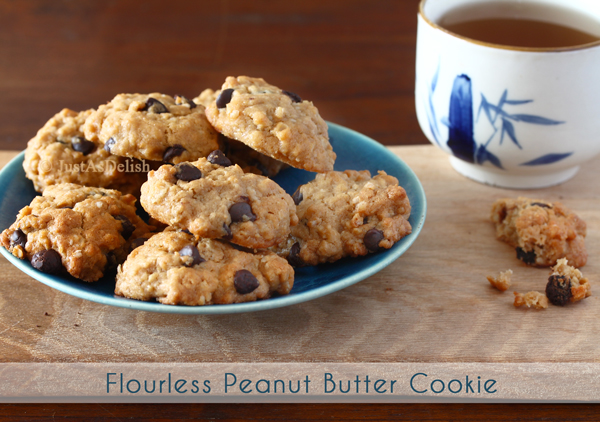 1 cup (250g) Creamy Peanut Butter
2 Large Eggs
⅔ cup (50g) Quick Cooking Oats
½ cup (40g) Chocolate Chips
1 teaspoon Baking Soda
Preheat oven to 350 degrees F and line baking tray with baking paper.
In small bowl, mix oats and baking soda.
In a large bowl, beat peanut butter and eggs with a whisk (or wooden spoon) about 3 minutes until smooth. Gently mix in oats and chocolate chips with a wooden spoon. The dough should be pretty sticky.
Roll cookies into 2 inch dough balls with your hands and place onto baking tray about inches apart. If you are lazy, just scoop using 2 tablespoon (if you don't mind it being not so pretty). Lightly flatten the top of the cookie with your hand.
Bake cookies for 9-11 minutes and remove when edges barely begin to turn a golden brown. The cookies may look a little underdone, but they will continue to cook once you remove them from the oven. Cool for 2 minutes on the tray, then transfer to a wire rack to cool completely.
* You can substitute almond butter or another nut butter to replace peanut butter.
* Dried cranberries / raisins can be used in place of chocolate chips.
* I recommend doubling the recipe because they will disappear quickly
Recipe by at https://justasdelish.com/blog/flourless-peanut-butter-cookies/