Dragon Fruit Agar Agar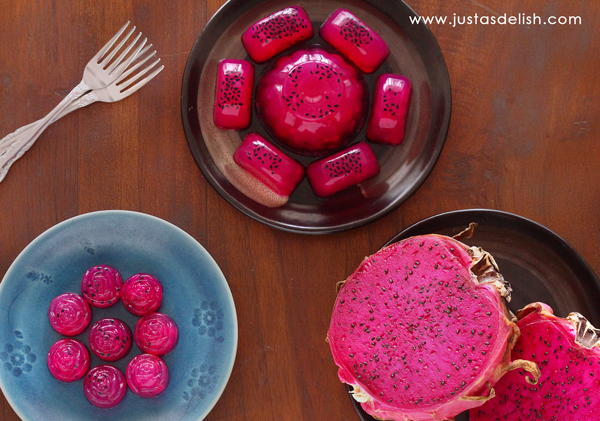 1.3liter (5 cups) Water
20g Agar Agar Strips
150g Raw Honey (or sweetener of choice)
1 cup Dragon Fruit puree (1 medium size Dragon Fruit mashed with fork)
3 Pandan Leaves - tied into a knot (Optional)
Bring water to boil in a medium pot and add in agar agar strips with pandan leaves. Lower the fire to simmer, stir occasionally until agar agar strips has fully dissolved in about 2 minutes. Switch of the fire and remove pandan leaves.
Let the solution cool down for 1-2 minutes before adding in dragon fruit and honey (high heat will destroy the enzymes of the fruit and honey). Stir well.
Pour into mould or (20cm x 20cm) tray. Once it has cool down, chill in the fridge for 30mins.
To release from mould, use a butter knife to run around the edges and gently squeeze the mould to release the agar agar. For the agar in the containers, use a butter knife to cut them into square or rectangular shapes.
Recipe by at https://justasdelish.com/dragon-fruit-agar-agar/