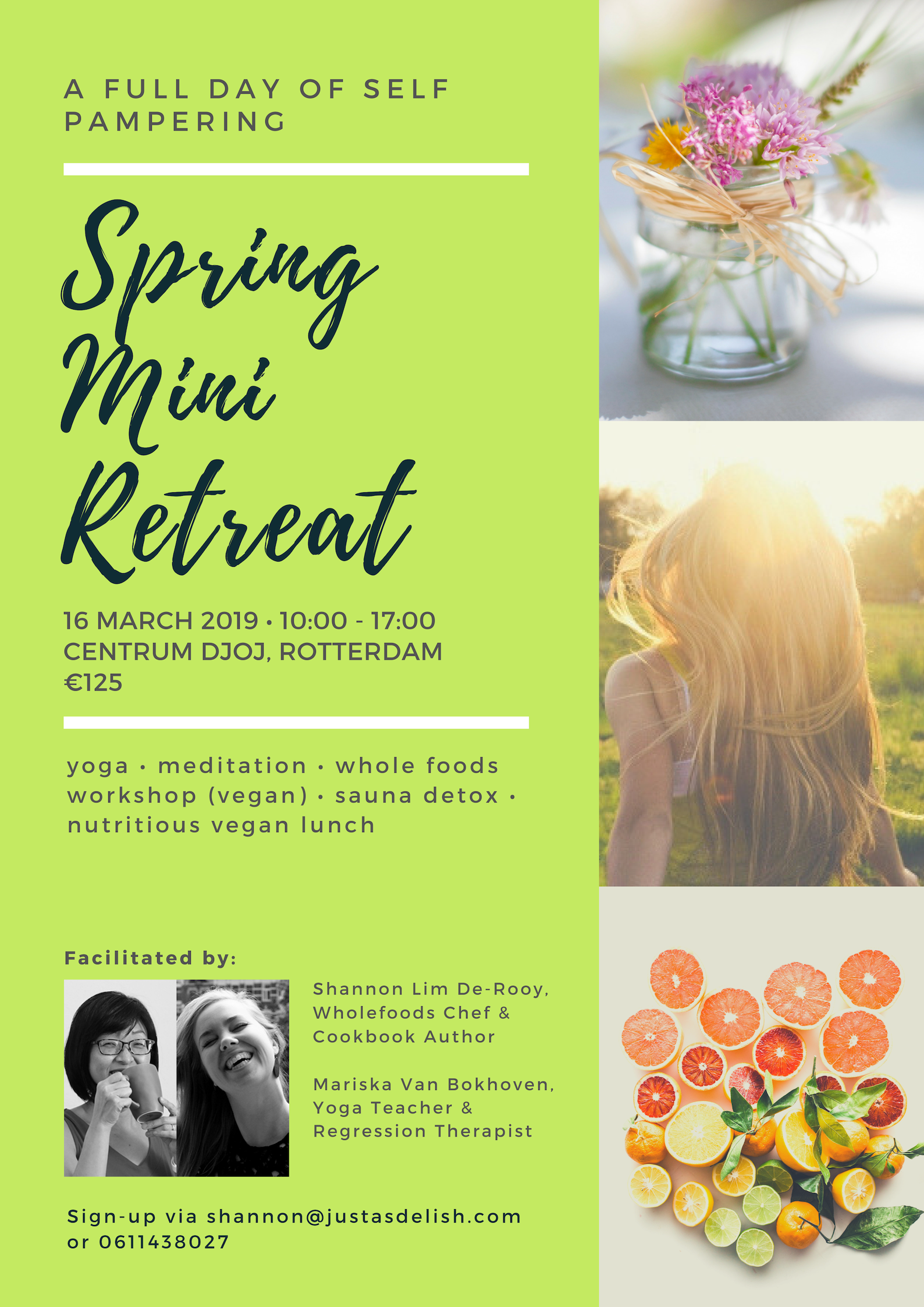 Start your spring fresh with Spring Mini Retreat
Feeling sluggish after a long winter? Give yourself the ultimate gift of selflove. |A day full of self pampering, nutritious drinks and food, yoga, meditation, learn how to prepare nourish foods and detox your body in the sauna!
What benefits can the retreat bring you?
– Cleanse your body and mind from toxins
– Calm your mind
– Destress & relax
– Improve sleep
– Enhance circulation
– Strengthen digestion
– Balance out the energy body (chakras)
– Connect with like-minded people
– Happiness and joy!
Date: 16 March 2019 (Saturday)
Time: 10:00 – 17:00
Guided Meditation & Yoga
Lunch (Vegetarian)
WholeFoods Workshop
Yoga Nidra
Sauna
Fee: €125p.p
All drinks, food, materials plus a visit to the sauna are included in the price.
The Facilitators
Mariska van Bokhoven is a Yoga teacher and Regression Therapist. She has been trained in Hatha and Vinyasa Flow Yoga by Indian teachers and has her own Yoga studio for (semi) private Yoga classes. Her practice for Regression Therapy is open to everyone who needs guidance in understanding the blocks, patterns and issues in their lives.
Mariska aspires to balance the body and mind, while inspiring people to live a more conscious lifestyle. She blogs for the Amsterdam Bewustzijn (Awareness) School where all these elements of conscious living come together.
www.livingpractice.life
www.livingpractice.life/nagabandhuyoga
Shannon Lim-de Rooy is a cooking instructor and author of Asian Raw Food Kitchen. After her body crashed in her early 30s, Shannon's health significantly improved with healing foods and lifestyle changes through various natural remedies such as Naturopathy, Traditional Chinese Medicine and Ayurveda. Since then, she strive to empower others with nourishing food through her blog and workshops.
www.justasdelish.com