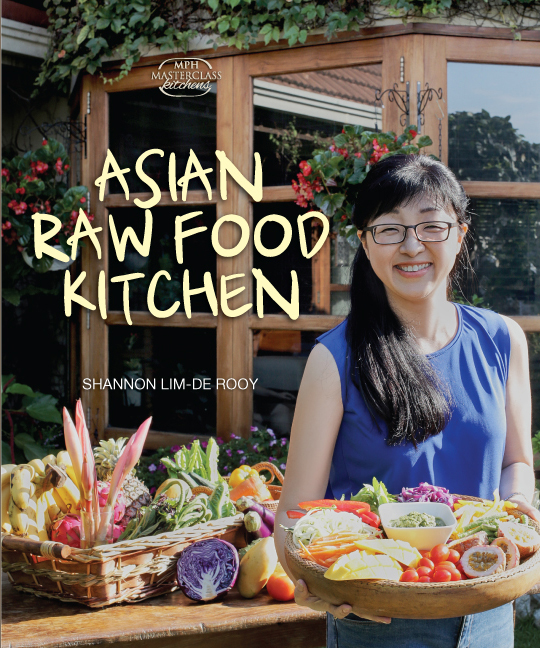 'Bestseller in Malaysia and Singapore'
'3rd place in Best of Asian Cuisine in Asia 2017 by World Gourmand Cookbook Awards'
Asian Raw Food Kitchen will show you just how deliciously simple raw food preparation can be. Raw food is more than just salads. My book takes you back to bare basics to enjoy the amazing benefits and incomparable flavor of plant based food – nature's healthy bounty.
Raw Food diet isn't just an approach to eating, it is a way of life that focuses on whole and unprocessed food ingredients. This lifestyle is the foundation of good health and can be enjoyed no matter what your dietary preference, whether it's omnivorous, vegan, paleo, or allergy. And best of all, anyone start eating healthier right away with just a knife and blender.
Drawing inspiration from my Asian roots, this book celebrates the rich Asian flavours with simple and quick recipes using mostly Asian ingredients. It is a 150-page guide to introduce more plant-based produce to one's meals, with recipes and instructions for Light bites, Main meals, Snacks, Dessert and Drinks, as well as How to Get Started with Raw Food, Techniques, Tools and Ingredients.
"A raw food cookbook is unusual and innovative in Asia. So this is a quite interesting book, which may start a new trend for good"
Edouard Cointreau, President of the Jury – Gourmand World Cookbook Awards
Here are some impressions from the book: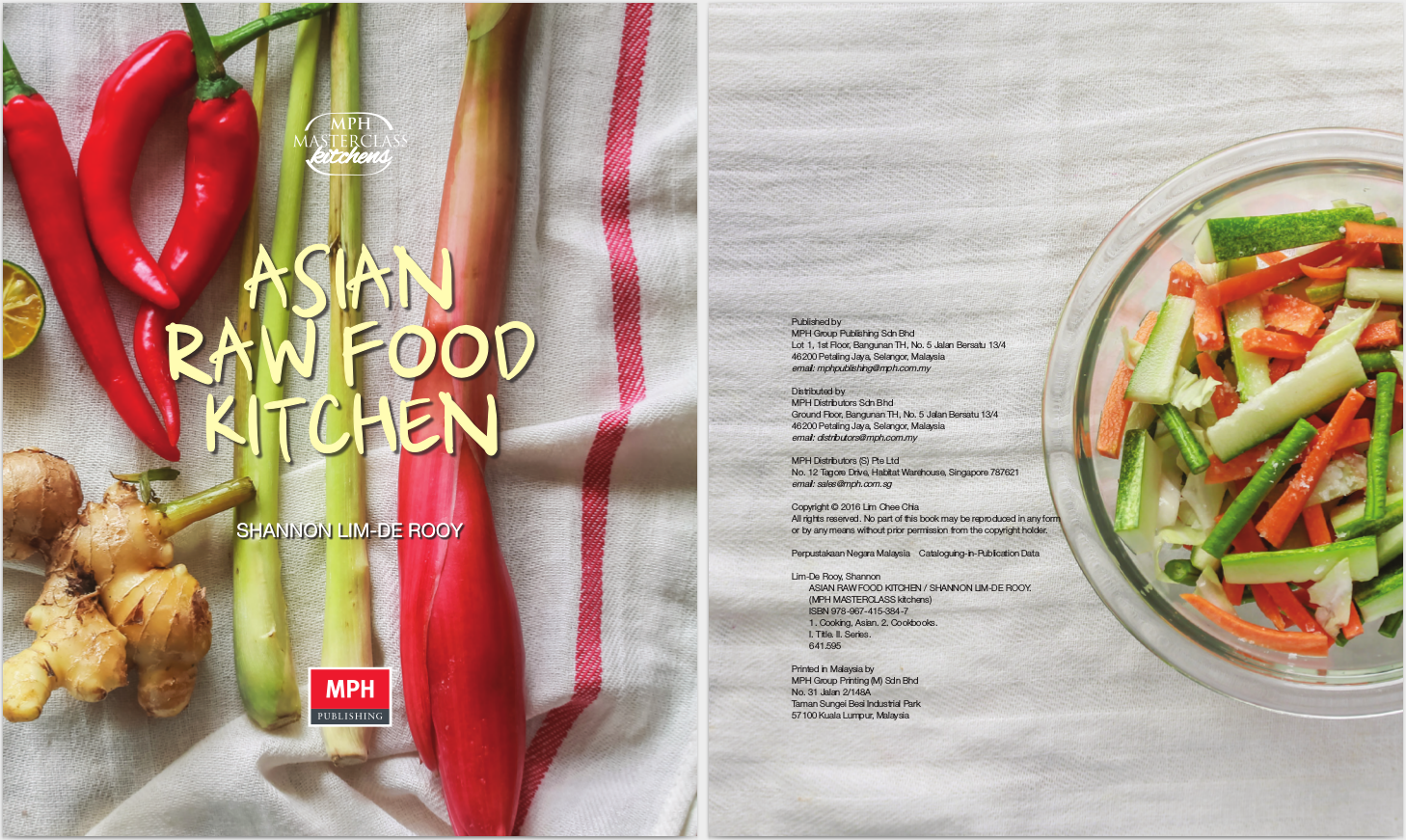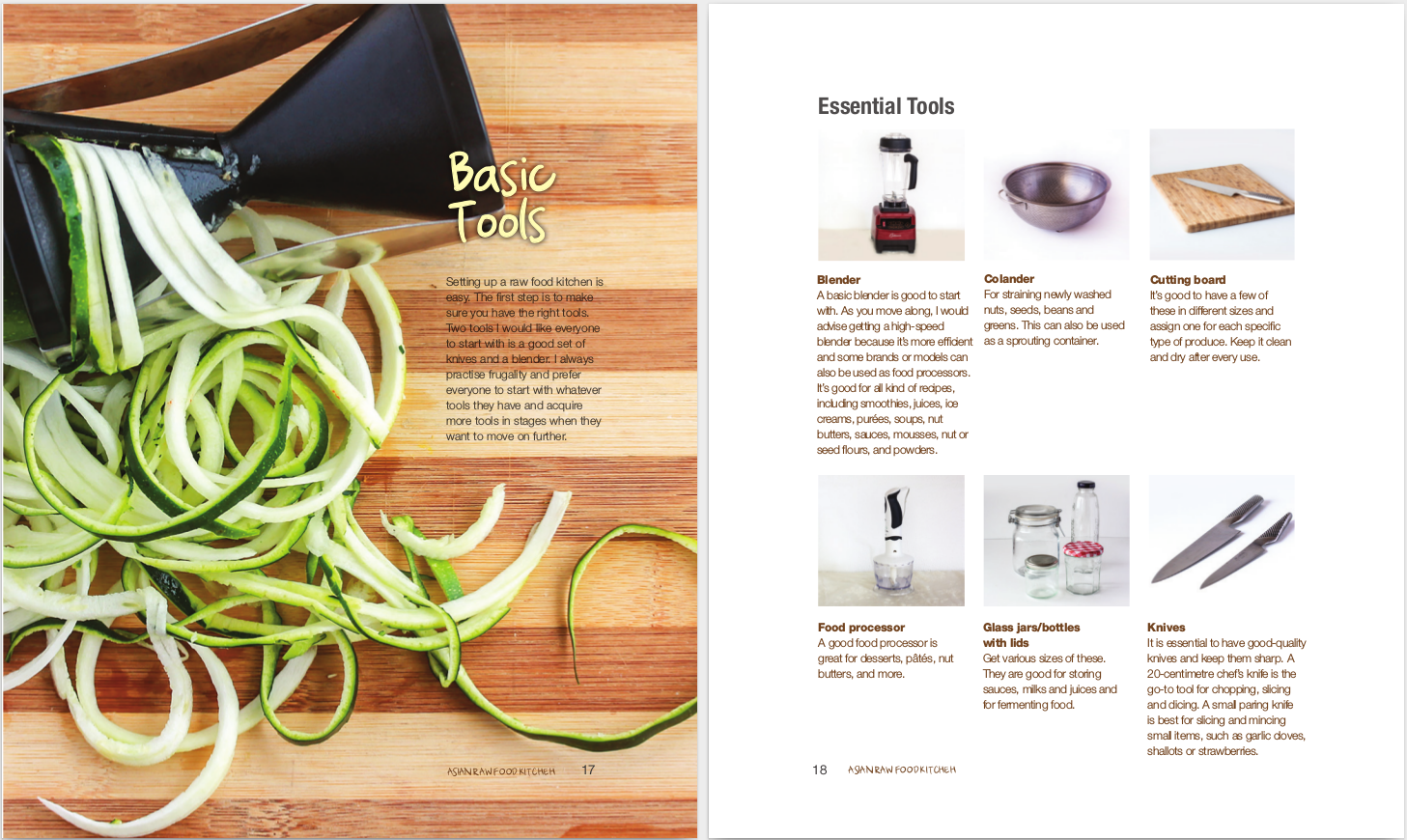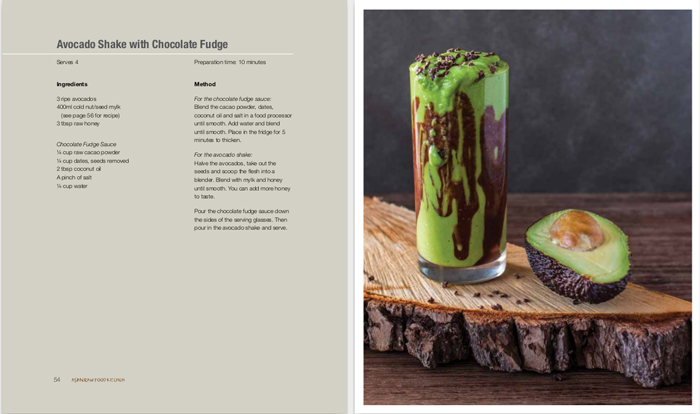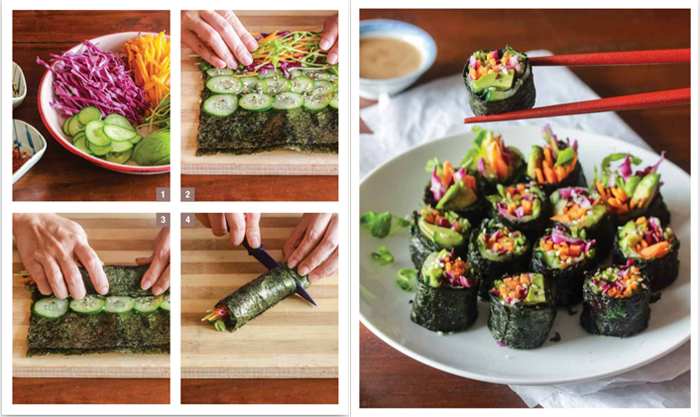 Here is a clip of my book tour in Malaysia:
If you are interested, you can join the affiliate program and sign up here.
BEFORE YOU BUY THIS BOOK, PLEASE READ THE FOLLOWING:
This book is for you if:
• you are want to learn raw food basics.
• you love raw food and asian flavours.
• you do not enjoy cooking and would like easy healthy recipes.
• you know someone who loves raw food and want to give this book as a gift.
This book may not be for you if:
• you are already experienced in raw food, as I've mentioned above the recipes in the book are mostly for beginners.
GET ASIAN RAW FOOD KITCHEN NOW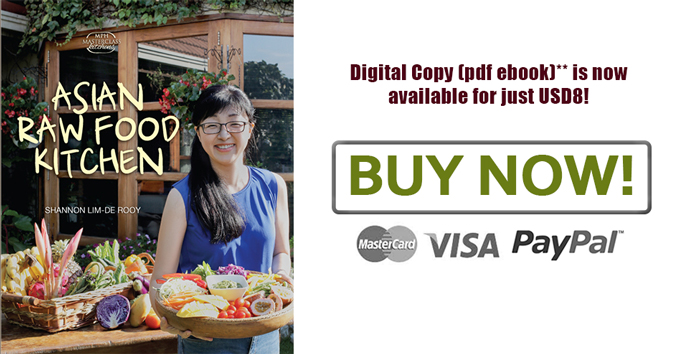 * 20% of proceeds from the Digital copy will go to charity. The rest of the proceeds will go to up keeping this site.
(For your security, all orders are processed on a secured server.)
Physical copies of the book are available at bookstores in Malaysia and Singapore.
** IMPORTANT NOTE ABOUT DIGITAL PDF COPY
The digital copy a pdf file ONLY. It can be read on laptop, desktop computer, smartphones, and tablets. For the best reading experience, Adobe Acrobat Reader, which you can download for free here, is recommended.
*** REFUNDS AND RETURNS
There are no returns and no refunds on the purchase of the digital copy.