It's incredible that many delicious food have been fused & created due to influences from another culture. Like Chinese Fortune Cookies (can't find them in China) or Dutch Baby Pancakes (nope, the Dutch have not heard of them) or Japanese Cheesecake (made famous by the Japanese and became a craze in some Asian countries). Same goes to this Portuguese Chicken in Macau, I doubt this dish can be found in Portugal.
Portuguese influences are strong in Macau since their colonisation from the 16th century till its handover to China in 1999. Most of Macanese food are Chinese – Portuguese fusion, and one of them is Portuguese chicken. This dish is like a mild thick chicken curry with the saffron and coconut milk combination.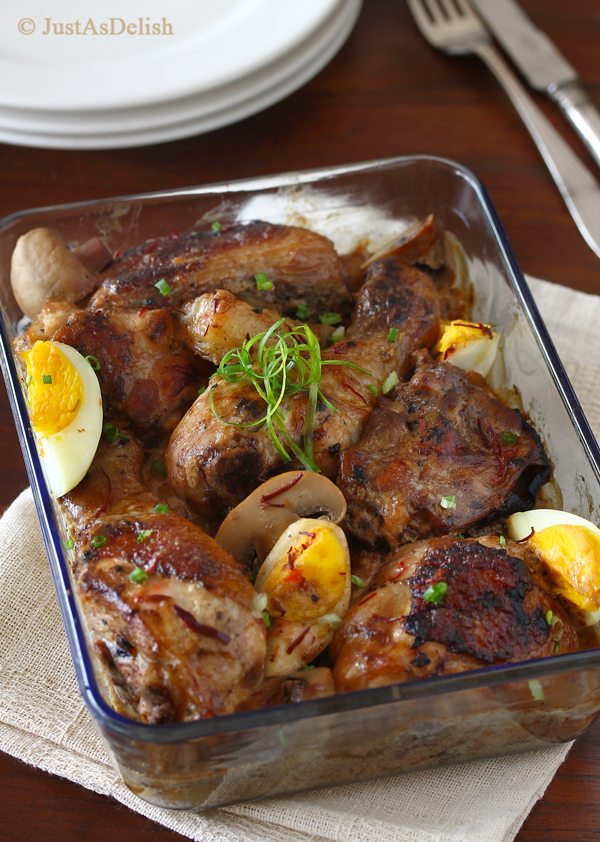 I was lucky my friend brought back some saffron during her trip to India, it is the world's most expensive spice but yet it is saffron that gives the dish an intense aromatic flavour. While researching on this dish, I found that this recipe has evolved into substituting saffron with turmeric powder due to budget constrain. The recipe might look tedious, but once the preparation is done, it's pretty quick. I like that this is a pretty well balanced 1 pot meal, best served with a side of vegetables for a complete meal.
I am submitting this post to Asian Food Fest ( Hong Kong + Macau ) hosted by Annie of Annielicious Food

Macanese Portugese Chicken (Coconut Saffron Chicken)
Author:
Adapted from here
Ingredients
2 Whole Legs - cut into 3 pieces each
2 tablespoon Red/White Wine
2 teaspoon Soy Wauce
½ teaspoon Salt
1 inch Ginger - sliced
1-2 sprigs of Spring Onion - white parts only
250g Potato - cut into chunks, parboiled for 5 minutes
1 Red Onion - cut into wedges
100g button mushrooms (I used canned)
2 hard boiled eggs - quartered
Gravy
½ teaspoon Saffron
125ml (1/2 cup) Boiling Water
1 tablespoon Cornflour
180ml Coconut Milk
Salt and Pepper to taste
Instructions
Marinate the chicken with wine, soy sauce and salt for at least 1 hour or overnight.
Pour with boiling water over saffron and infuse for 30 minutes.

Boil the potatoes (5 minutes) and eggs (boil 1 minute, cover and sit for 12 minutes).
Heat wok/pan and put in 3 tablespoon of coconut oil. Put in ginger and spring onion and fry until golden. Remove from the oil.
Turn heat to high and put in chicken pieces, onion wedges and parboiled potatoes to brown. Remove onion and potatoes once they brown slightly. Brown the chicken for 2 minutes on each side. Remove and set aside.

Preheat oven at 200C.
Put half of coconut milk in a clean pan to simmer on medium low heat. Once it is simmered, switch off or remove from the heat Put in the flour and stir until no lumps.
Turn the heat back on. Add in the saffron infusion and bring back to a boil. Put in the chicken, onions and potato chunks and simmer for 5 minutes or until the gravy has thickened. Taste and season with salt and pepper.

Scoop potatoes and onions onto a baking dish. Place chicken pieces on the top layer. Slot in the eggs and mushroom in between. Drizzle the remaining coconut milk into the dish.