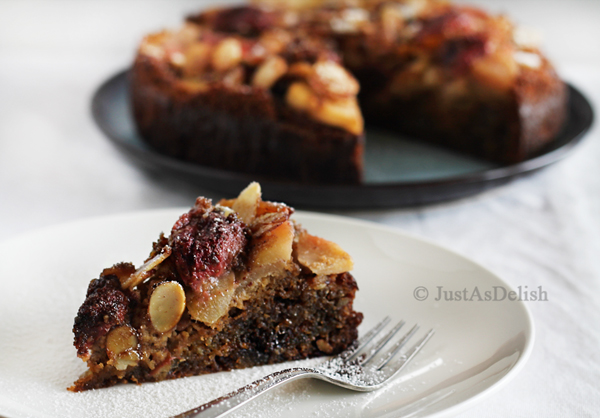 During the launch of the cookbook Think Out Of the Shell Volume II , I attended Chef Li Goh's demo Gluten Free Apple Raspberry Cake. She just threw everything together with such ease within minutes that she has everyone at awe. There's something about her carefree free-spirited debonair that had me wanting more of the food she prepares. Everyone just gobbled down a small piece of the cake even though it was still hot from the oven.
Is it no surprise that the 1st recipe I decided try is the Chef Li Goh's gluten free cake? The recipe in the cookbook uses apple and redcurrant, with suggested variations of Pear & Raspberry, Peach and Blueberry, Apples with Walnuts or Banana with Dark Chocolate Chunks. Usually bakes with buckwheat & almond flour makes a dense & dry texture, but this cake is so moist and delicious! I immediately ate 2 slices for breakfast and 1 slice for dinner and the cake tastes even better the next day. In my next attempt, I will further reduce the amount of sugar and replace some butter with olive oil.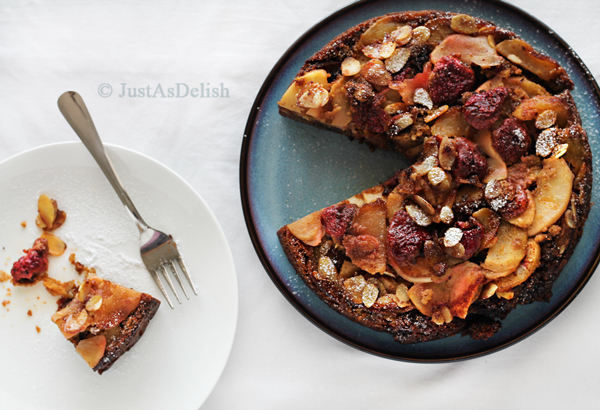 Quoting Chef Li Goh "Why couldn't we have dessert like this everyday if it's filled with goodness ingredients?"
Gluten Free Apple Strawberry Cake
Gluten Free Apple Strawberry Cake - with almond & buckwheat flour. Simple yet deliciously recipe that never fails to impress. taste even better the next day.
Author:
Li Goh of The Haute Food Co
Ingredients
250g Butter
200g Sugar (I used 150g brown sugar)
2 teaspoon vanilla paste / extract
4 eggs
180g Almond meal (ground almond)
60g Pecans - finely chopped (can substitute with almond/walnut)
30g Buckwheat Flour
½ teaspoon Salt
2 Large Green Apples - cored and thinly sliced
10 Strawberries - sliced half
2 handfuls Almond Flakes
2 teaspoon Sugar
½ teaspoon Cinnamon Powder
Instructions
Beat butter, sugar & vanilla paste together at medium speed. Slowly increase to high speed.
Add eggs, one at a time.
Mix in almond meal, pecans, buckwheat flour and salt by hand.
Prepare a 20cm round tin by greasing and lining the base and sides with parchment paper. (Do not skip this step or the cake may stick to the tin
Pour the batter into the cake tin, then lay green apple & strawberry slices on top of batter. Top with almond flakes and scatter the cinnamon sugar (combine sugar + cinnamon powder)
Bake in pre-heated oven at 180C until inserted cake needle comes out clean, about 50-60minutes.
Think Out Of The Shell Volume II is available for sale at MPH Bookstores.