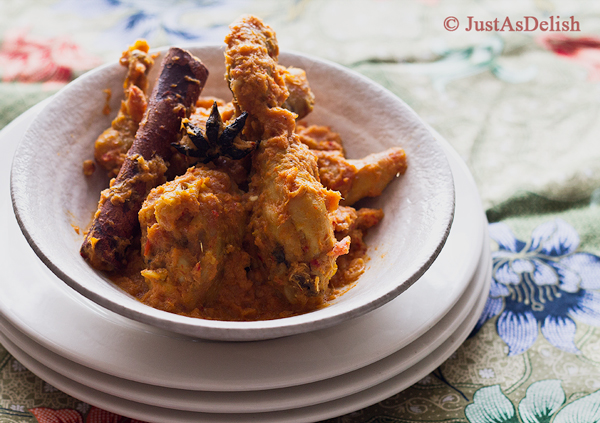 Tomorrow is Hari Raya or Eid, the biggest Muslim holiday that marks the end of Ramadan, or the Islamic holy month of fasting. In Malaysia, all races come together to celebrate all types of festivities with open house, and we are served with lots of food.
My favourite Hari Raya open house dish is Ayam Masak Merah (Chicken cooked in rich creamy spicy tomato sauce). Yes, Ayam Masak Merah is not an everyday affair, it is a unique dish to be enjoyed on special occasions such as "traditional Malay weddings" and Hari Raya or Eid Celebration.
This dish shares similar basic spices (cinnamon, cloves, star anise and chillies) to Chicken Curry, but Ayam Masak Merah has a unique distinctively tantalizing flavour. The chicken pieces are marinated with turmeric and deep-fried till golden in colour, then added to the simmering sauce. I absolutely hate the big clean-up after deep-frying. I tried using the "oven-frying" trick, and Yes, it worked for me. So now you can choose to either the traditional deep-frying or the hassle-free & healthier method of "oven-frying".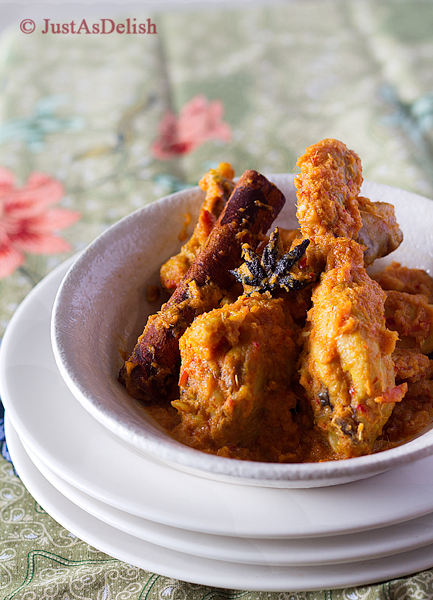 To my Muslim readers, I wish you all "Selamat Hari Raya Adil Fitri" and Eid Mubarak.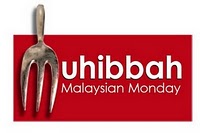 This is submitted to Muhibbah Malaysian Monday blog event

Ayam Masak Merah (Chicken Spicy Tomato Sauce)
Tantalizing Chicken in Creamy Spicy Tomato Sauce
Ingredients
1kg Chicken - cut into 8 pieces
10 Dried Chillies, soaked
1 Red Onion
3 cloves Garlic
20g Ginger
15g Galangal (Lengkuas)
3 Lemongrass
2 Star Anise
2 Cloves
2 inch Cinnamon
1 Cardamom
200g Tomato Puree
200ml Coconut Milk
Salt to taste
Vegetable oil for deep frying plus ¼ cup extra
Instructions
Rub chicken with turmeric and salt. Set aside for 30 minutes. Heat up the oil in a wok and deep fry the chicken pieces until golden in colour. Set aside. (For Oven Frying, Rub chicken with turmeric, salt and 3 tablespoon corn flour, marinate for 2 hours in the fridge. Arrange chicken onto the middle rack in the oven and place a tray on the rack below to catch the dripping oil. Roast for 30 minutes on 475F)
Roughly chopped red onion, ginger, galangal and lemongrass, then transfer to a blender or food processors. Add in chillies and garlic. Process into a paste.

Heat up the wok with ¼ cup of oil, sauté the spices (cinnamon, star anise, cloves and cardamom) until fragrant. Then add in the blended paste. Bring the heat up until the paste bubble then lower the heat. Simmer till the oil separates from the paste.

Add in tomato puree, coconut milk and chicken pieces. Bring up the heat for a quick boil, then lower to a simmer and cook until the sauce thickened. Add salt to taste.