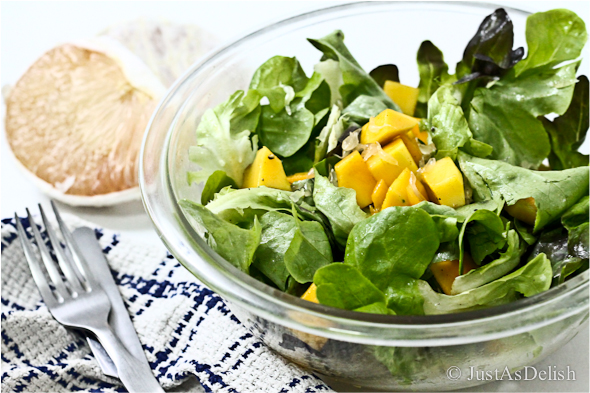 Time sure flies.. and it's already one year into blogging. It's a year of personal growth, lots of joy and some tears, this blog has been a very fulfilling journey for me, something I have not felt in a long time. I'm really proud of what I've achieved with this new hobby – be it cooking or photography. Occasionally, mama would ask "Why are you spending so much time with cooking new recipes and taking photos?" Being a typical asian mother that has gone through a hard life, she is always concerned about spending time on activities that does not translate into income generation. Mama, not everything is about money.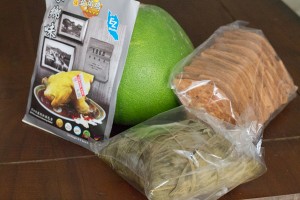 And not forgetting, I am very fortunate to have known lots of talented food bloggers and developed wonderful friendships. One of the perks is meeting them personally and tasting their goodies. 2 weeks ago, received some delightful Northern goodies from QuayPoCooks & Ping's Pickings.  Pomelo & Salted Chicken Herb from Ipoh, Bak Chang & Black Pepper Biscuit from Penang.
And last weekend, more yummy goodies brought by a bigger group of blogger meet-up. What do you expect with a group of food bloggers? More food of course! Macarons with kumquat, chocolate, chestnut, cointreau fillings and Hokkaido Orange Chiffon Cupcakes with whisky vanilla custard filling from QUAY PO Cooks, Pineapple Tarts from Ping's Pickings, Cream Puffs from Ling in De House,
Penang Achar made by Jocel's mom (FoodnTravella) & Arthur Wee brought Kumpua all the way from Sibu. And my Dark Chocolate Melts of course, which I forgot to take a shot. What a feast it has been, felt like it was my own celebration 🙂 Thanks fellow bloggers!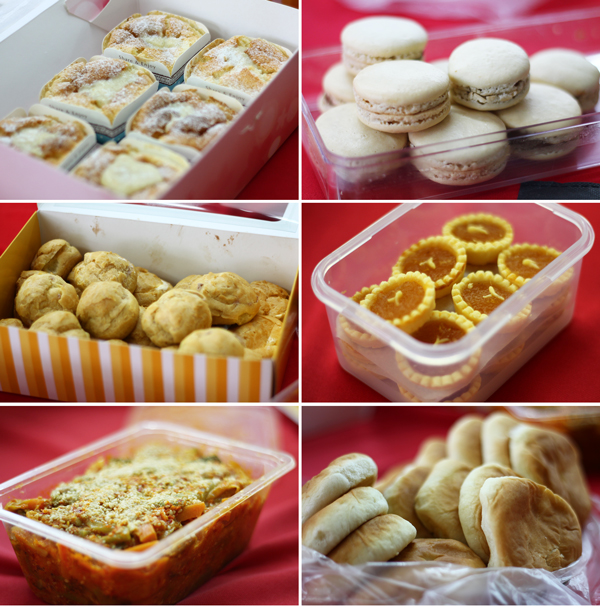 Most of the time, I just eat the pomelo by itself. For those who are not familiar with pomelo, it is a native citrus fruit in South East Asia, and tastes like a sweet, mild grapefruit. The pomelo given by QPC was very juicy, so I thought why not toss them together with mango for a fruity salad, with a dash of olive oil and vinegar. Sweet & sourish, light & fruity salad to beat the heat. This salad needs to be consumed immediately after it's tossed. But it doesn't matter because I finish it in one sitting.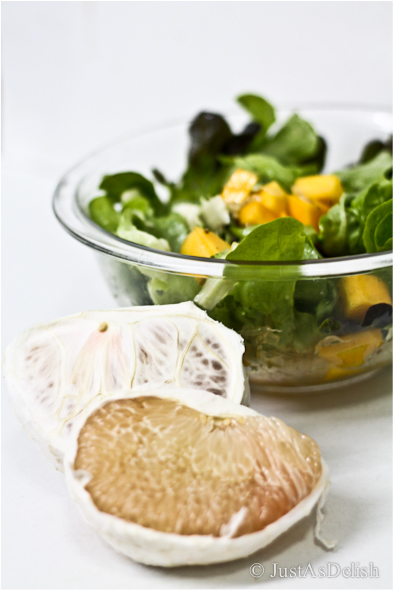 Mango Pomelo Salad
Sweet & sourish, light & fruity salad
Ingredients
1 Big Mango - cubed
2-3 Pomelo segments
Salad Leaves
Olive Oil
White Wine Vinegar / any type of vinegar
Pinch of Salt
Instructions
Toss all ingredients together & serve