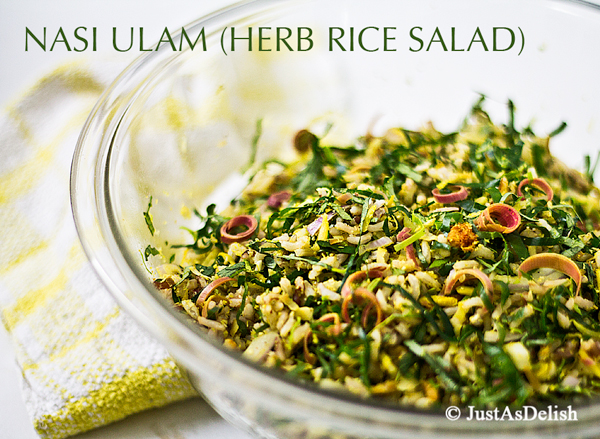 I was craving for Nasi Ulam when I saw my sister CH posted her dish on facebook a few weeks ago. The recipe she got from her friend is a simplified 5 ingredient version. I tried to make mine as original as possible.
Nasi Ulam, or loosely translated as Herb Rice Salad in Malay, is incredibly healthy and unbelievably addictive. Nasi ulam in Malaysia consist of cold cooked rice that is mixed with shredded herbs such as daun kaduk (wild betelnut leaf), pucuk gajus (cashew leaf shoots), onions etc. Kerisik (pounded toasted coconut) and other spices is also added. Sometimes shredded fried fish is mixed in. This version is common in North West Peninsular Malaysia. A type of nasi ulam in North East Peninsular Malaysia is called nasi kerabu.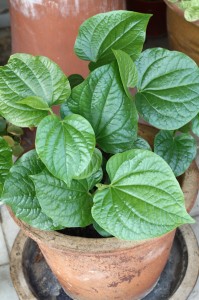 I went around looking for daun kaduk (wild betelnut leaf), but nobody is selling them, I was told to find them along the roadside or get them from someone's garden. I almost wanted to climb into someone's garden when my friend Jane saved me from getting myself into trouble 😀 She so happily got rid of 2 kaduk plants that was growing out of control, and now they are growing so fast on my balcony. The rest of the herbs can be easily found at the wet market or supermarket. You can view what the other herbs look like at Frozen Wing's Nasi Ulam post.
Like most Southeast Asian recipes, Nasi Ulam looks tedious to prepare but it just require a little patience to finely slice all the herbs. All the effort will be well worth it in the end when you are paid off with a huge bowl of Nasi Ulam that you can never seem to get enough of.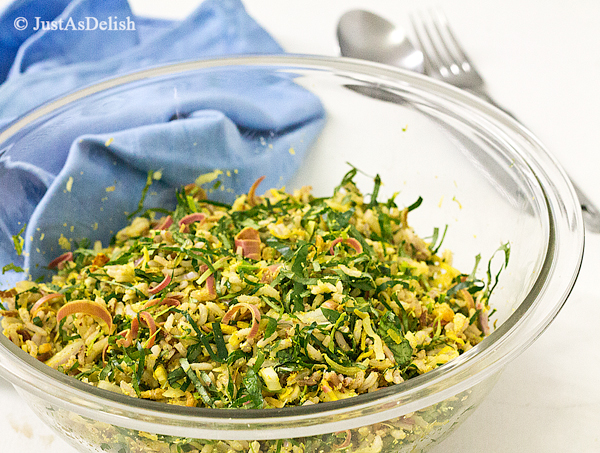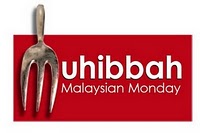 This is submitted to Muhibbah Malaysian Monday blog event hosted by Shaz of TestWithSkewer and Merdeka Open House : Uniquely Malaysia hosted by Babe in the City – KL
If you like this herb salad, you might want to check out my other similar recipes:
Nasi Ulam
Nasi ulam consist of cooked rice that is mixed with shredded herbs such as daun kaduk (wild betelnut leaf), pucuk gajus (cashew leaf shoots), onions etc.
Ingredients
600g Cooked Rice - cooled
75g Dried Salted Fish
75g Dried Prawns
½ cup Grated Coconut
Finely sliced:
1 stalk Lemongrass
2 Turmeric Leaves (daun kunyit) - I omitted
10 young Wild Betel Nut Leaves (daun kaduk)
6 Kaffir Lime Leaves (daun limau purut)
2 stalks Polygonum (daun kesom) - I omitted
3 Galangal Leaves (cekur leave)
2 stalks Thai Basil Leaves (daun selasih)
5 Mint leaves (daun pudina)
1 Wild Ginger Flower (bunga kantan)
5 Shallots
Seasoning:
½ teaspoon salt or to taste
½ teaspoon ground black pepper powder
1 tablespoon coconut sugar or to taste
2-3 tablespoon water
Instructions
In a wok, dry fry dried prawns and salted fish until fragrant. Add in grated coconut and fry until slightly toasted.
Dish out and mix with rice in a large bowl. Combine the rest of the sliced herbs and seasoning. Toss well and serve.