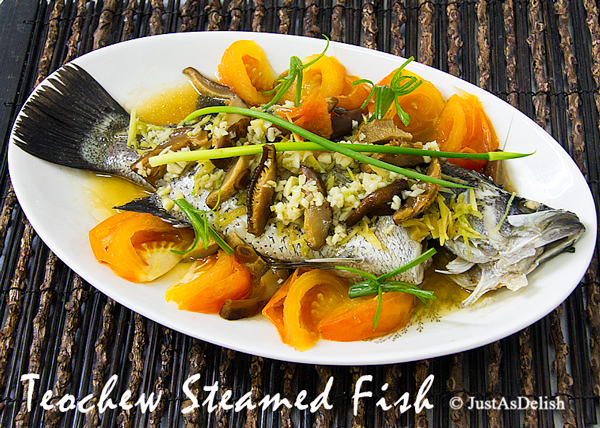 Steamed fish recipe is one of my go to weeknight dish – it's quick, healthy and nutritious. I grew up eating Steamed Fish Teochew style almost every day, as mama is of Teochew descent. Teochew (or Chaozhou) people are native to the eastern Guangdong province of China and Teochew cuisine offers a lot of healthy steamed, stir-fried and braised dishes. Using whole fish with tomatoes, salted vegetables and salted plums, the flavours of Teochew Steamed Fish are savoury, sour, spicy and altogether very appetising.
I've been wanting to do a post on Steamed Fish for ages. You see, I always avoid buying whole fish as I don't like eating the gill parts and fish head. Mama always clean out the whole fish that you wouldn't even recognise what dish it is. Hence I felt it's a waste to throw the edible parts away, so I usually buy only fish cutlets, which is not so pretty to photograph.
When I found  fishmongers in Kepong are selling freshly caught fish from Kuala Selangor, this Siakap (Seabass) fish is perfect for my photo. This steamed fish dish was specially prepared by my elder sister with an addition of hot garlic oil. I'm grateful she was very patient with me taking the food preparation photos. When the fish was hot out of the wok, she became very restless because steamed fish taste best hot. Luckily the few quick shots turn out to be decent.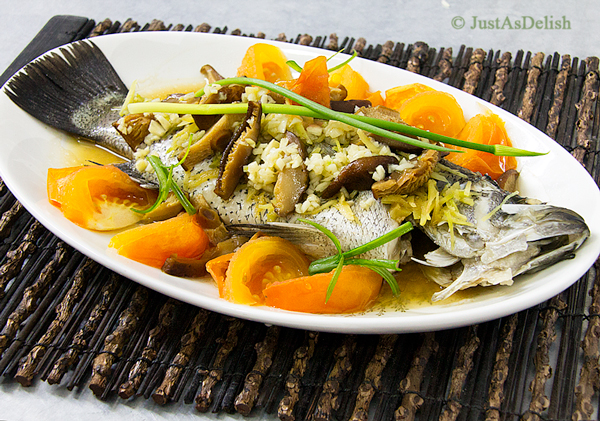 Seafood is charged a premium item when you eat out, and even though steamed fish is a very simple dish compared to many other dishes. If you do it at home, not only is it cost saving (this Siakap costs me RM12 from the market, and other ingredients only adds up to about RM2), steaming fish is really easy and the clean up is minimal.
This recipe is submitted to Muhibbah Malaysian Monday hosted by 3hungrytummies for July 2012 round-up.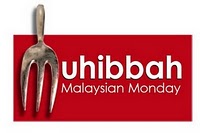 Teochew Steamed Fish Recipe
Quick & Nutritious Teochew Steamed Fish
Ingredients
1 medium Whole Fish (such as seabass/white pompret/garoupa) – I ask the fishmonger to clean it for me
1 inch Ginger - thinly sliced strips
1-2 medium Tomato - cut to small wedges
2 Dry Shiitake Mushrooms - soaked in water & sliced thinly
80g salted vegetables - sliced thinly about 1cm
2 Salted Plums (optional)
1 tablespoon Light Soy Sauce
2 tablespoon Water (adjust according to your preference)
Spring onions (scallions) - sliced thinly to wispy strips to garnish (optional)
Garlic Oil (Optional)
2 clove Garlic - finely chopped
2-3 tablespoon Cooking Oil
Instructions
Make two diagonal cuts along the body of the fish (the fleshy part) on both sides. Place fish in a heatproof plate (most porcelain plates are heatproof). Add water and scatter the rest of the ingredients (ginger strips, salted plums, tomatoes, remaining salted vegetables & mushrooms) over the fish and around the plate. Drizzle light soy sauce over the fish.
Bring the water in the steamer/wok to a boil, then place the fish to steam on high heat for 10-15 minutes. Note: The bigger the fish, the longer it takes . Do not over-steam as the meat will become tough.
When the fish is ready, drizzle garlic oil (Optional) and garnish with spring onions. Serve immediately with rice.

Garlic Oil (Optional)
Heat cooking oil in a small pot and bring to boiling hot. Place chopped garlic in a small bowl and pour boiling hot oil over the garlic. The oil will sizzle when poured over the garlic.