Fresh Fruits Crumble – an absolutely genius recipe to enjoy the heavenly seasonal fruits.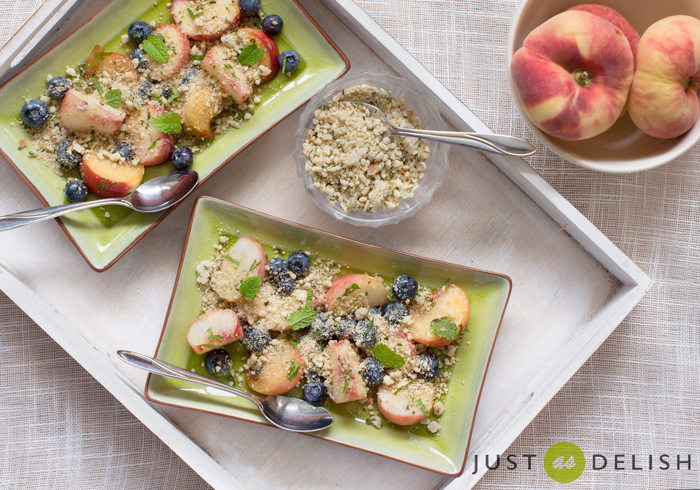 Fresh fruits platter for dessert. That's what most Chinese community including myself grew up with. Easy, light, sweet and yummy… In my humble opinion, a fresh fruits platter makes a great dessert or snack. But the western community seems to be puzzled with our idea of dessert. "Here you go, cut apples for your dessert". That wouldn't go too well to impress your guests, would it?

The good new is there's a really simple way to best jazz up fresh fruits. When I tried Fresh Fruits Crumble for the first time, I was like, This is GENIUS. The usual baked crumble, like Apple Pear Cranberry Crumble, was already a rather genius thing. A crumble is usually baked, with lots of fruits on the bottom, covered with a crumbly topping that can be as little as three ingredients: flour, butter, brown sugar. Baked crumbles are one of my favourite to make because they are a lot less fuss compared to tarts and pies.
Some fruits are absolutely heavenly by itself, so why cook it? Fully ripe juicy fruits such as mangoes, papayas, pineapples, berries, cherries, nectarines, and peaches would be perfect to use in a Fresh Fruits Crumble. You can use the fruits by itself, but I find a tiny bit of honey and mint leaves really perk up the flavours.  The olive oil and mint in the crumble are what makes the topping very light and vibrant, something that works really well with fresh fruits, to be enjoyed on a hot day. Ah I can eat this everyday.. for breakfast, dessert and snacking. 
I have to stress that local seasonal fruits work best because those fruits would be bursting with taste and flavours. Even though I can get all kinds of tropical fruits in NL (mostly from the Central and South America), the flavours are kinda non-existent compared to the ones in Malaysia. Oh how I miss tropical fruits. That's why for the recipe below, I use summer fruits that are currently in season. Use the fruits that are easily accessible to you and preferably from within the same region.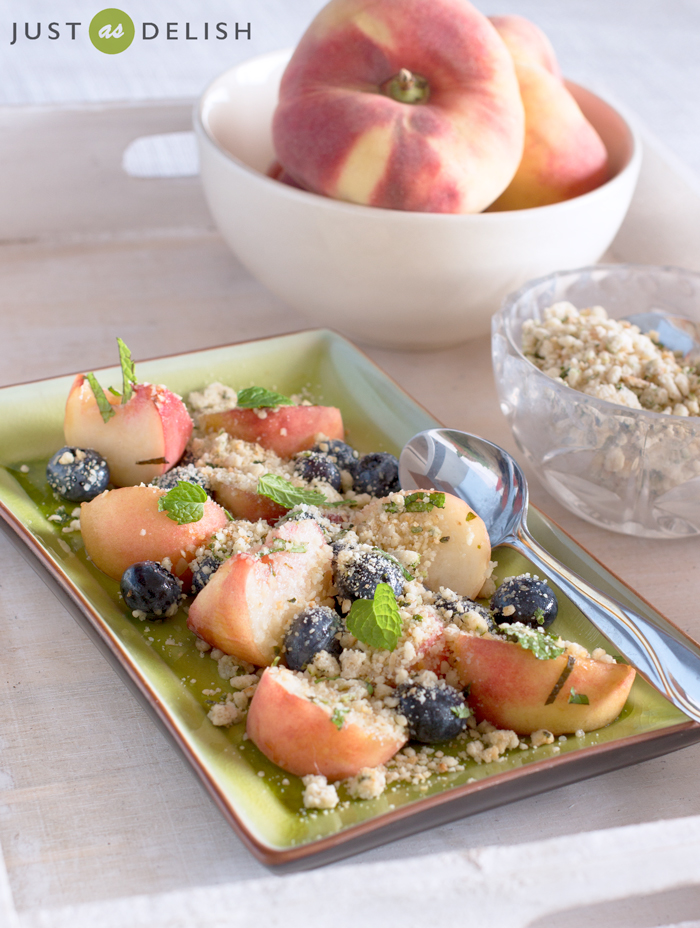 I remembered when I made Fresh Fruits Crumble for my friend Soraya who came for lunch, and her eyes said it all: "Wow! This is fresh and delicious". This is the kind of easy dessert I love preparing for my guests without spending lots of time and stressing myself out. If you're like me and don't like turning on the oven, you can use the stove method just like in the Ten-Minutes StoveTop Granola recipe. The crumble can be made ahead of time and kept for a week. Sprinkle them on fresh fruits, yogurt, ice cream to instantly jazz up your snack or dessert. Sometimes I just eat the crumble on its own 😀 
I hope you will enjoy making this Fresh Fruits Crumble recipe! Show me yours on Instagram and Facebook with #JustAsDelish. And stay in touch on Facebook, Google+, Pinterest, and Instagram for all the latest updates. Thank you so much for reading, and till next time <3

Fresh Fruits Crumble
Ingredients
2 Peaches - sliced
A handful Blueberries
½ tablespoon Honey
4 tablespoon Crumble
4 Mint Leaves - thinly sliced
Crumble
30 g (1/3 cup) Ground Almonds (or any preferred nuts)
30 g (1/3 cup) Buckwheat Flour for gluten free option (or Whole Wheat/Spelt Flour)
30g Rolled Oats
1 tablespoon Coconut Sugar (or Brown sugar / honey / maple syrup)
6-8 Mint Leaves - thinly sliced
2 tablespoon olive oil
Instructions
Fresh Fruit Crumble
Mix fruits, honey, lemon juice and mint in a medium bowl. The mixture chilled in the fridge until serving time.
Just before serving, scoop out mixture into 2 plates/bowls and sprinkle on cooked crumble. Enjoy immediately.
Crumble
Combine all ingredients in a bowl and rub them together using your fingers until the mixture resembles breadcrumbs.
On the stove: Heat up a large pan on medium heat, pour mixture into pan and stir occasionally for about 5-10 minutes, making sure the mixture gets toasted evenly.
In the oven: Place onto a lined baking sheet, and bake at 180C/350F for 10 minutes.
When the topping is done, remove from the oven and let it cool completely before use. If you have any of the batch left unused, you can store it in an airtight container for a week.
An unbaked topping may be kept in the freezer. This crumble recipe also works great on baked crumbles.
Notes
Choice of fruits to use: mangoes, papayas, pineapples, melons, pears, berries, cherries, nectarines, and peaches. Juicy fully ripe fruits taste best for this recipe.
If you enjoy simple recipes like this, you will also enjoy the recipes in my book
Asian Raw Food Kitchen.