Raw Chia Jam is an easy low-sugar alternative to regular jam. 3 Ingredients + 5 minutes. Do you have 5 minutes to spare?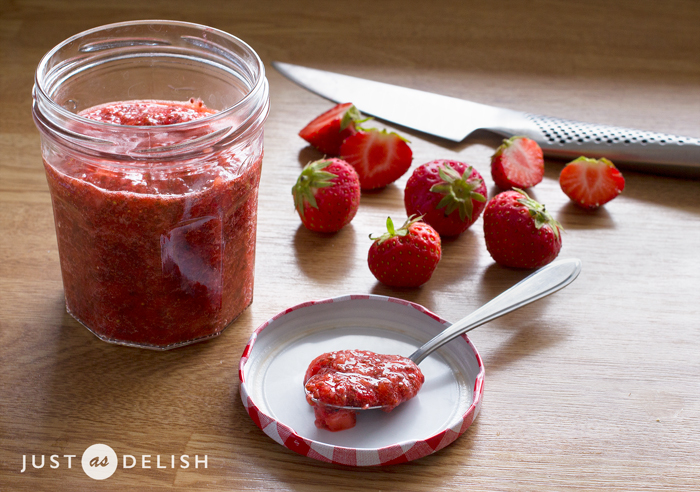 3 ingredients and 5 minutes. That is all you need for the easiest jam recipe ever with much lower sugar level compared to regular jam. You are in control of what goes into your chia jam, as well as the type of sweetener to use.

Making Jam with Chia Seeds
Instead of cooking fruit down, relying on pectin, and adding sugar to help it set like traditional jam, all we need to do is add chia seeds to fruit puree and let the chia seeds work its wonders. Within a few minutes, the chia seeds will absorb the fruit juices and thicken it to a jammy spread consistency.
Choose super ripe and sweet fruits, that way you can let the natural sweetness shine. And truly taste the actual fruit you are using instead of the conventional sugar taste. Some of my favourite fruits to use are strawberries, cherries, raspberries, plums, peaches and pineapple.
To sweeten, use seriously good quality sweetener, like coconut sugar or maple syrup, to elevate your jam to a more complex flavour.

The best ratio of fruit to chia seeds is 250g of fruits to two tablespoons of chia seeds. Start with this ratio, then if your fruit was very juicy or you'd like a thicker consistency, stir in more chia seeds one teaspoon at a time.

Is Chia Jam Like Regular Jam?
Chia jam is more like a fruit spread than the kind of traditional, fully-cooked jam you buy at the store or make yourself. But you can still spread it on toast, spoon it over yogurt, or stir it into oatmeal, just like usual! And I love that it tastes more of the fresh, bright fruit it is made of.
Of course you can notice the chia seeds in the jam with light coloured fruits like apricot or mango, but I'm not bothered by it. You could also blend the jam until the chia seeds are broken down.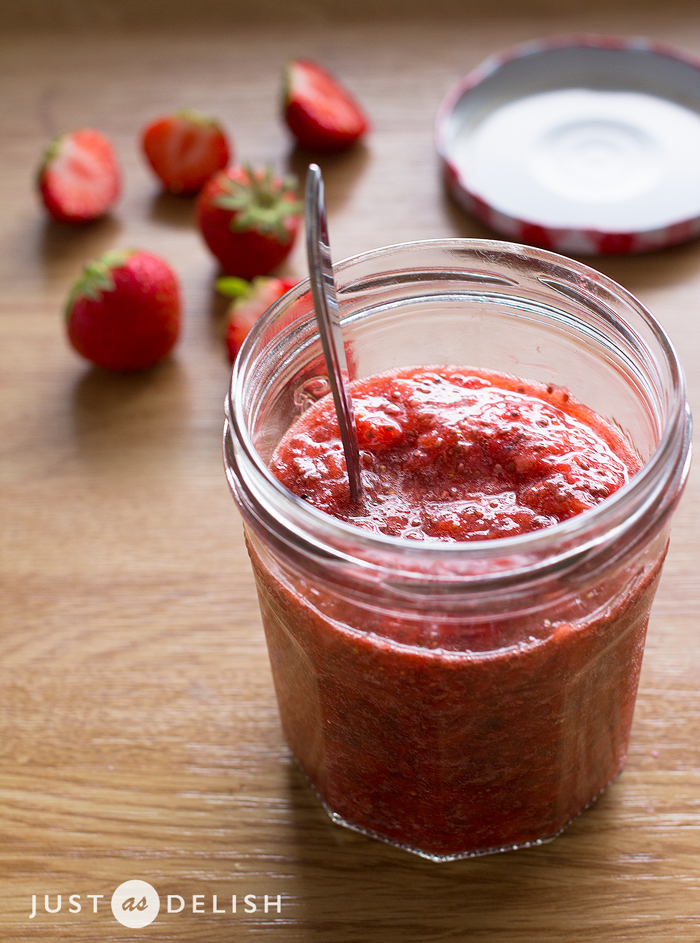 Storing Chia Jam
There's no clear research if canning chia jam would preserve it well. Until then, make small batches as it will last up for 2 weeks in the fridge or freeze it for longer storage.
Do you make chia jams? What are your favourite flavors?
Raw Strawberry Chia Jam
Chia seed jam is an easy low-sugar alternative to regular jam.
Ingredients
250g ripe and super sweet strawberries
1 tablespoon sweetener or more to taste (I like to use coconut nectar or raw honey)
2 tablespoons chia seeds
Instructions
Place berries and sweetener in blender. Blend or pulse if prefer chunkier texture. Adjust sweetener to your liking
Transfer the mixture to a bowl and stir in chia seeds. Pour into a jar and allow to set in the fridge, about an hour. Enjoy!


If you enjoy simple recipes like this, you will also enjoy the recipes in my book
Asian Raw Food Kitchen.