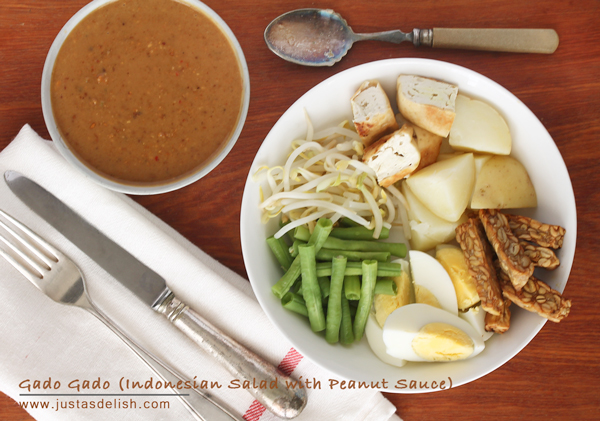 Gado gado is one of the well known dishes from Indonesia. Although it looks like a salad dish, gado gado is also eaten as a one dish meal in Indonesia. Loaded with a variety of vegetable, the carbohydrate in the dish comes from lontong (compressed rice cake) and potatoes. Tofu, egg and tempeh are the protein sources.
Whenever I see gado gado served at a hotel buffet here, my plate will be piled high with veggies drenched in the sauce. The creamy, sweet, sour and spicy peanut sauce is what makes this a great salad. It may look intimidating with the amount of ingredients, but the recipe is pretty flexible with the options of salad ingredients that you like. In mine are potato, beansprout, firm tofu, tempeh, long beans and egg.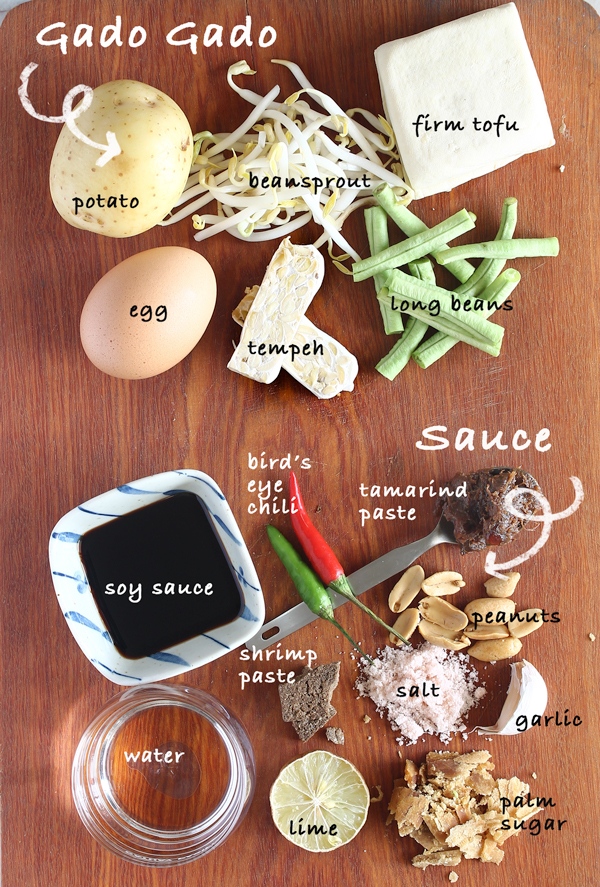 Gado gado sauce is not to be confused with satay sauce, which is also a peanut sauce. The traditional method of making the sauce is to use the pestle and mortar. The dry ingredients are ground first, then water is added to achieve the desired consistency. Pounding the dry ingredients with the pestle and mortar method will give a more fragrant sauce, however I prefer the faster method of using the food processor. I made extra sauce to keep in the fridge,so this dish can easily be prepared with practically any fresh vegetables anytime.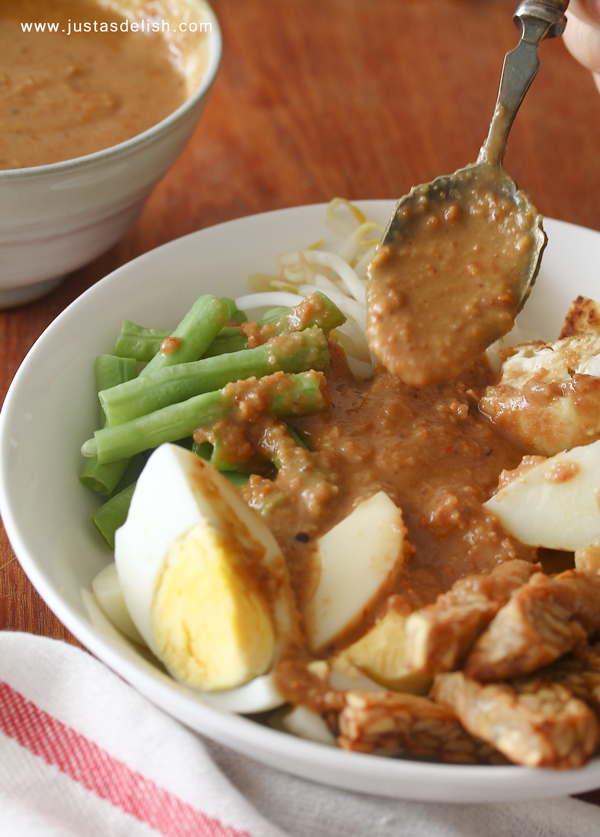 I am submitting this post to Asian Food Fest: Indonesia, hosted by Alice from I Love. I Cook. I Bake.

Gado Gado (Indonesian Salad with Peanut Sauce)
Ingredients
Gado Gado Sauce
100g Peanut - roasted
2 cloves Garlic
25g Palm Sugar (Gula Melaka)
2-5 Bird's Eye Chili (Cili Padi) - seeded (use more if you prefer the heat)
½ teaspoon [u]Shrimp Paste[/u] (Belacan/ Terasi) - omit if making vegetarian sauce
½ teaspoon Tamarind Pulp (Asam Jawa) - soaked in 1 tablespoon of warm water to get the juice
juice of ½ Lime
½ tablespoon Light Soy Sauce (Coconut Aminos or Tamari for gluten free option)
1 cup hot water
Salt to taste
Gado Gado Ingredients
2 Potatoes - cut into quarters & boiled
2 Eggs - boiled and cut into quarters
Bean Sprouts - blanched
Long Beans - cut into 2 inch long, blanched
Firm Tofu - pan fried/baked & cut into cubes
Tempeh - cut into slices & pan fried/baked
Optional Salad Ingredients
French beans - cut into 2 inch long, blanched
Spinach - blanched & roughly chopped
Cabbage - blanched and thinly sliced
Cucumber - cut into cubes
Chayote (Indonesian: labu siam) - boiled
Melinjo Crackers (Emping)
Instructions
Sauce
Roast peanuts in oven at 170C for 5mins.
Place peanut, garlic, palm sugar, chilies, and shrimp paste in a food processor. Grind until everything is well mixed. Remove into a mixing bowl.
Add tamarind juice, lime juice, sweet soy sauce and half cup of water. Stir well and add more water to get to the consistency of peanut sauce that you like.

Salad
Rub 1 teaspoon vegetable oil onto firm tofu and sliced tempeh and place into oven to bake for 15 mins. Alternatively, place onto the oiled tofu and tempeh onto pan to fry for 1 min on each side on medium heat.
Meanwhile, bring 2 small pot with water to boil to cook eggs and potatoes. After 1 min, switch off the fire of the pot with eggs and let it sit for 12 mins. Remove shell and cut egg into quarters. Cook the potatoes until soft when pricked with a fork.
Blanched the rest of the vegetables in boiling water and remove with slotted spoon. Beansprout (30 sec), long beans (2-3mins)
To serve, place a portion of each salad ingredient onto a serving plate/bowl. Serve the peanut sauce and mix well. It can be eaten warm or cold.