Avocado Smoked Salmon Bites: fresh, fast and delish. The perfect impressive party appetizer.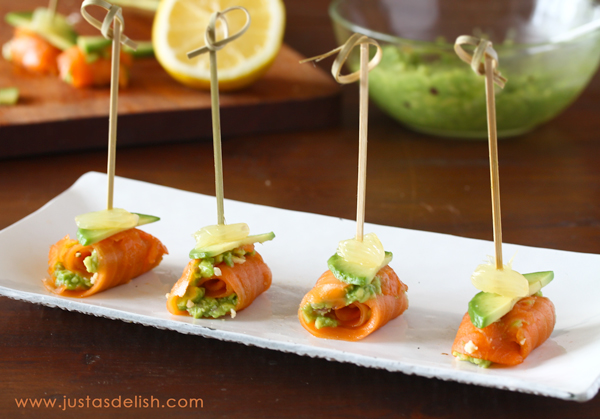 When my good friend Reza once told me I should join Masterchef Malaysia, the expression I gave him said it all: "Are you out of your mind?". Most Masterchef contestants are excellent cooks that have been cooking since they were kids. Me? I just enjoy playing with recipes in the kitchen. The expression when I received the invite to New Zealand Week Culinary Demo with New Zealand Masterchef winner Nadia Lim: Oh wow, I must not missed this demo!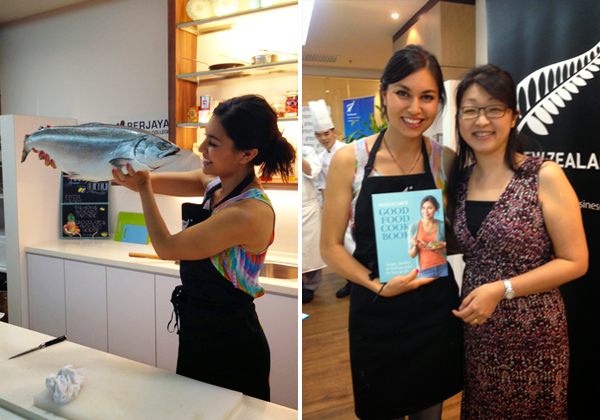 It was an inspiring day with beautiful & talented Nadia Lim.  Not only she's a down-to-earth girl next door, her bubbly personality shines through. When I requested her to hold up the fish, she lifted it up for a kiss.  I was extremely elated that both Nadia and I share the same philosophy on eating real food from the ground & sea without additives. Since winning Masterchef, Nadia has published two cookbooks, started an ingredient & recipe delivery business & an upcoming cooking show. All of them stand true to her philosophy of cooking food in the nude –  stripped down to bare basics without the fancy additives and packages.. and did I mention she's half Malaysian? (For as far as I know, we're not related)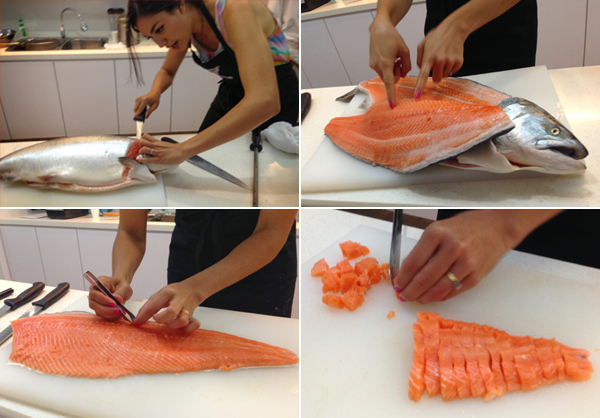 The highlight of the day was learning how to fillet a fresh New Zealand King Salmon. It's my first time seeing a fresh salmon. Isn't this salmon gorgeous? It was a female salmon, as Nadia shared that the male salmon will have a "hooked" mouth. This beautiful fresh salmon was used for a delicious and healthy entree of Salmon and Avocado Tartare served with beetroot relish.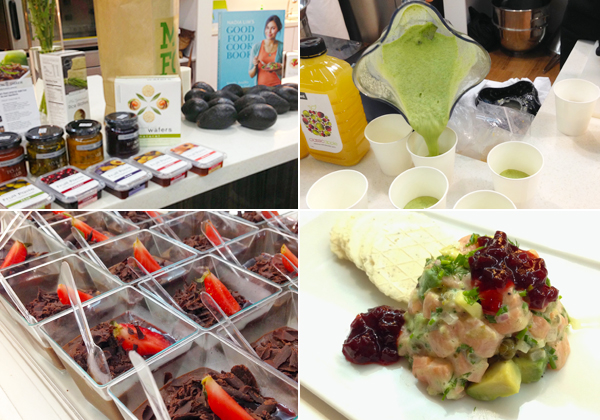 The other 2 were also heart healthy dishes with New Zealand Avocados, thanks to Nadia's trained background as a dietitian specialising in diabetics care. Green colada is a smoothie with pineapple, banana, avocado, spinach and coconut milk (to make it a colada). Adding avocado into smoothie is a great idea to thicken it (why haven't I thought of that before?). For dessert, it was Avocado Chocolate Mousse, just blend avocado, melted dark choc and coconut milk. I prefer the freshly made mousse's texture, it's creamier than the ones that were made earlier and chilled.
Before this, the only New Zealand products that I was familiar with were kiwi fruits. I'm glad to have been introduced to more beautiful produce and products with natural ingredients of premium quality, which are mostly run by small artisan companies.
We bloggers were thrown a "Mystery Bag" challenge (true to Masterchef style) to create 1 or 2 dishes with 4 premium New Zealand ingredients – Manuka Smoked Salmon, Panko BreadCrumbs, Cheese Wafer Bites and Apple Juice. A few ideas popped up – Salmon Quiche, Apple Tart and Apple Bread Pudding, but none of them really impresses me. It would be a waste to cook the rich and delicate flavours of the smoked salmon. In the end, I decided to keep it simple by letting the beautiful Manuka Smoked Salmon shine. This Smoked Salmon Bites is a simple yet impressive appetizer. I rolled the salmon in mashed avocado and crumbled wafer bites, topped off with a lemon segment.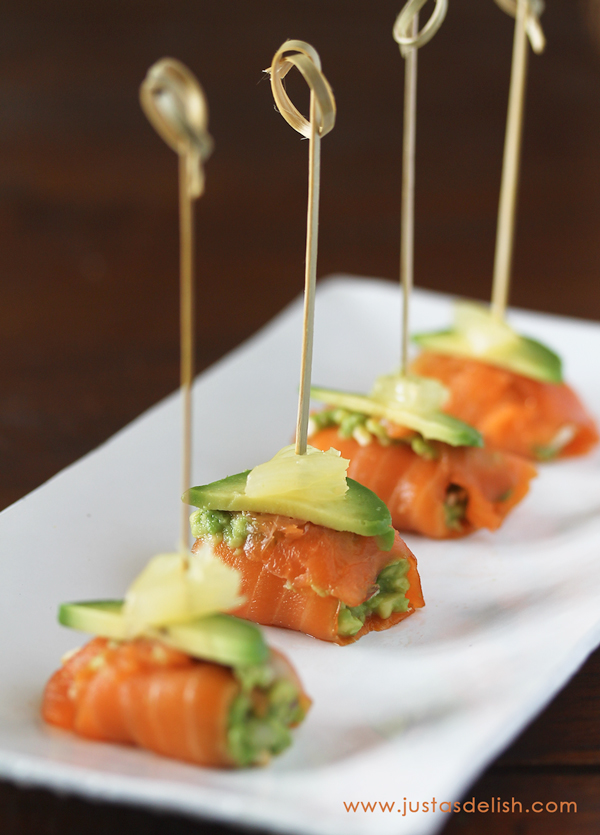 The texture and flavors just work so well together – smoky, creamy, a slight cheesy crunch and the little piece of lemon add that extra bit of flair that makes these go from excellent to awesome!  They are so easy to make, just be careful when handling salmon strips as they were sliced really thin. Would my Smoked Salmon Bites be enough to win the challenge? This is one of the commonly asked questions by the judges of any Masterchef episodes. I doubt it but this is a dish that stays true to my cooking philosophy – keep it simple and let the true flavours stand out.  If this Smoked Salmon Bites make you drool, please like this post on JustAsDelish' Facebook page, Twitter and Instagram so I can win the challenge. Pretty please? XOXO
14.04.2014 Update: Thanks for everyone who LIKED & SHARED my Smoked Salmon Bites my entry! Pretty stoked that my staying true to keeping the recipe simple & let the true flavours stand out has won me the Mystery Bag Challenge. Fresh, fast & delish = the perfect party appetizer.

Smoked Salmon Bites
Ingredients
10 pieces Rutherford & Meyer Cheese Wafer Bites
1 package Regal Manuka Smoked Salmon
1 Avocado
1 teaspoon finely diced Onion
2 tablespoon Lemon Juice
pinch of Salt
2 Lemon Slices, about ¼ inch thick - cut into segments
Instructions
Grind wafer bites in the food processor.
Scoop out half of avocado, thinly slice it and squeeze some lemon juice over the slices to prevent them from turning brown.

Scoop the other half avocado into a bowl, mash it with a fork and mix well with lemon juice, onion and salt.
Lay out smoked salmon strips on a chopping board. Place a scant tablespoon of mashed avocado & towards the bigger end of the strip and sprinkle with grinded water bites. Roll the salmon up around the avocado.

Place a slice of avocado & a lemon segment on top of the salmon roll.
Insert an appetizer pick through the avocado and lemon into the salmon to hold it all together.