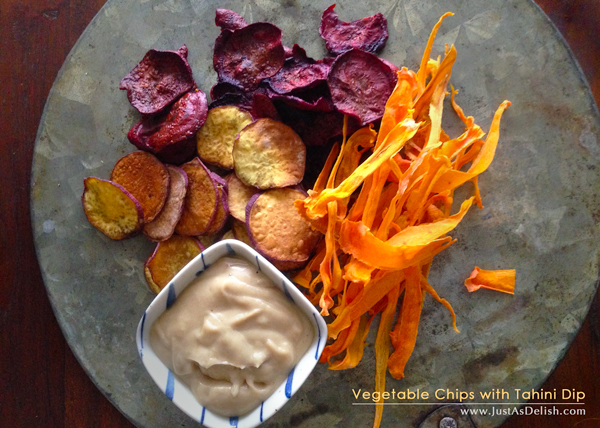 I would crave for salty potato chips once every few moons and get a bag of all natural chips. After 1/3 through the bag in a sitting, I would get some weird reactions and just couldn't stand the sight of it. It's probably my body sending me signals. Talk about fast reaction. So what would a girl to do when she has the cravings again? Bake some sweet potato fries and chips. Sometimes I made them for breakfast too. When I saw Sorted Food's video of Root Vegetable Crisps (deep fried), I decided to make some too – with the oven. Baking the root vegetables will intensify the taste further. Trust me, the baked vegetables taste even better than potato chips. Even kids love them. And the good news: Baked Vegetable Chips are very easily made in your very own oven. Peel, slice, and bake. Eat. Done. It's delicious just on it's own.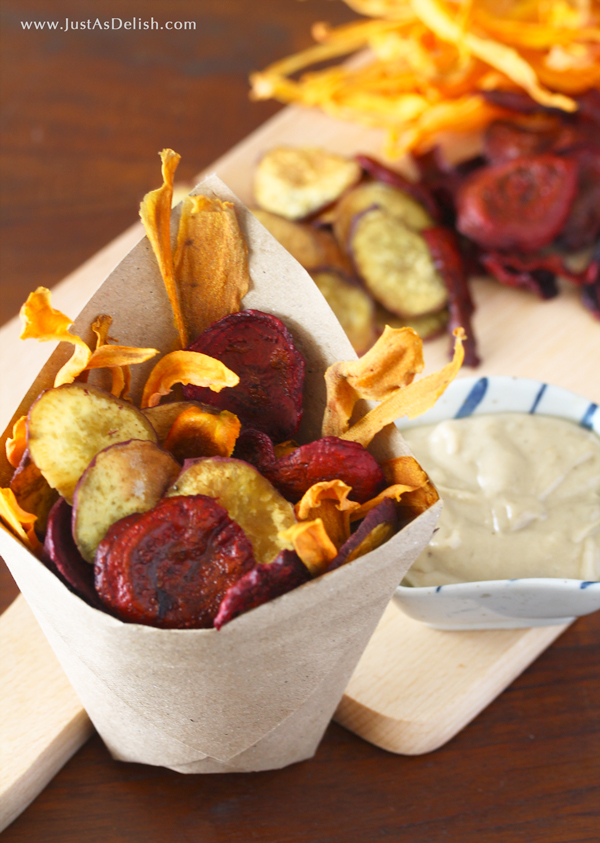 Last week, I made some with beetroot, sweet potato and carrots with tahini dip to go with them. Aren't these colourful chips inviting? Don't be surprised that these chips are as crunchy as the deep fried ones, but you have to keep in air tight containers. They taste best straight out of the oven. The variety of vegetable choices are endless: beetroot, sweet potato, carrot, parsnip, taro, pumpkin, squash and white radish. The smooth and creamy tahini dip goes well with roast vegetables and salads too. P/S: Get the tutorial of the easy one-fold chips bag here.

Baked Vegetable Chips
Ingredients
2 Beetroot
2 Large Carrot
2 Sweet Potatoes (any variety)
2 tablespoon Olive Oil
pinch of Salt & Pepper
Other Veggies: Parsnip, pumpkin, taro, squash, yacon, white radish
Instructions
Pre-heat oven to 150C (300F).
Peel the skin of the vegetables and slice them using peeler or mandoline. Place each vegetable in separate bowls and coat them in ½ tablespoon Olive Oil and salt & pepper.
Layer the sliced vegetables on baking trays, make sure the slices do not overlap one another.
Bake the vegetables for 10-12 minutes until the edges of the chips are just starting to turn golden brown. Take note of the tray on the 1st rack, it can get burnt fast.
Serve immediately or store in airtight container after they have cooled down. Sweet Potatoes can remain crispy for 1 day. Carrot and beetroot will turn slightly soggy after a few hours.


Tahini Dip
Dip made with Tahini (hulled sesame seeds)
Instructions
Combine all ingredients in a small bowl. Add more water if prefer a more liquid dip.