Healthy & light Edamame Mushroom Miso Noodle Soup – real fast food filled to the brim with goodness in 15 minutes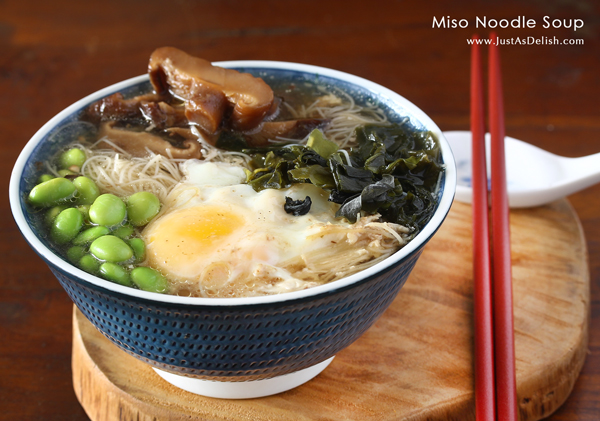 It's frightening to see a nation's craze over instant noodle. Don't be surprised if you see them in a Malaysian's traveling suitcase. Have you ever read the back of a packet? It's an MSG-laden-overly-processed-minimal-nutrition food. It's really scary. Instead make yourself these instant miso noodle soup, fast food filled to the brim with goodness. Loads of it. Start to finish, this healthy and light Miso Noodle Soup takes less than 15 minutes.
Miso is unusually rich in nutrients, due to the fermentation process of soy beans and salt along with rice or barley. Thanks to the Maillard Reaction that occurs during fermentation, these humble legumes and grains are transformed into a flavorful paste with deep earthy notes and a meat-like savoriness.  It's a great staple to have in your refrigerator. There's many great recipes with miso: Spicy Miso Paste, Miso Glazed Eggplant, Miso Sea Bass.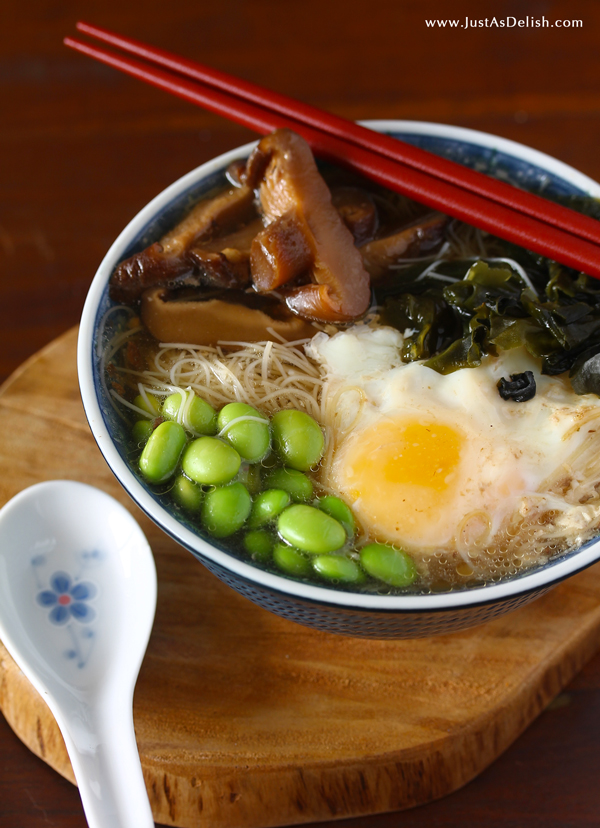 Go get some miso paste. Add hot water, some veggie, mushrooms, noodle and poached egg if you like. The variations are endless. For this meatless recipe, it is brown rice vermicelli, edamame, shiitake mushrooms, poached egg and wakame. Add some chili/cayenne powder to the miso to spice up your soup.
Miso soup should never be boiled once the miso is added. Boiling the soup destroys the nuanced flavors and aromas in high quality miso, Boiled miso soup also has a tendency to separate, making it necessary to stir your soup every time you take a sip. It's best to add the miso off the heat.

Edamame Mushroom Miso Noodle Soup
Fast food Japanese style with healthy & light Edamame Mushroom Miso Noodle Soup
Instructions
Place 4 dried shiitake mushrooms, a handful of frozen edamame pods, rice vermicelli (enough for 1 person) in separate bowls. Pour hot water over the ingredients to soak for 5 mins. Cut shiitake mushrooms with scissors, remove edamame from the pods, and drain rice vermicelli.

In a medium pot on medium heat, saute minced garlic with ½ tablespoon vegetable oil until fragrant. Add mushroom and saute for 1 min. Add Chinese Chicken Stock (or water) and bring to boil.
Add miso paste and a ladleful of the hot broth in a medium bowl. Whisk until miso is completely dissolved.

Add rice vermicelli and edamame into the boiling broth and crack in an egg (slightly submerged in the broth). Switch of fire after 2 minutes (longer if you prefer a well cooked egg).
Add miso mixture and wakame into the pot and stir well. Serve immediately.