Green Curry is one of my favourite Thai dishes that I will always order when I eat out at Thai restaurants. I have used packet Green Curry paste many time before, will buy loads of packet paste whenever I visit Thailand until I found the recipe for the paste recently. It's relatively easy to make the paste from scratch as the ingredients are easily available in Malaysia.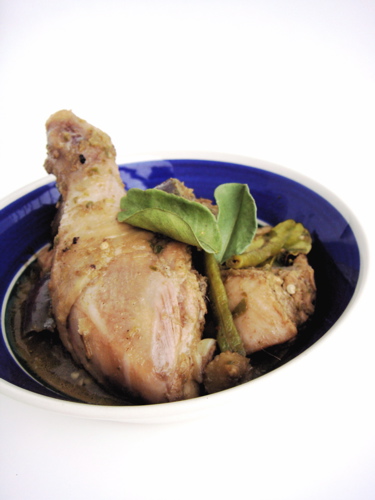 BUT I hesitated in sharing the paste recipe after reading this post from Leela of SheSimmers Thai Home Cooking. According to Leela and Thai cooking guru Kasma Loha-unchit, it's better using commercial curry pastes than trying to make do with ill-advised substitutes, unless you have all of the fresh herbs and spices required to make authentic and traditional Thai curry pastes.
I am not Thai, therefore I dare not say this recipe is authentic Thai Green Curry. All I can say is the curry flavour is similar to the Green Curries I have tasted in Thailand. If you do have access to all the fresh ingredients, by all means make the curry paste from scratch.
Green Curry Chicken usually calls for boneless chicken and small green eggplants, which are not commonly sold here. In this dish, I used chicken pieces with long eggplant instead and added long beans. This recipe is a combination of the cooking method from Kasma's Green Curry recipe and Green Curry Paste recipe from Amy Beh. I made extra paste to keep in the freezer, I can just thaw the paste and cook Green Curry any time I like.

Green Curry with Chicken, Eggplant & Long Beans
Author:
Adapted from Kasma Loha-unchit and Amy Beh
Ingredients
Green Curry
1 cup Coconut Milk
2-3 tablespoon Green Curry Paste * (store bought or homemade)
500g Chicken - cut into pieces
½ cup. small round Green Thai Eggplants, or substitute with 2 long eggplants - cut into bite-size chunks
4 Long Beans - cut into 1 inch long
2 Kaffir Lime Leaves
Fish Sauce (nahm bplah) to taste
1 tsp. Palm sugar, or to taste
½ cup fresh Thai Sweet Basil Leaves
Slivered chillies, to desired hotness
Green Curry Paste
8-10 fresh Green Chillies - seeded
2 stalks Lemon grass - finely sliced
1 inch Galangal - chopped
1 Onion - chopped
3 cloves Garlic
1 stalk Coriander (roots and stems included) - chopped coarsely
4 black Peppercorns - cracked
½ tablespoon Ground Coriander
1 teaspoon Ground Cumin
1 teaspoon Shrimp Paste / Belacan granules
½ teaspoon Ground Cloves
2 Kafir Lime Leaves
½ teaspoon Salt
1 tablespoon Vegetable Oil
Instructions
Green Curry
Do stir or shake coconut milk, so that the cream remains on top. Spoon the thick cream into a medium-size pot over medium to high heat. Reduce until smooth and bubbly and until oil begins to separate from the cream.
Add the curry paste and fry in the cream for a few minutes to release the aromas. Then pour in the remaining milk and bring to boil.

Add chicken pieces and simmer 5-10 minutes until chicken is tender before adding the eggplants and long beans. Simmer a few minutes more, add in kaffir lime leaves.

Season to taste with fish sauce and add palm sugar to balance and enhance the spice and herb flavors to your liking. Stir in the basil and chillies (as desired for added hotness) and cook another minute.
Serve hot over plain rice.

Green Curry Paste
Finely ground all the ingredients with a pestle and mortar or blend in an electric blender until smooth. Add a little extra oil if necessary.

Notes
Notes from Kasma: * Red curry can be easily made by substituting a red curry paste and cut-up boneless chicken. * For a fabulous roasted duck curry, buy a roasted duck and use it instead of chicken. Toward the end of cooking, skim off the fat that has cooked out of the duck and add two small, firm and still slightly green tomatoes, cut in bite-size wedges.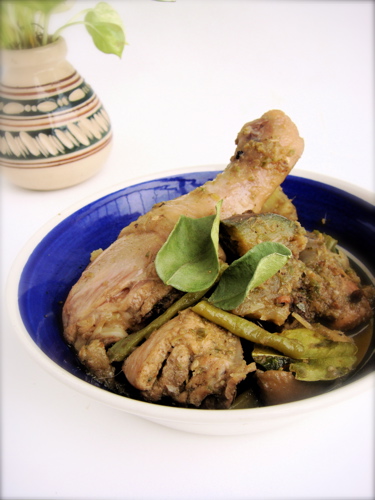 I love green curry so much that I cook it twice this month!