I've been missing in action for almost a week, caught a flu bug from my mama who caught it from my grandpa. I took the much-needed rest, time out from cooking and writing. The weather around South East Asia should be getting hotter end of the year, but the daily rain seems to be helping the flu bug spread around. Please keep yourself warm and well rested.
Feeling much better today enough to start writing a short post. Today's recipe should be very familiar to you if you are of a Chinese descent. You most likely know this soup, and you've probably made it dozens or maybe even hundreds of times before. Some people call this Luo Song Tang (罗宋汤), others call it ABC soup. Some Chinese restaurants refer to it as Chinese borscht on their menu. Why ABC? My take is because the soup so ridiculously easy to make, as easy as ABC. Whatever you choose to call it, the simple ingredients are simple and yet delicious. Great taste with little effort, what's not to love?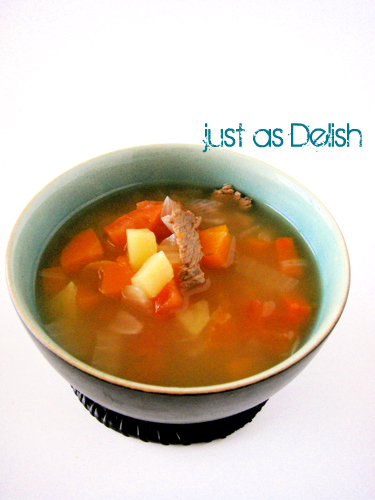 ABC soup is my go-to soup when I want a quick and easy nutritious soup, just cut the vegetables in chunks and simmer for 30 minutes. The 4 types of vegetables are always readily available in my kitchen. You can keep this as a vegetarian ABC soup or enhance the soup flavour with chicken bones or meat slices. To me, the secret ingredient that give this soup the extra 'kick' is the white peppercorn. The spiciness of the white peppercorn makes the soup so comforting on cooler days.
If you have noticed, the photos of the soup and inside the recipe box have different meat ingredients. It's because the photos are taken on 2 different occasion I cook this soup – first time is with chicken bone and the 2nd time with beef slices.

ABC Clear soup with potato, carrot, onion and tomato. Easy & delicious
Ingredients
1 big Potato - peel & cut into bite size chunks
1 medium Carrot - peel & cut into bite size chunks
1 Onion - peel &  cut into bite size chunks
1 Tomato - cut into bite size chunks
3-4 White Peppercorn - smashed
Half Chicken Bones or 100g Chicken fillet (Optional)
Salt & Pepper to taste
500ml Water or more 

Instructions
When water in the pot is boiling, add in Chicken bones or fillet and peppercorn. Simmer for 5 minutes.
Add in all the cut vegetables and simmer for another 20-30minutes or until the potatoes and carrots are soft. Use the fork to check if the potatoes are soft to eat.
Switch of the fire and season with salt & pepper. Serve hot.