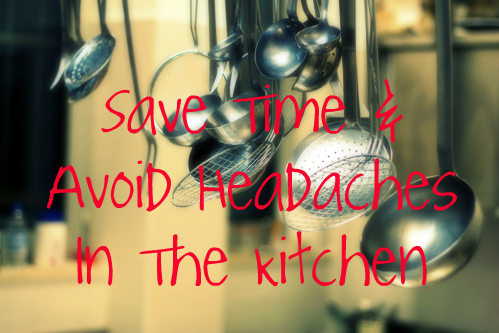 I'm one of those people who avoid complicated recipes. I will just skip the recipe at the first glance of slight complexity. My brain just does not comprehend. I totally understand how some people do not want to step into the kitchen because what requires to be done in the kitchen can be at times confusing. That's why I'm always looking for easy & quick methods, and I LOVE to SIMPLIFY recipes I find. Not only I save time, I just want to avoid headaches in the kitchen! Once you learnt the little tips & tricks here & there, cooking will become less daunting and more fun!
What better way to learn how to save time  & neat tips from the wonderful cooks behind some of the food blogs I love. These amazing food bloggers have so kindly share their secret time saving tips, which I found to be extremely useful. Do check out their amazing blogs and tell them Shannon sends you over.
1. Food & Travel Writer Tori of Eatori says "One of my favourite styles of food to eat is Mexican. It reminds me of holidays with sand between my toes.  One flavour I love is the smoky heat of chipotle chillis. They need to be toasted, steeped and then blended before being added to hot dishes and sauces. I find it's easiest to do some in a batch, and then I freeze the remainder in ice cube trays. It doesn't seem to affect the heat or the flavour. That way next time I want a quick dinner of fish tacos with chipotle lime crema, all I have to do is defrost a cube and mix it through some yogurt, creme fraiche or sour cream. To get your instant holiday on a plate, click here for this Delicious Fish Tacos with Chipotle Lime Crema recipe."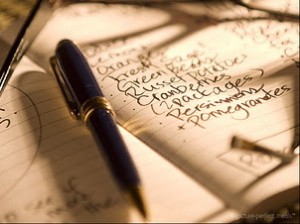 2. This holiday season, impress your guests by being the cool and calm host at your dinner parties. According to  Cheryl of PicturePerfectMeals, planning is key to make the day as enjoyable for you as it is for your company. Do as much preparation as you can in advance: stock, pie dough, etc. For more tips and time-saving tricks for entertaining during the holiday season and beautiful photography, hop over to PicturePerfectMeals.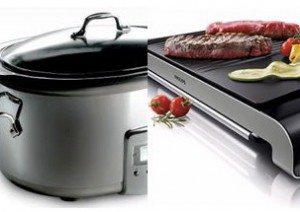 3. Witty Veronica of QuayPoCooks loves both her slow-cooker (crockpot) and indoor grill. The slow-cooker allows you to get the meal going several hours before-hand and you can just serve when you are ready to eat. With the indoor grill, you can prepare meats or poultry in half the time of a regular grilling, broiling or baking.
JustAsDelish recipes with slow cooker: Slow Cook Ribs with Soy Bean, Chicken Herbal Soup and Red Bean Dessert Soup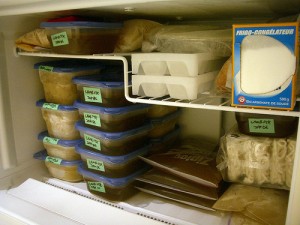 4. Another of Veronica's tips: Make a big pot of stew, bean soup or tomato sauce and divide them into 2 – 4 servings in a container, label them properly and keep in the freezer. On days you are press with time to get the meal out. Thaw one container and heat up in the microwave oven.
JustAsDelish recipes: Homemade Tomato Sauce, Green Curry Paste (thaw when you need them in your cooking)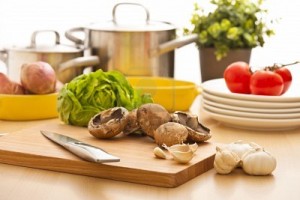 5. From Down Under Australia, extremely versatile Chopinand of Chopinandmysaucepan believes saving time in the kitchen just takes a little bit of planning, attention to detail and a sense of timing and being able to estimate the portion and amount of ingredients. once learnt, these simple techniques will save an enormous amount of time and will make cooking a less arduous task and more fun-filled. One key tip is to organise all your ingredients and cooking utensils on your prep top before prepping. Having all the ingredients and cooking utensils visible and within easy reach will avoid errors in omitting a key ingredient as well as fumbling around drawers and the pantry when your hands are wet or dirty from prep work.
6. 
Always try to maintain a neat prep top table
, says Chopinand. During the prep process, bowls, plates and utensils will be used and it is always good to put away dirty and used utensil in the sink or in the dishwasher. Maintaining a neat and tidy prep top helps to keep you focused on the task at hand and not lose ingredients and tools among the chaos of things all over the prep top table.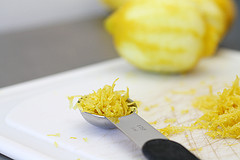 7. Magic of Spice of TheArdentEpicure's unique and creative recipes makw vegetables super sexy again. She love using natural flavours and herbs as quick flavour enhancer. For less waste and a quick flavor enhancer always at your fingertips, grate the unused portions of citrus peels. Section them out to ½ teaspoon sizes and freeze in mini ice cube trays.
JustAsDelish recipes: Lemon Poppy Seed Scones, Baked Eggplant with Lemon Yogurt Dressing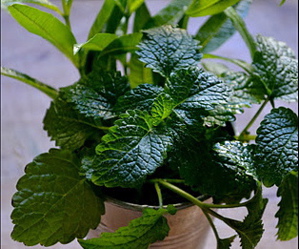 8. Another tip from Magic of Spice: Freeze fresh herbs by briefly blanching them in boiling water to preserve color and flavor. Then place in freezer either whole, chopped or puréed. If chopped or puréed section into teaspoon sized amounts prior to freezing. Since the essential oils have already been released you will get an instant burst of flavoring during quick cook methods such as stir fry that you cannot get with dried varieties.
JustAsDelish recipes with herbs: Mini Carrot Rosemary Scones, Spanish Paella, Roasted Sweet Potato Stacks
Aren't these neat tips amazing and extremely useful? Share with us your tips too. Now let's head over to the kitchen and start having fun!
Photos from top:
Eatori
,
PicturePerfectMeals
, 
Sporkist via Flickr
,
123RF
,
Adashofass via Flickr
,
TheArdentEpicure