Stop what you are doing now and listen. I am going to tell you about one of the best recipes I've come across this year.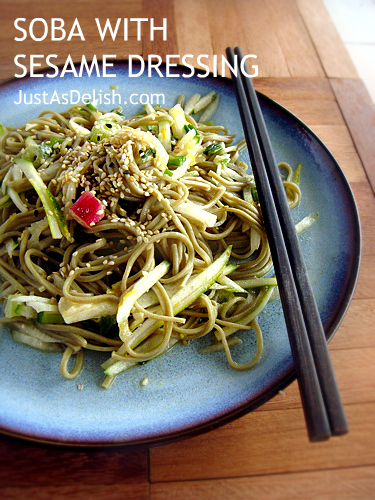 Having bought some Cha Soba (green tea buckwheat noodles), this quaint and easy recipe called Otsu from Super Natural Cookbook by Heidi Swanson of 101CookBooks caught my eye. Heidi says "Unlike many pasta recipes that leave you feeling weighed down and sluggish, this one makes for a healthy, invigorating, and energizing meal that will quickly become a favorite."
The soba noodles are tossed with a fiery ginger-sesame dressing and a generous dose of cucumbers, scallions, and pan-seared tofu (which I did not include). For non-vegetarian version, you can add sautéed prawns or other meat protein. This Soba Salad is amazingly flavorful, with fiery kick of the ginger and refreshing at the same time. It is the sort of dish you could serve anytime – for lunch, dinner, potluck, picnic, warm or cold — and this Soba Salad will be a hit. Even though a serving of the Soba Salad is light, it is rather filling lunch for me to get on with my day and it lasted until dinner.
I've made this delightful Soba Salad 3 times since then. Even typing this post makes me dream of this dish for lunch tomorrow!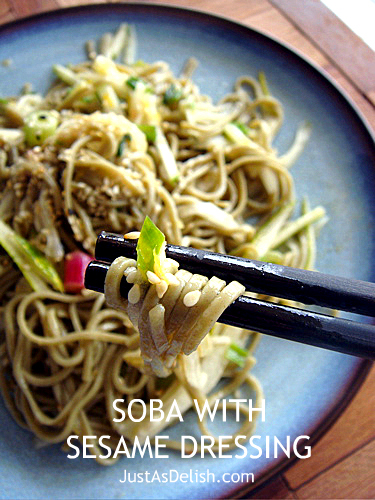 As this the best recipe I've tried this year, I'm submitting this post to Your Best Recipe, a monthly roundup of your best recipes hosted by Spicie Foodie. This is for the December 2011 roundup, so check the roundup of all the other recipes at the end of Dec 2011.
Soba Salad with Sesame Dressing
This Soba Salad is amazingly flavorful, with fiery kick of the ginger and refreshing at the same time. This salad is an instant hit at any occassion
Recipe type:
Light Bite / Appetizer
Ingredients
240g Dried Soba Noodles (3 stacks of Soba Noodles)
¼ cup chopped fresh Coriander (not in mine, it's one of the food I cannot eat)
3 Green Shallots, thinly sliced
1 Cucumber, peeled, cut in half lengthwise, seeded, and thinly sliced
4 tablespoon toasted Sesame Seeds, for garnishing
Sesame Dressing
Instructions
Cook the soba in boiling salted water according to instruction on the packet. Mine says cook for 4 minutes. Then drain and rinse under cold running water.
While the soba is cooking, prepare the sesame dressing by combining the first 8 of the dressing ingredients. Whisk the mixture while slowly drizzle in the olive oil and sesame oil.

In a large mixing bowl, combine the soba, the dressing and the rest of the ingredients. Toss until well combined.
Serve and garnish with coriander and toasted sesame seeds.