Easy savoury Korean Kimchi Pancake as a snack or appetizer. Possible as a meal as how I like it.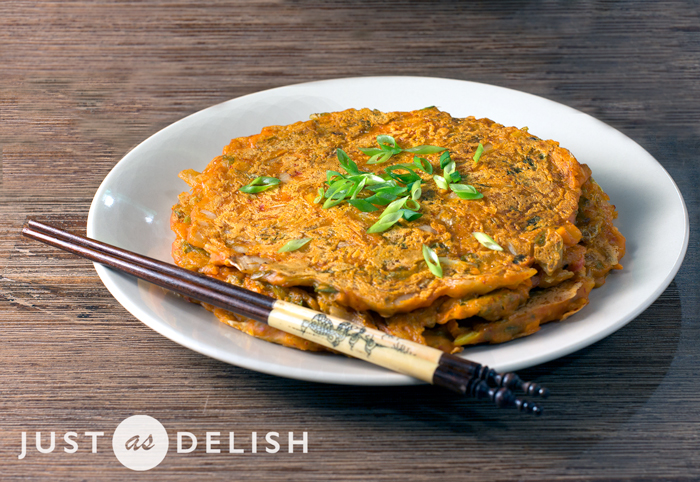 I love making kimchi but it is Norbert who enjoys eating it more than I do. He loves spicy and sourish flavours. Instead of having kimchi as side dish, I prefer using kimchi in dishes such as kimchi noodle soup, kimchi tofu soup and kimchi pancake. Not only can you can have your dose of good probiotics from the kimchi, most people (including my carnivorous husband) does not mind those dishes are vegetarian.
Kimchi pancake (kimchijeon) is super easy and simple to make. As long as you have kimchi, you're good to go. Oh ya, you also need flour, onion, salt and oil. But if you do cook, these are the must-have ingredients in your kitchen. Even if you're not a kimchi fan, you would love kimchi pancake.
Have you tried making kimchi before? It sounds intimidating, but it is actually really easy. I promise. Just watch my Quick Cabbage Kimchi recipe video.
Kimchi pancake is normally served as a snack or side dish. You could also have kimchi pancake for lunch or dinner (if you want something light). I'm normally stuffed with 2 pieces of kimchi pancake, and happy as a bunny.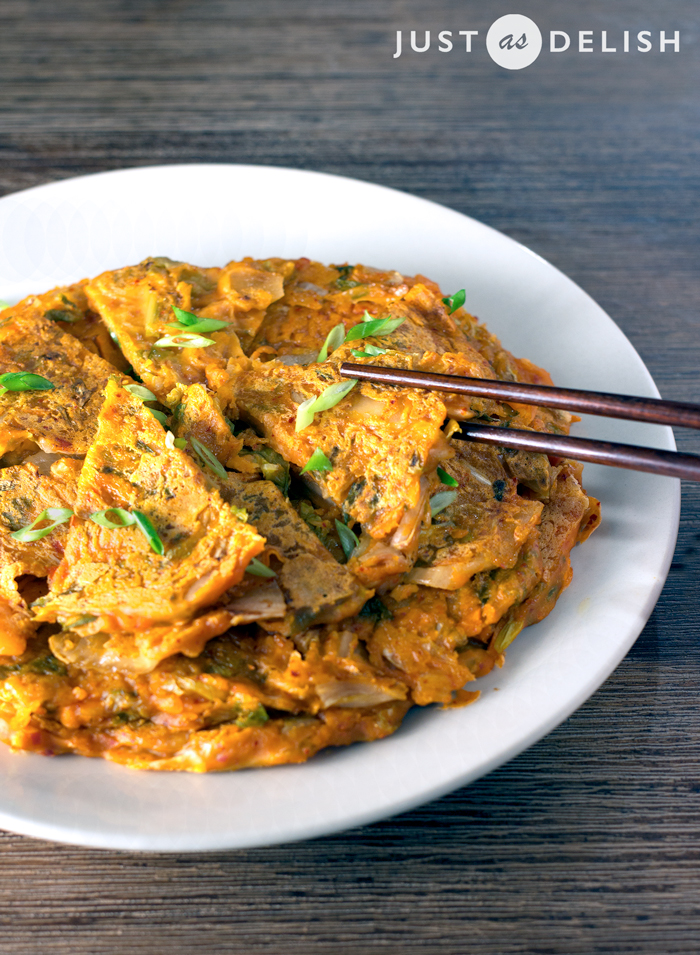 Note: To make the recipe paleo or low carb compliant, use coconut flour and omit the sugar.

Kimchi pancake (Kimchijeon)
Easy savoury Korean Kimchi Pancakes as snack or appetizer
Ingredients
1 cup roughly chopped kimchi
3 tablespoon kimchi juice
2 tablespoon chopped onion (1 small onion)
½ teaspoon salt
½ teaspoon brown sugar (optional)
½ cup flour (I use gluten free flour mix of rice flour + tapioca flour)
¼ cup of water
2 tablespoon grapeseed oil
Instructions
Place all ingredients (except grapeseed oil) in a bowl and mix it well with a spoon.
Heat up a non-stick pan on medium high heat and pour in 2 tablespoon of grapeseed oil.
Place 2 spoonful of kimchi pancake batter on the pan, spreading it thinly and evenly with a spoon.
Cook for 1 - 1½ minutes until the bottom turns brown and crispy. Turn it over with a spatula. Lower the heat to medium and cook for another 1½ minutes.
Turn it over one more time and cook for 30 seconds before transferring it to a plate. You can serve the pancake whole or cut it into bite size pieces.
Continue making pancake with the rest of batter.