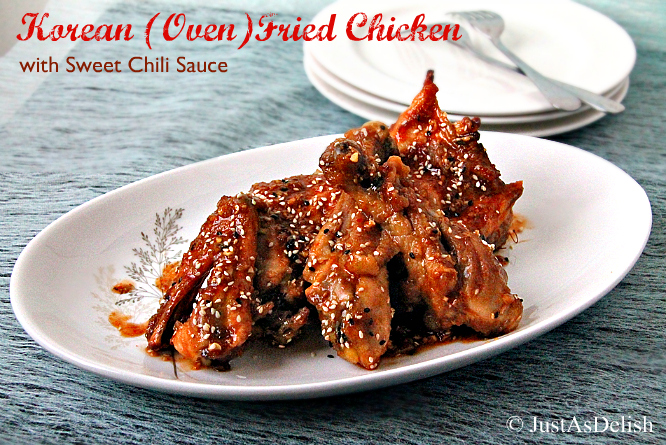 Since the Korean wave hit South Asia 10 years ago, all things Korean have become increasingly popular. From K-pop music to food, the Korean culture is here to stay. It is not surprising that Korean Fried Chicken has become a hit in the nation of fried chicken lovers.
Korean Fried Chicken requires deep-frying twice or even thrice for the chicken to become extra crisp before coating with sweet chilli sauce. After my earlier success with the Oven Fried Spicy Drumsticks, I adapted the same oven frying method to meet my cravings for a healthier version of Korean Oven Fried Chicken Drumsticks.
If you have not tried oven-frying chicken, you MUST try it. Besides oven frying being healthier for me, I always avoid deep-frying because I seriously hate the clean-up afterwards. Oven-frying is so easy – just marinate for 2 hours and put in the oven for 30-minutes. You will still have a nice clean kitchen and imagine how much time it saves you from all the clean-up. Read about my first attempt at oven frying and oh-my-goodness verdict here.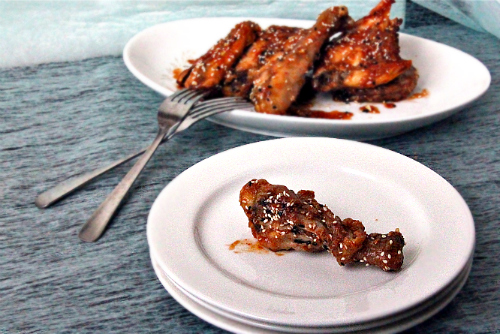 The chicken drumsticks are once again fried in their own fat and I use the chili sauce recipe from here. Evelyn of 3bittersweetlemon shared with me the trick for a crisper chicken is to place the chicken on the oven rack and let the fat drip down to the bottom tray. Of course these Korean Oven Fried Chicken Drumsticks are not as crispy as the twice-fried ones, but the labour in preparing them is significantly reduced and they are seriously finger-licking good!
* Update 1 July 2012: I was craving for this recipe last night but was out of Gochujang sauce. I replaced with Chili Sauce and it taste just amazing too!

Korean Oven Fried Chicken Drumstick
a healthier version of Korean Fried Chicken - super easy and finger licking good!
Recipe type:
ntrée / Main
Ingredients
8 Chicken Drumsticks or Chicken WIngs
¼ teaspoon Salt
2 tablespoon Cornflour
1 tablespoon Toasted Sesame Seeds or more
Chili sauce:
1 tablespoon Light Soy Sauce
1 tablespoon Rice Vinegar
1 tablespoon Honey
1 tablespoon Sesame Oil
2 tablespoon Ginger - grated
1 Garlic Clove - finely chopped
2 tablespoon Gochujang (Korean chili paste)
Instructions
Wash and pat dry chicken drumsticks. Make 2 slits on each side of drumstick with a knife.
In a big container, place chicken, salt and cornflour and mix well. If it is too dry and cakey, add 1 teaspoon of water. You want a batter that is thick enough to coat the chicken, but not so thick that it cakes. Cover the drumsticks and refrigerate for at least 2 hours.

When ready to cook, preheat the oven to 475F/240C.
Arrange the drumsticks directly on the upper rack (without a tray). Place a tray on the lower rack to catch the dripping oil. Roast in oven for about 15 minutes (or until crispy) and turn the drumsticks over to roast for another 15 minutes.
While waiting for the chicken, combine the chili sauce ingredients in a large bowl and set aside.
When chicken is cooked, add to sauce, add sesame seeds, toss to coat and serve immediately.