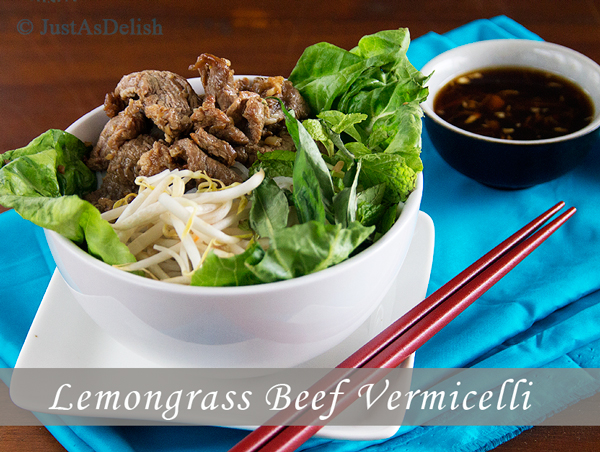 If you love the Grilled Lemongrass Beef, you will love it with Bun (dry rice vermicelli in Vietnamese dipping sauce). This dish is a signature dish of Vietnam.
If you have tried Vietnamese food, chances are you have tried Bun, or dry rice vermicelli in Vietnamese dipping sauce (fish sauce) and topped with either grilled beef, BBQ shrimp, sugarcane shrimp or a combination of them. Besides pho and bun bo hue, this has got to be one of the most common and favorite dishes at Vietnamese restaurants. It's not hard to figure out why this is. It's so versatile and easy to prepare, the savory grilled lemongrass beef with refreshing herbs and vermicelli is refreshing and appetizing. It's not only tasty, but very healthy and comes with all sorts of vegetables and herbs. This is a noodle dish that is both filling and satisfying.
The recipe for Grilled Lemongrass Beef can also be replaced with Chicken or Pork. The lemongrass marinate works well with all types of meat.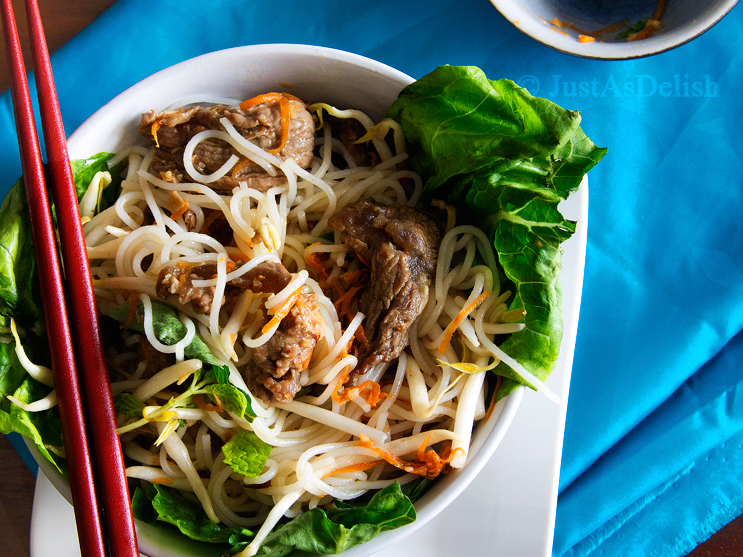 If you love Vietnamese food, you wouldn't want to miss another popular dish – Rice Paper Rolls.

Vietnamese Lemongrass Beef with Vermicelli
Grilled lemongrass beef with refreshing herbs and vermicelli in fish sauce. A signature Vietnamese dish
Ingredients
200g Rice Vermicelli
1 cup Fresh Mint
1 cup Sweet Basil
1 cup Cilantro
1 large Cucumber - peeled, halved, seeded and sliced into 1 inch matchsticks
1 cup Bean Sprouts
1 Lime - cut in wedges
3 tablespoons crushed unsalted Roasted Peanuts
Instructions
Boil vermicelli according to package instructions. Drain and rinse with cool water.
To assemble: First noodles; then herbs (loosely torn), cucumber and sprouts; then garnish with crushed peanuts. Squeeze lime juice, add dipping sauce into the bowl and toss all the ingredients.