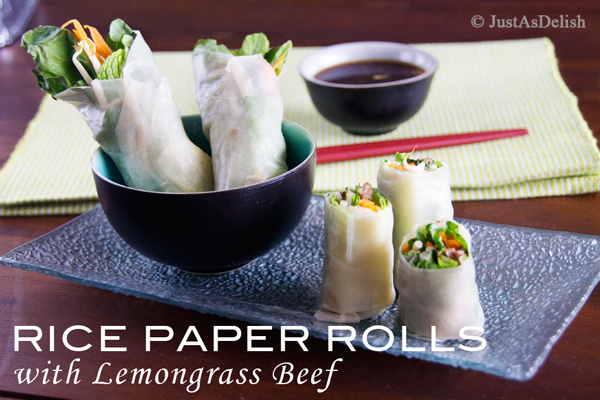 Vietnamese cuisine has a feel and a rhythm of its own. A sublime tone of delicious, delicate, calmly satisfying flavors, whether in their soothing Pho soup or these pretty rice paper wrap rolls. If you have tried rice paper wrap rolls before, chances are that someone else have pre-rolled the rice paper rolls for you. Ever thought of rolling your own?
After having taught by my Vietnamese friend's mom on how to wrap my own rice paper rolls with the mouth-watering grilled lemongrass beef, I couldn't stop thinking about them. During that time (in the 1990s), there wasn't any Vietnamese restaurant in Malaysia yet. Years later on my first visit to a Vietnamese restaurant, I was so looking forward to making my own roll and was disappointed to have them served pre-rolled. After searching near and far, I have yet to come across a Vietnamese restaurant that serves rolls with lemongrass beef.
I'm so excited that rice papers are available in some supermarkets like Jusco and Tesco, and they are actually produced locally. If you've never wrapped with Vietnamese rice paper, don't be daunted. Wrapping rice paper rolls is like making a spring roll or burrito and you don't have to make it perfect.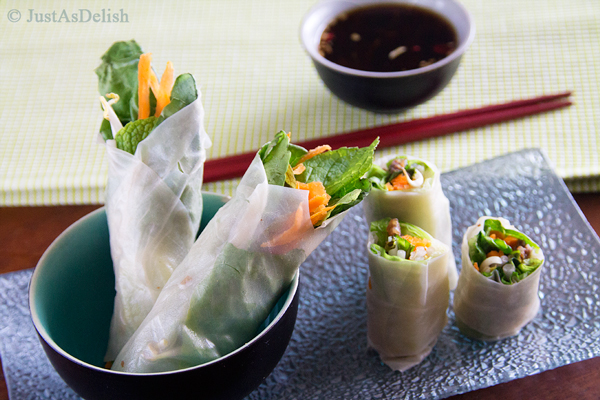 Whether it's dining with family or having friends over, rice paper roll DIY makes a fun social activity at the dining table. Place salad, beef, rice paper, and dipping sauce on the table. Prepare a few deep plates or large bowl deep enough to drip the rice paper in, filled them with hot water. Invite guests to dip the edge of the rice paper in the water and turn to wet evenly. Place the salad and beef and roll up like a spring roll.
Check out Viet World Kitchen very detailed explanation and description about wrapping rice paper rolls.
This post is submitted to Your Best Recipe of May 2012 hosted by Spicie Foodie.
Vietnamese Lemongrass Beef Rice Paper Roll
Lemongrass Beef Rice Paper Rolls - light & nutritious rice rolls wrapped with salad, herbs and fragrant lemongrass beef.
Ingredients
12 Rice Paper Rounds
12 sprigs fresh Mint Leaves
1½ cups (120g) Bean Sprouts
1 large Carrot - Grated
12 sprigs fresh Sweet Basil (Daun Laksa/Kesum)
1 head Lettuce - leaf separated and tear of stiff spine
Instructions
Place grated carrots in a bowl of dipping sauce.
Prepare a deep plate or large bowl deep enough to dip filled with hot water. Dip one rice paper round into bowl of warm water until soft (it takes a minute or two). It's ready for wrapping and rolling when it's pliable and slightly tacky – like a Post-it note.
Place lettuce leaf horizontally on the edge of rice paper near to you. Top with 2-3 mint leaves, grated carrots, sprouts, basil and beef. Don't over stuff or the roll may burst, just have a bit of each ingredient for the flavour.
Fold in the two side flaps, and then roll the entire thing up. This is for close ended roll.
Repeat Step 3 to make a total of 12 rolls.
Serve with Dipping Sauce.