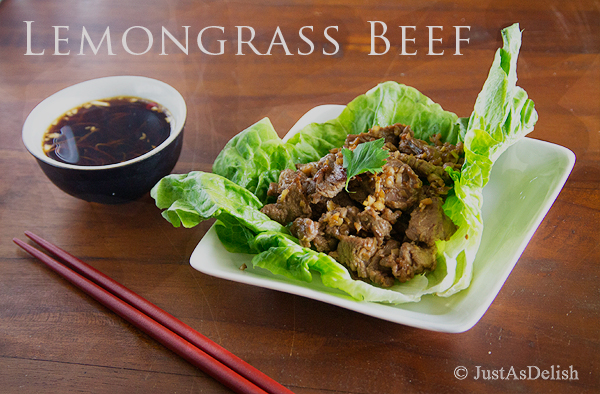 Years ago, a Vietnamese friend came for a visit and her mom prepared us an unforgettable Vietnamese meal. Since then, Vietnamese cuisine has become one of my favourite cuisine. Just thinking about that meal makes me just drool. One of the dishes she made is the mouth-watering Grilled Lemongrass Beef.
In Vietnamese homes, these tangy delicacy of seared beef are grilled at the table over a clay charcoal stove. They were tender and fragrant with a little bit of smoky char from the grill.  No worries if you do not have a grill. The marinated meat is also great grilled on toaster oven or pan seared in a pan. The whiff of lemongrass from the grill is simply irresistable!
If you are not a fan of beef, this lemongrass marinate works amazingly with chicken and pork as well. These beef strips is great as appetiser, or can be served as a main dish wrapped in rice paper; as a topping for cold noodles; or with a plate of steamed rice. Look out for the recipes next.

Grilled Lemongrass Beef
Vietnamese Grilled Lemongrass Beef - tangy delicacy seared beef, tender and fragrant with smoky char from the grill. Great as appetiser by itself; wrapped in rice paper; over cold rice vermicelli; or over a plate of steamed rice.
Ingredients
400g Beef Chuck or Flank - slice thinly against the grain
1 teaspoon Sugar
3-4 large cloves Garlic - finely minced
2 stalks Lemongrass - finely minced
1 tablespoon Fish Sauce
1 tablespoon Soy Sauce
2 tablespoon Vegetable Oil
Vietnamese Dipping Sauce
½ Red Bird Chili - thinly sliced
½ tablespoon Minced Garlic
2 tablespoons Fish Sauce
1 juice of large Lime
Instructions
In a wide, shallow bowl, whisk together sugar, pepper, garlic, lemon grass, fish sauce, and 2 tbsp. olive oil.
Add beef, toss to coat, and refrigerate 2 hours.
Grill the beef, or pan-sear in an oiled pan, until just done, about 20 seconds on each side or to desired doneness.
Serve garnish with cilantro and Vietnamese dipping sauce.


Vietnamese Dipping Sauce
Add all ingredients to a small bowl and whisk to combine.