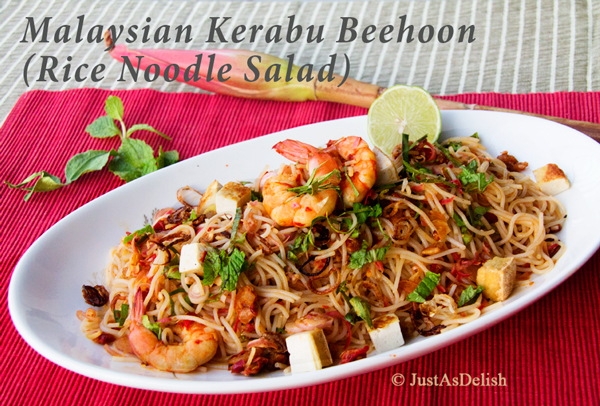 Kerabu = a spicy, sweet & sour salad.
Kerabu Beehoon is a vibrant Nyonya dish of rice vermicelli tossed with sambal belacan, calamansi juice, and lots of herbs. Nyonya is a culture and cooking style, from the influence of Chinese and Malay cultures in areas of what is now Malaysia and Singapore.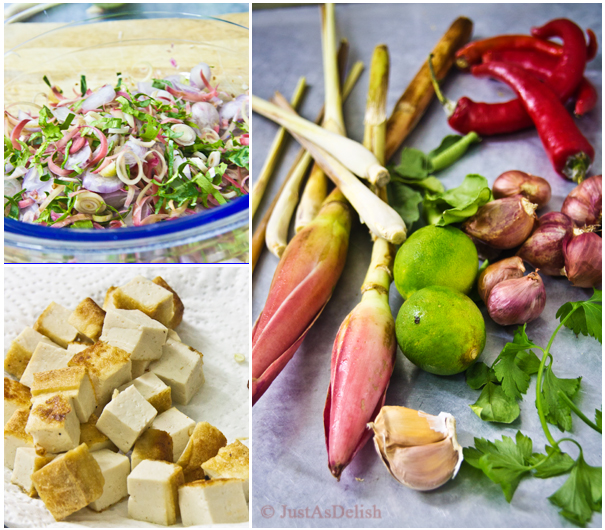 Kaffir lime leaves, lemongrass, shallots, garlic, torch ginger flower, and mint leaves mixed together with springy rice noodles, then tossed with spicy chili sambal and zesty calamansi lime.  This colorful Kerabu Noodle truly represents Malaysian cuisine and also diverse culture.
Even though preparation takes a while – lots of herbs to chop, it's worth the work.  The flavors dance on my tongue (and continue to do so even after I'm finished), leaving me sated and wishing for more.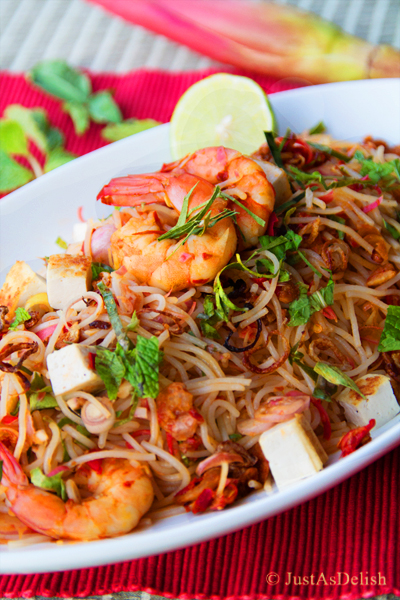 This light & flavourful dish can be eaten anytime of the day – for breakfast, lunch, dinner and even teatime.
This recipe is to be submitted to Muhibbah Malaysian Monday! May Round-up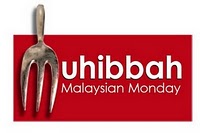 Kerabu Beehoon is a Nyonya dish of rice vermicelli tossed with sambal belacan, calamansi juice, and lots of herbs.
Recipe type:
Appetiser / Main
Ingredients
200g Rice Vermicelli - soak in water until soft and drain
100g Beansprout
12 medium Prawns - shelled and deveined
2 pieces Firm Tofu
6 Kaffir Lime Leaves - finely sliced
3 stalks Lemongrass – bruised and finely sliced
10 Shallots – thinly sliced
2 cloves Garlic - minced
2" Ginger - minced
2 Torch Ginger Flower (Bunga Kantan – finely sliced
⅔ cup freshly Grated Coconut
¼ cup Dried Shrimp - pounded
4 fresh Red Chili
4 Dried Red Chili
1 tablespoon Belacan (Shrimp Paste)
1 tablespoon Palm Sugar (Gula Melaka) or Raw Sugar
Juice of 3 Calamansi Limes
Pinch of salt, or to taste
Garnishing:
A handful of Mint Leaves – finely sliced
Calamansi Lime - halved
Fried Shallots (optional)
Instructions
Place sliced kaffir lime leaves, lemongrass, shallots, garlic and torch ginger flower in a large mixing bowl.
Pound fresh chili, dried chili and with a pestle and mortar. Alternatively you can pulse the ingredients using a food processor.

Bring a big pot of water to boil, blanch beansprout for 1 minute. Set aside.
Using the same pot, cook rice vermicelli for 1-2 minutes until soft. Drain under cold water and set aside.

Dry fry grated coconut until brown. Set aside.
Pan fry tofu with 1 tablespoon oil until light brown and cut into small cubes.
Heat oil, fry dried prawns till fragrant. Add garlic and fry till golden brown. Add chillies and fry for 1 minute. Add prawns and fry till cooked.

Add vermicelli, bean sprouts, prawn sambal, grated coconut and lime juice in the large mixing bowl and mix well to get an even colour.
Garnish with tofu, mint leaves and calamansi limes.