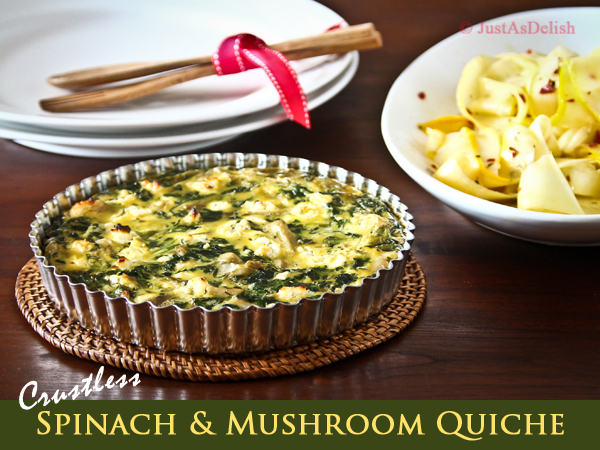 Quiche (English pronunciation: /ˈkiːʃ/; keesh) is a savory, open-faced pastry crust dish with a filling of savory custard with cheese, meat and vegetables. The quiche is sometimes regarded as the savory equivalent of the sweet custard tart. (from wikipedia)
This is my first attempt at making quiche on a lazy morning – Spinach Mushroom Quiche. It's also my first time using the pie tin that I bought a few months back. Lazy morning = fast & easy recipe. So it's "naked" quiche for me (I usually don't take the crust anyway). Try this pie crust recipe if you can't live without the crust.
Saute mushroom & spinach, then combine with the other ingredients and pour into pie tin to bake. Didn't I say it's fast & easy?  The filling for this quiche is totally adaptable—throw in asparagus tips, broccoli, bacon or salmon and whatever cheeses you have in your fridge. Oh I forgot to mention I also omit the cream that is usually used in most quiche recipe, so this quiche is low fat too.
Trust me, this Crustless Spinach Mushroom Quiche is just as scrumptious!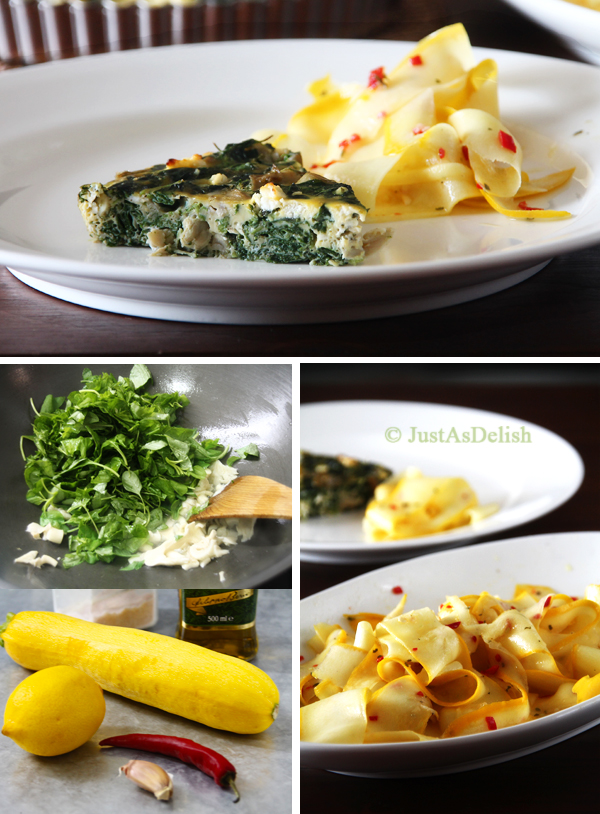 While waiting the quiche to bake, I made zucchini salad. Another first for me – eating raw zucchini and I'm surprised the zucchini doesn't have the 'raw' taste on the tongue, this salad is light and refreshing.
If I were to make this for Mother's Day brunch, I bet mama would love it – low fat & low carb. I'll make this scrumptious quiche and many more recipes for her next time she comes to visit.
 Happy Mother's Day to all the wonderful mothers! Including Mother Earth!
Spinach & Mushroom Quiche with Zucchini Salad
Easy Spinach Mushroom Quiche without the crust, taste just as scrumptious! Low Fat & Low Carb. Serve with refreshing Zucchini Salad
Ingredients
Crustless Spinach & Mushroom Quiche
1 tablespoon Vegetable oil
2 big handful of Spinach - remove stems and roughly chopped
Fresh Mushroom (Shiitake, Osyter or Wild Mushroom) - roughly chopped
4 Eggs - beaten
150ml Milk
200g Cheese of choice - grated (I used Feta)
1 teaspoon Salt
Freshly ground Black Pepper
Zucchini Salad
1 Large Zucchini
1 Red Chili
1 clove of Garlic
2 tablespoon Olive Oil
1 tablespoon Lemon Juice
Sea Salt & Ground Black Pepper to taste
Instructions
Preheat oven to 350 degrees F (175 degrees C). Lightly grease a 6 inch pie tin with oil.
Heat oil in a pan over medium-high heat. Add mushroom and saute for about 1 minute. Add in spinach and continue cooking until excess moisture has evaporated.
In a large bowl, combine eggs, milk, cheese, salt and pepper. Add in the spinach mixture and mix well. Pour into pie tin.
Bake in preheated oven until eggs have set, about 30 minutes. Let it cool for 10 minutes before serving.


Zucchini Salad
Deseed a red chilli and chop finely. Finely chop/grate a clove of garlic.
Mix together chili, garlic, extra virgin olive oil and a squeeze of lemon on a large plate.
Slice zucchini lengthways with a speed peeler or a mandolin. Sprinkle them with a little sea salt and freshly ground black pepper, mix well with your hand.