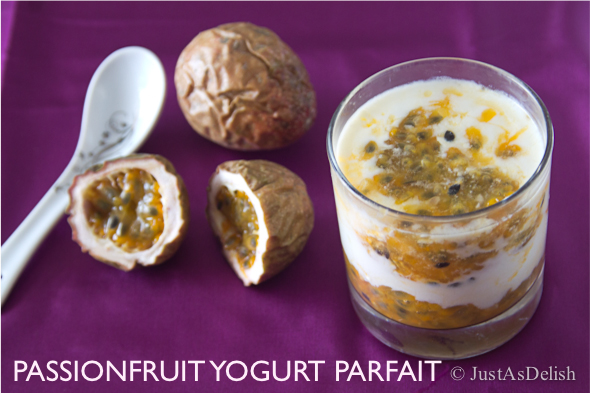 I was choosing some local passion fruits at the fruit stall. One elderly lady came and very quickly piled up her big basket with what looked like 3 kg of passion fruits. My eyes went wide open "Aunty, why you buy so many fruits? to make dessert?" "Oh we eat a lot daily, it's very good for you" and went on with a long list of benefits – good for the heart, helps constipation, high antioxidant, helps to sleep, etc.
I don't need much convincing, any food that has high antioxidant level will be on my shopping list. With a big bag of passion fruits, I went searching for recipes and tried out a few. The easiest & 'yummiest' recipe for me is Passionfruit Yogurt Parfait. Cut and scoop out the passion fruit pulp, and layer in between plain/vanilla yogurt. No explanation is needed with how much I love yogurt, there's always have a tub of homemade yogurt in my fridge.
From what I knew, parfait is a cold dessert made of layers of fruits / ice cream / whipped cream / nuts / yogurt. I love parfait for breakfast or snack, especially packed to go in a jar. Layer them with homemade granola, fresh fruits, and homemade yogurt, and I have a nutritious breakfast to go.
After I did some research, parfait is a French word that literally means "perfect". In France, parfait actually is referred to a traditional frozen dessert made of cream, eggs, and sugar. Good information to know so I don't feel silly when I order my dessert in France .. one day..
On a side note, you might have noticed that my blog posts has slowed down. I have been going through some rough times past few weeks. Emotional stress have taken its toll on my body, thus reduced in appetite and less cooking. I just need to take time off for what's more important now – to rebalance the body, mind and soul. Please bear with me, I will be back full swing again.