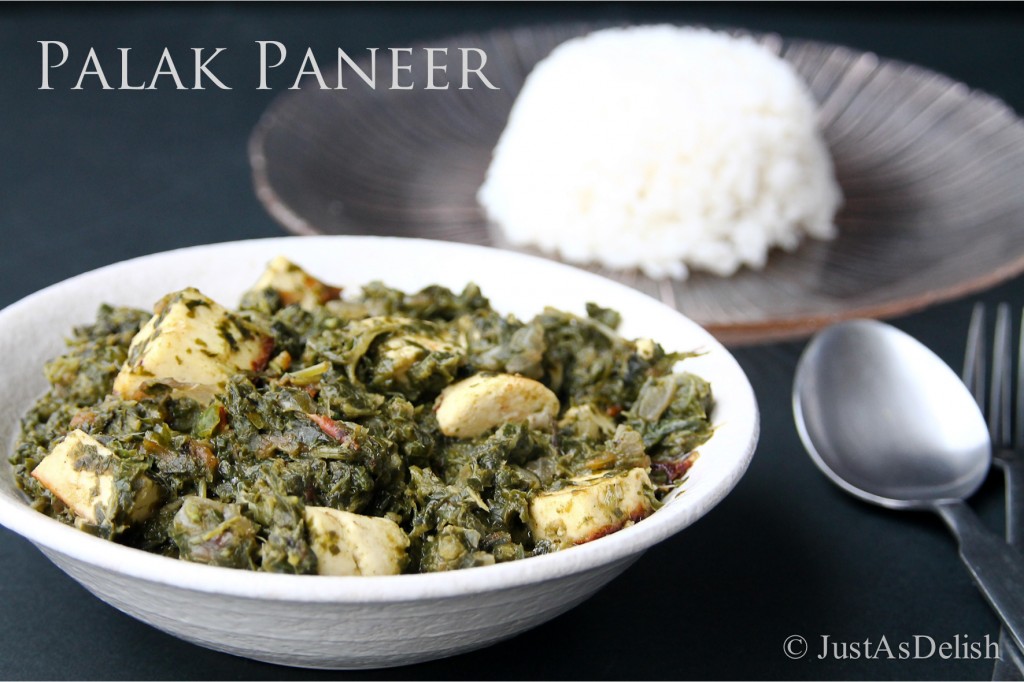 It was the eve of Chinese New Year, it's an important day where Chinese families members gather for their sumptuous annual reunion dinner feast. And there we were, 5 of us (mama, brother, 2 sisters and myself) walking into an Indian Restaurant at Little India. All heads turned as we were seated in the middle of the restaurant. That was the eventful day I had my first unforgettable taste of the rich, smooth, creamy Palak Paneer.
Ok wait. If you are wondering, that meal was not our reunion dinner feast. Our tradition is having reunion lunch feast with relatives at grandparent's house. It has always been such a feast where we usually ended skipping dinner later on. But not that night. With all Chinese eatery closed (everyone else was at their reunion dinner), we headed for Little India.
Palak Paneer is prepared with spinach (palak) and Indian cheese (paneer), where paneer cubes are cooked in a onion-tomato-spinach based gravy with Indian spices. I followed Kiran's recipe as her method is to blend the spinach before cooking. Prefer that than blending a hot dish after cooking (had this flash vision of hot food splattering all over the kitchen. *shudder*)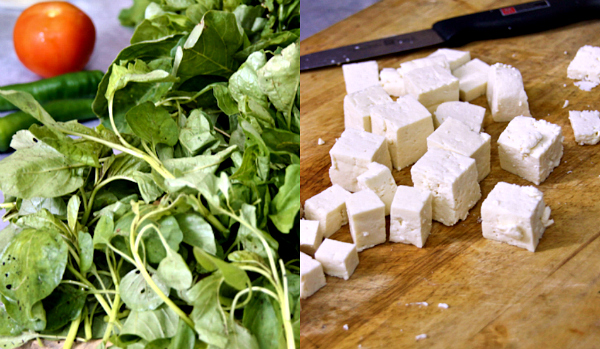 I was confused with the type of spinach to use. The local spinach (amaranth) that I'm used to is different from the palak photos I see online. Then I purposely made a trip to Little India Brickfields, and these young amaranth are given to me when I ask for palak. Most of the Indian shop assistants do not speak english very well, so I take whatever I was given.
Here I was in my kitchen, feeling proud of my successful homemade paneer attempt, all pumped up to recreate the Palak Paneer that will blow anyone's mind away. That didn't exactly happen. Does my dish look anything like a smooth gravy curry? Please don't be deceived by my version, Palak Paneer is supposed to look like this amazing dish prepare by Kiran (aren't her photos beautiful?)
I nailed the flavours but the handheld blender failed to make a smooth paste as expected. Well you've gotta give a girl a big pat for trying. My version of palak paneer didn't blow my mind away but it did taste good 🙂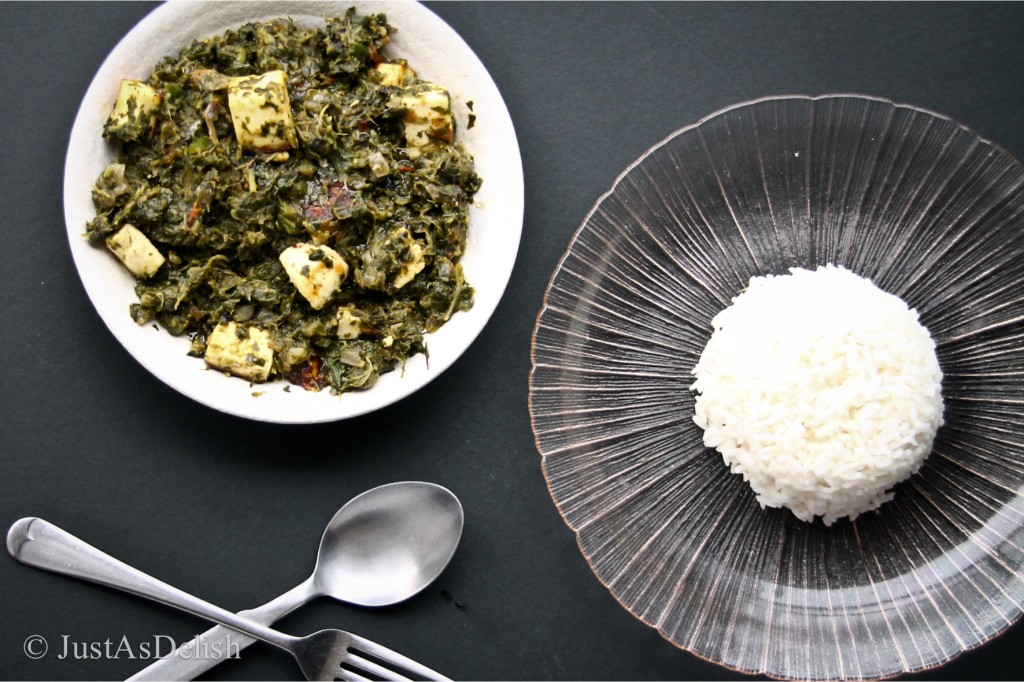 I must make this dish again and I seriously need a kick-ass food processor. Added to my wish list. Any santa claus out there?
Palak Paneer (Spinach Paneer)
Palak Paneer (Spinach cottage cheese) with homemade paneer cubes cooked in a onion-tomato-spinach based gravy with Indian spices.
Author:
Adapted from KiranTarun's recipe
Ingredients
150g Paneer - cut into 1 inch cubes
1 tablespoon Ghee (I used butter)
1 tablespoon Cooking oil
1 tablespoon Fenugreek Seeds
½ red onion, chopped
1 tbsp fresh garlic, grated
½ tablespoon Ginger - grated
2 Green Chilies - minced
1 Tomato - finely chopped
½ tablespoon Ground Cumin
½ tablespoon Ground Coriander
3 handfuls of Spinach - just the leaves
1 Green Capsicum - sliced
½ cup Yogurt
½ cup Coriander Leaves (I didn't use)
70ml Water
1 teaspoon Garam Masala
Salt to taste
Instructions
Soak cubed paneer in hot water. (I skip this because my paneer was just freshly made)
Add spinach, bell pepper, fresh coriander and yogurt in a food processor or blender. Pulse until smooth. Add a bit of water if needed to help the blending process.
Add ghee to non stick skillet / wok on medium heat. Add fenugreek seeds and chopped onions, fry till fragrant.
When onions are translucent and soft, add garlic, ginger, minced chilies and chopped tomatoes. Fry until fragrant & oil slightly separates.
Sprinkle in ground cumin & coriander. Mix to combine.
Add pulsed green sauce. Simmer for 15 minutes or until sauce has slightly thicken & excess liquid evaporates.
Meanwhile, drain paneer and pat-dry to remove any excess moisture.
In a separate non-stick pan, add 1 tablespoon of cooking oil on low to medium heat. Pan-fry paneer until slightly browned on all angles.
Add pan-fried paneer's into spinach sauce with garam masala. Mix to combine and simmer for 2 minutes.
Serve hot with flat bread/rice.