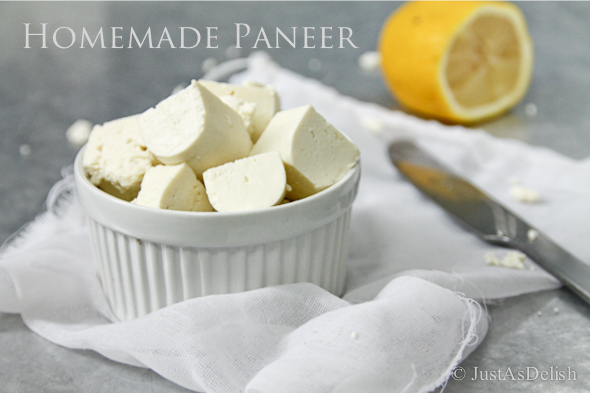 Seeing plenty of blog posts lately on homemade cheese got me itching for weeks wanting to make my own cheese. Making cheese at home is probably far easier than you'd expect. I was surprised to learn that most cheeses begin with the same ingredients and a similar process. Knowing me to find the simplest method, the few options without needing liquid rennet (to order online) are fresh cheese like ricotta, farmer's cheese and paneer (indian cottage cheese). All you need is a whole lotta milk and food acid (lemon juice, vinegar, or yogurt). Didn't I say it's super easy?
Finally I chose paneer because I've been eyeing Palak Paneer (Spinach Paneer) for a long time. My first unforgettable taste of Palak Paneer years ago is still deeply embedded – smooth creamy spinach with soft cheese curds.  A special favorite with North Indians, paneer (cottage cheese) is used all over India to make delicious dishes ranging from curries to desserts.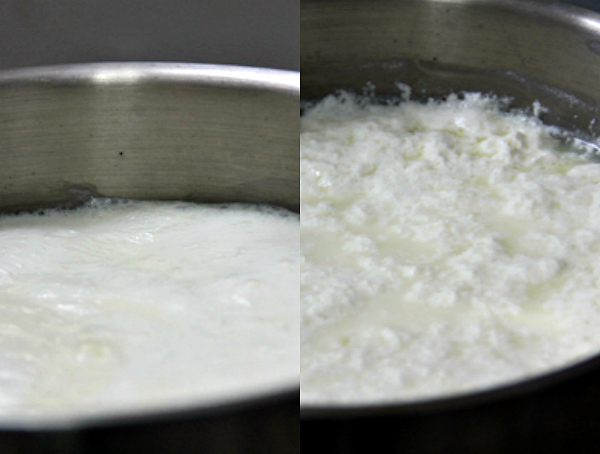 To prepare paneer, food acid (lemon juice, vinegar, or yogurt) is added to hot milk to separate the curds from the whey. The curds are drained in muslin cloth and excess whey is pressed out. (Source: Wikipedia)
After whey is drained out from the curd, what's left is fresh paneer. For most dishes, the paneer is placed under a heavy weight for 2–3 hours, and then cut into cubes for use in curries.
After 2 hours of pressing, my paneer tasted more like hard tofu, unlike my first memory of paneer. Will try next with shorter pressing time of 20 minutes for a softer, fluffier cheese.
Look out for my next post on using these paneer to make mouth-watering Palak Paneer.
More delicious recipes using paneer:
Homemade Paneer (Indian Cottage Cheese)
Paneer (cottage cheese) is used to make delicious Indian dishes ranging from curries to desserts. Just milk & lemon juice to make your own paneer
Ingredients
1 litre full-cream milk (use lean milk for a low-fat version)
1 tablespoon lemon juice
Instructions
Heat milk in a medium pot to a simmer.
When the milk comes to a simmer, switch of fire. Add lemon juice into it. Stir continuously until the milk is completely curdled. There is a separation of the curds and yellowish whey.
Strain the mixture through a clean muslin cloth over a large bowl.
Hang the muslin for 1 hour (tie over kitchen faucet or place the muslin on the side of a big pot, do not touch the bottom of pot). This will drip out all the whey.
To make the paneer into a block, place the muslin in between 2 chopping blocks with something heavy like a pot on top, for 1 hour.
Cut paneer into chunks and serve as appetizer, .