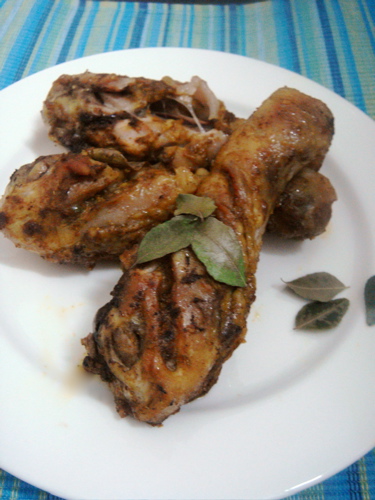 Yes your eyes are not playing tricks on you. These mouth watering chicken drumsticks are Oven-Fried. A few days ago, a cookbook Asian Oven caught my eye at the bookstore and I couldn't believe the author uses oven to fry – from chicken to springrolls. Oh my, frying without oil. This is like discovering man can go to space. Super exhilarated, I immediately headed to buy some chicken.
The recipe suggested using chicken wings or drummettes. But these cuts are too small bites for me and I choose chicken drumsticks instead. I cut 2 slits on each side of the drumstick to make it cook faster. As I did not have the memory of an elephant, I recalled only a few ingredients for the recipe and the rest I just add usual curry chicken spices.
The verdict: Straight from the oven, these drumsticks really taste like fried chicken! The skin is crispy and the flesh is full of curry flavour – after marinating for more than 2 hours. It's really finger licking good! I can't wait to try with chicken wings or drummettes as finger food. Now I can enjoy fried chicken without the guilt of deep drying oil! and oh I have to go buy that cookbook!

Oven-Fried Spicy Drumsticks
Mouth watering Spicy Chicken fried in the oven - healthy and guilt free! Enjoy healthy Fried Chicken without the guilt of deep frying oil
Ingredients
4 Chicken Drumstick
1 tablespoon Corn Flour (Cornstarch)
2 cloves Garlic – finely grated
2 inch Ginger – finely grated
2 Bird Eye Chili (cili padi) – seeded and finely minced
2 tablespoon Garam Masala or meat curry powder
1 teaspoon Turmeric Powder
1 branch of Curry Leaf
⅓ teaspoon Prawn Paste (Belacan) - Optional
1 teaspoon Salt
Instructions
Wash and pat dry drumstick. Make 2 slits on each side of drumstick with a knife.
Grate garlic and ginger, and mince bird eye chili.

Put all ingredients into a container with a cover and mix everything well to coat the drumstick and into the slits made earlier. [i]Add an extra ½ tablespoon corn flour if marinade is watery and collects at the bottom of the container. If the marinade is too dry, add a bit of water. You want a batter that is thick enough to coat the wings, but not so thick that it cakes. [i/] Put the curry leaves into the slit. Cover the drumsticks and refrigerate for at least 2 hours.

Preheat the oven to 475F/240C.
Line a baking tray with foil. Arrange the drumsticks on the tray, spacing them slightly apart. Roast in oven for about 15 minutes (or until crispy) and turn the drumsticks over to roast for another 15 minutes.
Serve immediately.

Simply Delish!