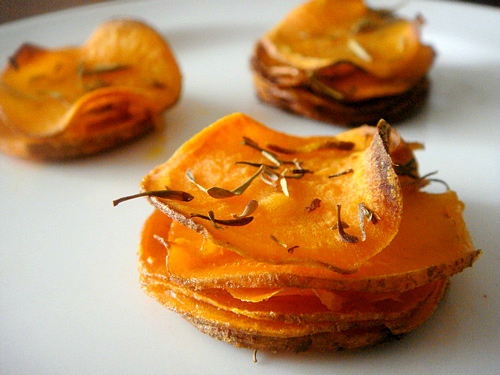 Yes it's another Sweet Potato recipe. Aren't these pretty and delish?
I know many people think sweet potatoes as being nothing more than plain old potatoes that can tweak our taste buds with some extra flavor. I was never a big fan of sweet potato, I know it has high fiber content but steamed sweet potatoes taste bland (Steaming them was the only cooking method I knew). I went searching for more recipes, and fell in love with the sweet caramelised taste of Baked Sweet Potato Fries. As I dig deeper, I was pleasantly surprised by the health benefits of these plain-looking tubers! With recently found delish recipes, I'm definitely eating more sweet potatoes from now on!
Sweet potatoes are rich in fibre and an excellent source of Vitamin A (beta carotene) and Vitamin C. These powerful antioxidants have healing properties that have been known to play a role in reducing inflammation and restoring cells. The more intense the sweet potato's yellow or orange flesh color, the higher beta-carotene content it has. In one study, the antioxidant activity in purple sweet potatoes was 3.2 times higher than a blueberry! Check out World's Healthiest Food for more benefits.
Choose sweet potatoes that are without cracks or soft spots. They should be firm to the touch. The sweet potato has yellow or orange flesh inside, but its thin skin can be yellow, orange, red, brown, white or even purple. Store sweet potatoes in a cool dry place. They should keep fresh for about a week. Don't place them in the refrigerator.
Enough about the facts. I know you are drooling at the Sweet Potato Stacks (I know I am!). They are not only too pretty to look at, they taste delicious as well. The crispy edges coupled with the garlic oil, thyme and rosemary is bound to impress your guests at dinner parties. These Sweet Potato Stacks are also great as a snack. I used yellow flesh sweet potatoes, finely sliced using a sharp knife. Alternatively, using a mandolin makes the slicing effortless and so much faster.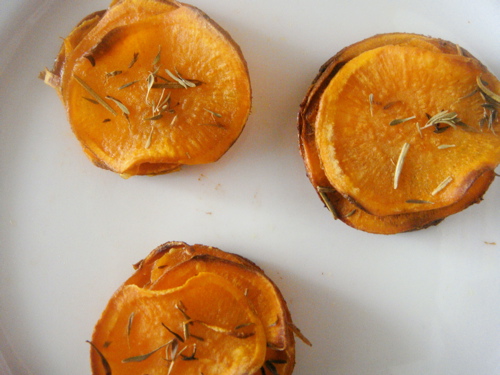 You can replace with potatoes or beetroots and experiment with different herbs and flavors. I am sure you will make this roasted sweet potato stacks again and again.
Other sweet potato recipes: Sweet Potato Onde Onde (Sweet Potato Glutinous Rice Balls)
Roasted Sweet Potato Stacks
Easy Roasted Sweet Potato recipe using sweet potato, garlic, olive oil to make roasted sweet potato stacks. Great side dish or enjoyed as a snack.
Author:
Adapted from Gourmand Recipes
Recipe type:
Side or Snack
Ingredients
3 tablespoons Olive Oil
2 cloves Garlic, minced
½ tablespoon Dried Thyme Leaves
½ tablespoon Dried Rosemary
500g round Sweet Potatoes - can leave the skin on if prefer more crunch
Salt and pepper
Instructions
Preheat the oven to 350F/180C.
Make the garlic oil: Combine olive oil, garlic, thyme and rosemary in a small saucepan and gently warm over low heat until fragrant but the garlic is not brown. Remove from the heat and set aside.
Wash the sweet potatoes, pat dry and thinly slice them with a mandolin or a knife. (My mandolin was not sharp enough, so I used a knife)

Brush 9 muffin tin with the garlic oil with a pastry brush. Layer a sweet potato slice in the bottom of a muffin tin and brush it with a thin layer of garlic oil. Layer another slice of potato and brush it with the garlic oil. Repeat until it stacks up to the top of the muffin tin.
Repeat step 4 with a new muffin tin until you have a total of 9 potato stacks.

Season with salt and pepper.
Bake the sweet potato stacks in the preheated oven for 30-40 minutes or until the sweet potatoes are golden brown and cook through. Serve immediately with any main entrees or as a snack.

Notes
* Using a mandolin makes the cutting a breeze. It requires some knife skills (and patience) to slice the sweet potatoes thinly. * Heat up leftovers (which I doubt) in oven for 5 minutes before serving
 How sweet is this?