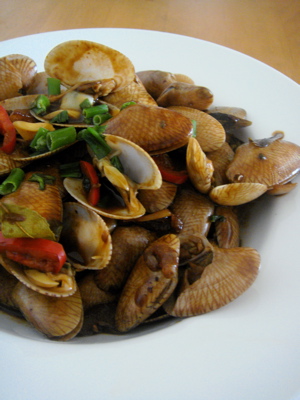 I'm not so familiar with selecting seafood (I can't differentiate types of fish) and cooking seafood (except steaming and deep frying). Well, there's always a first time. I've been wanting to try cooking lala (clams), my hands start to itch when I see fresh lala (clams) at the wet market. I mustered up my courage, got 1kg and search for Kam Heong Lala recipe.
Kam Heong (金香) dishes are very popular in Malaysia and it's truly a Malaysian dish with a combination of Chinese, Malay and Indian ingredients. Kam Heong literally means 'Golden Fragrance' from the Cantonese dialect (don't ask me how the name come about). The aroma from curry leaves, curry powder, dried shrimps, shallots, garlic, and chilies leaves me drooling for more. I could finish up a bowl of rice with just the sauce alone! This is an extremely aromatic dish and is spicy, savoury and sweet at the same time. Kam Heong sauce also goes well with chicken, prawns, squid and the most famous – Kam Heong Crab, one dish not to be missed when you visit Malaysia.

Kam Heong Lala (Spicy Clams Stir Fry - Kam Heong Style)
Spicy Clams Stir Fry - Kam Heong style, a very popular Malaysian dish with combination of chinese, malay and indian ingredients of curry leaves, curry powder, dried shrimps, shallots, garlic, and chilies
Ingredients
1kg Lala / Clams - soaked in salt water for 1 hour
1 tablespoon Dried Prawns - soaked in water and drained
2 tablespoon Vegetable Oil
Handful of Fresh Curry Leaves
10 Shallots, chopped
3 Chili Padi (Bird Eye Chili)
1 teaspoon Cornstarch and water for thickening

Seasoning
½ teaspoon TauCheong / Fermented Soy Bean Paste
1 tablespoon Curry Powder
1 teaspoon Light Soya Sauce
½ teaspoon Dark Soya Sauce
Instructions
Heat 2 tbsp oil and saute dried prawns until fragrant.
Add in curry leaves, shallots, chilli padi and stir-fry until aromatic.

Add in the clams/la la, seasonings and stir fry at high heat until well mixed.
Thicken with corn flour and water, mix well and dish up. Garnish with chopped spring onion and cut red chili.
]
Not too bad for a first timer!