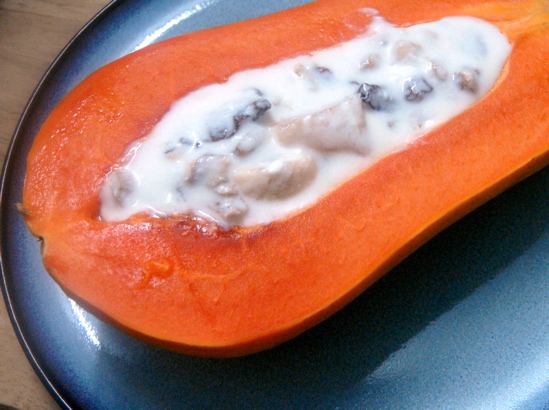 We Malaysians are blessed with abundance of local tropical fruits, especially this time of year (June-August). I usually just eat the fruits as it is. Recently I have this realisation – Why not incorporate the fruits in my cooking and be creative with it.. So this is my first of my many FRUITY post to come..
Papaya is very common in my fruit diet and my mama would bring papaya from my grandparent's house (they have 2 trees) whenever she visit me. I adapted this recipe from Allrecipes.com – Papaya stuffed with yogurt, raisins, fruits and walnuts. I am glad that I have the ingredients (always have a tub of homemade yoghurt in my fridge) and super easy to whip up – only takes me not more than 5 minutes. I used the fresh fig that I bought recently, actually any soft fruits would also do – like banana. I won't even call this a recipe because it's just mix & eat.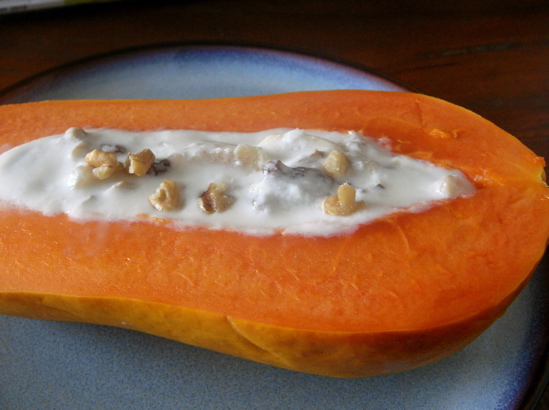 Refrigerate the papaya first before preparing this, a cold papaya makes this a perfect snack after a hot day out, or even for dessert. I felt so energized and healthy after I had this for breakfast.
Note: Choose ripe papayas with reddish-brown skin that is soft to the touch
PAPAYA BOAT
3 tablespoon plain yogurt
1 tablespoon walnuts
1 tablespoon raisins
2 tablespoon chopped fresh fig (or any fresh fruit of choice – banana/pineapple/)
1 tablespoon lemon/lime juice
1 medium papayas, cut in half lengthwise and seeded
1. In a bowl, mix the yogurt, walnuts, raisins, fruit and lemon juice.
2. Spoon the mixture into the centers of the papaya halves.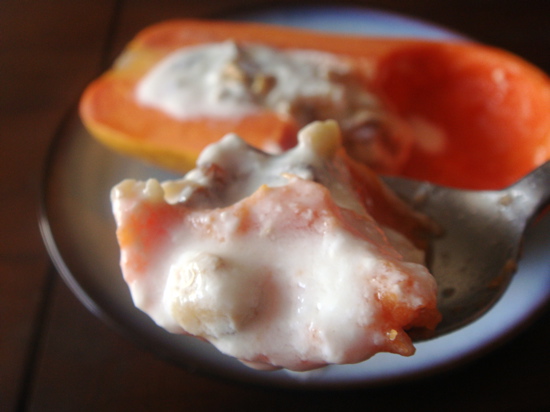 3. Scoop & eat!