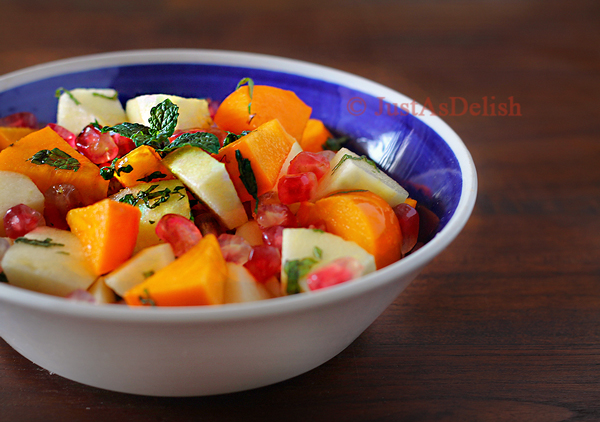 When pomegranates are RM6-Rm7 (USD2) a pop, it's not strange that it's not fruits for the masses. When I saw some Thai pomegranates at 5 for RM10, I quickly grab them. They are not as sweet or as deep ruby red like the mediterranean ones, but they are still good enough for me.
Seeding a pomegranate may seem like a lot of work for just a piece of fruit but think again. Getting those seeds may be well worth it. Pomegranates contain high levels of flavonoids and polyphenols, potent antioxidants offering protection against heart disease and cancer. A glass of pomegranate juice has more antioxidants than red wine, green tea, blueberries, and cranberries. Click here for the video on an easy method of deseeding a pomegranate.
With that, I am on the mission to find a fabulous recipe that makes the pomegranate shine.. and this simple yet outstanding persimmon pomegranate salad recipe from simplyrecipes.com has elevated fruit salad to a whole new level. It blew me away, I just couldn't stop eating the salad – juicy, slightly sourish & bursting with refreshing flavours.. Never had I enjoyed a fruit salad this much and right as I'm typing this, I am putting a mental note to buy the fruits tomorrow morning.
And remember to get Sharon Persimmons, they are my absolute favourite.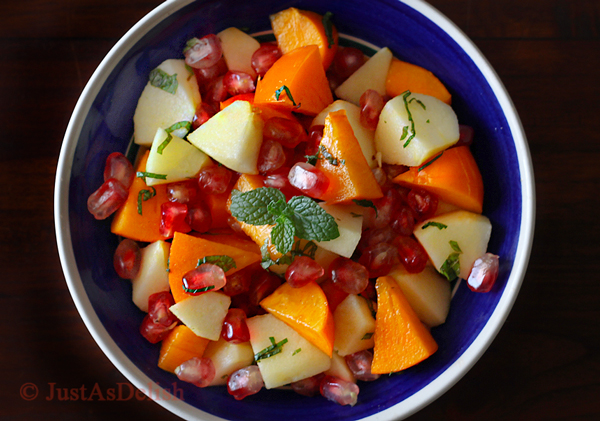 Persimmon Pomegranate Salad Recipe
Ingredients
3 Persimmon
1 Pomegranate
1 big Fuji Apple
8 Mint Leaves
2 teaspoon Lemon Juice
1 teaspoon Honey
Instructions
Take the seeds out pomegranate. (follow the video above for the easy method)
Cut persimmons and apple into 2cm pieces.
Chiffonate the mint leaves by stacking the leaves together, roll them up like a cigar & thinly slice.
Gently toss all of the ingredients together and enjoy!