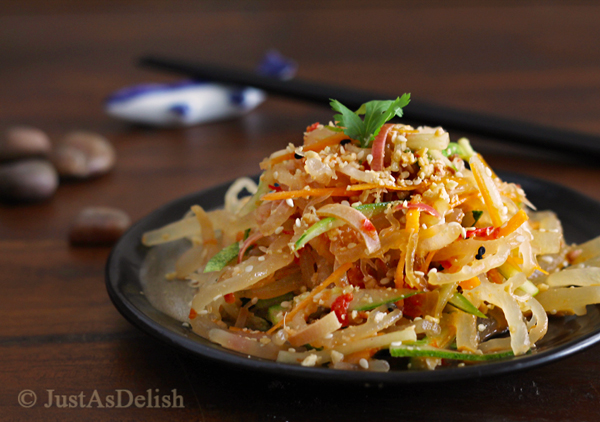 Everytime I were to step into Tuck Heng Ginseng Hall, I have to spare 2-3 hours. Time just flies when I'm tasting and learning new produce with the herbalist Ah Wai.  There's more than herbs in that shop. Each visit always end up with new discoveries, I feel like a kid unwrapping presents, except I have to pay for them..
One of the things Ah Wai was very adamant on me to try is the Sea bird nest or San Hu Cao (珊瑚草) in chinese. Eucheuma Seaweed is nicknamed sea bird nest because it supposedly have the same collagen benefits of birds nest, with a whole list of health benefits. Always willing to try anything for beautiful skin and it's a cheap alternative, boiling the seaweed as suggested by Ah Wai ended up with a pot of gooey slimy goo.. which wasn't appetising at all.
Last year, an acquaintance from Sabah gifted mama a packet, insisting mama to try it. Seaweed farming is a common industry in Sabah, Indonesia, Philippines and Southern Japan. Recent years have seen a trend in Eucheuma Seaweed food products appearing everywhere.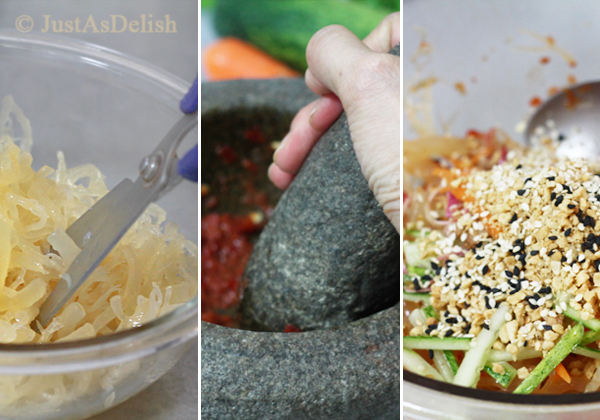 A few months passed and that packet was used for this delicious Seaweed Kerabu (Seaweed Salad), a common appetiser dish in Sabah. This time I'm delighted that no cooking is required, and I was surprised that the raw seaweed as a nice soft 'crunch' that goes well with the other vegetables. Ever seen a salad with belacan? The sweet sour seasoning with aromatic bunga kantan as well as peanuts and sesame seeds would not work so well if it's not for the aromatic belacan.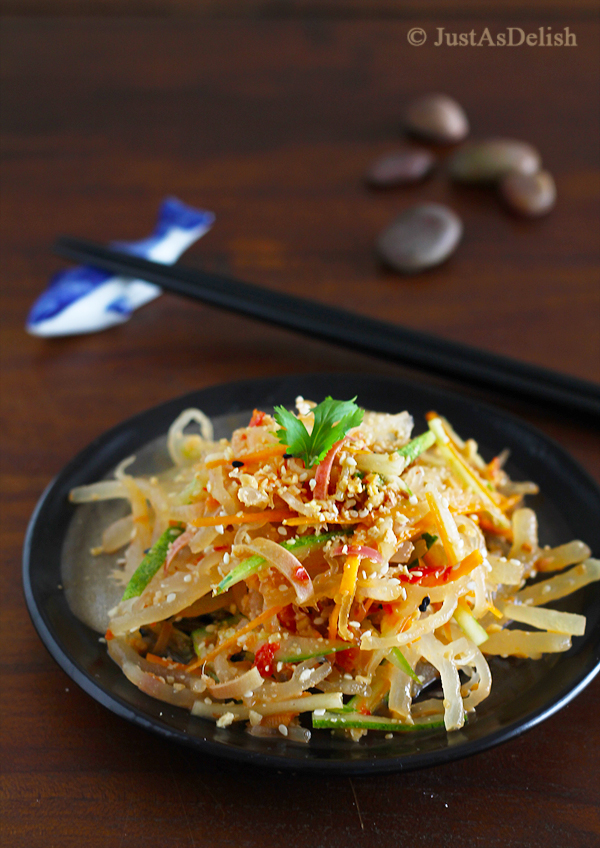 So guess what will be a regular ingredient to throw into my salad? Who doesn't like beautiful skin? 🙂
Beauty Tip #1: Keep the seaweed soaking water, learnt from my friend Ash to use it to shower for softer and smoother skin.
Beauty Tip #2: Blend the soaked Eucheuma Seaweed with some water, spread on the face like a mask and wash off after 15 minutes. It helps to improve and soften skin texture.
Note: Eucheuma Seaweed are sold at chinese herbal shops & dried ingredients shops in Malaysia, priced at RM5-7 for 200g.
I am submitting this post to Malaysian Food Fest, Sabah Month hosted by Mary of Pepper's Love

Euchema Coral Seaweed Kerabu
Eucheuma Seaweed Kerabu - a delicious aromatic salad with eucheuma seaweed (san hu chao) that gives you beautiful smoother skin. What's not to love?
Author:
wendyinkk.blogspot.com
Ingredients
50g dried coral seaweed - soaked & become about 250g
3-4 tablespoon Calamansi Juice
1 tablespoon sugar
2 red chili
1 tablespoon belacan paste (Shrimp paste)
3 inches carrot - cut into thin strips
1 japanese cucumber - cut into thin strips
½ red onion - thinly sliced
½ cup roasted peanuts - roughly grinded
1 tablespoon toasted sesame seeds
1 tablespoon sliced Torch Ginger Bud (Bunga Kantan)
Instructions
Drain seaweed well and roughly snip them shorter. In a big bowl, toss seaweed with calamansi juice, sugar and salt.
Meanwhile pound chilli and belacan together, then toss with the seaweed. Chill it in the fridge until it's time to serve. Taste the seaweed after 30 minutes, if it needs more flavour, adjust according to your preference. (This can be prepared the day before).
When it's time to serve, mix with the other ingredients and garnish with coriander.
Best served chilled.