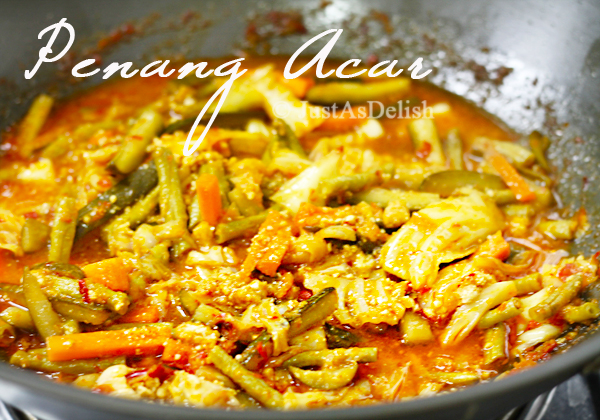 Penang Acar (also spelled as Achar) is a very special pickled vegetable dish. I think every Penangite loves it because of the appetizing, sour and spicy great taste. Who wouldn't? There's this lady at the pasar (wet morning market) near my Penang childhood home that sells mouth watering acar. Besides buying from the pasar, many economy rice vendors also include acar into their dishes. Maybe that's the reason why my Mama never made acar before.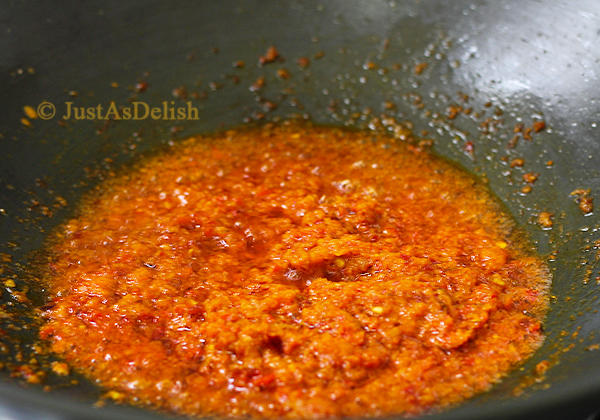 As usual, I was not aware of the origin of Penang dishes, including Penang Acar. As long as they taste good, it just goes into my tummy. But now it's good to come to my knowledge that Penang Acar is a Penang Peranakan Nyonya dish when I decide to attempt it for Chinese New Year earlier this year. Now this Penang gal knows a bit more. This dish can be prepared a few days ahead, so it's 1 less dish to prepare for the big feast. Alas my "blur-ness" during the preparation had me adding  double amount of the vinegar than recommended. The extreme sourness + the chilli = heat gone through the roof! Luckily none of my relatives noticed that as they seem to enjoy the dish.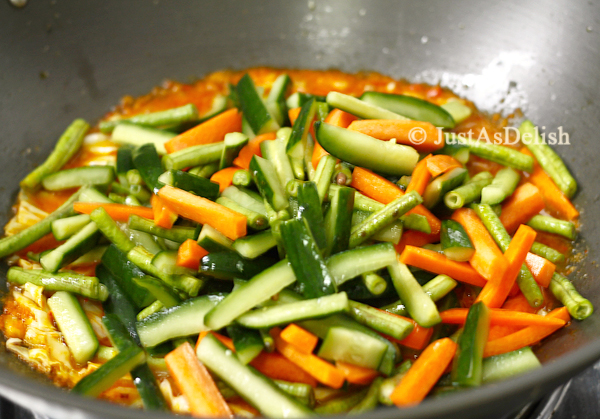 Be prepared for a lot of slicing action (it's a good practice of your knife skills). The recipe postsed here is adapted from the recipe I found here. I decided to seasoned the vegetables with some salt first to retain crunchiness texture, as I'm a gal who likes some crunch in my food. As with most spicy dish, Penang acar tastes better when the pickle is left overnight to allow all spice ingredients to mingle. You can keep it up to 4 weeks in the refrigerator and slowly enjoy them (most likely there's none left after 2 days).
I am submitting this post to Malaysian Food Fest, Penang Month hosted by Alan of Travellingfoodies

Penang Acar | Penang Achar (Penang Spicy Pickled Vegetables)
Penang Acar | Penang Achar (Penang Spicy Pickled Vegetables) - appetizing, sour & spicy appetiser
Ingredients
300g Cucumber - cut lengthwise 1½ inch
150g Cabbage - roughly cut into big pieces
50g Carrot - peeled and cut into 1½ inch
50g Long Beans - cut into 1½ inch
50g Roasted Peanuts - ground
2 tablespoon White Sesame Seeds - roasted
1 tablespoon Salt
1 tablespoon Coconut Sugar, or to taste (or sweetener of choice)
3 tablespoons Cooking Oil
50ml Rice vinegar
30ml Water
Spice Paste
5 Shallots
6 fresh Red Chilies
½ inch Fresh Turmeric (or 1 teaspoon turmeric powder)
Instructions
Mix all the vegetables with 1 tbs salt. Leave aside in a colander to dry excess liquid for about 30 minutes.
Blend the spice paste in a food processor.
Heat up the wok on medium heat. Add oil to stir-fry the spice paste until aromatic. Add vinegar and water, bring to boil. Add salt and sugar to taste.
Turn off fire, add all vegetables, ground peanuts & sesame seeds into the wok and stir well.
Dish out, let it cool to store in a jar or container. It can be served immediately but acar taste best overnight after the flavours have developed.
Keep chilled in the fridge. It can last for at least 4 weeks.