I am a big fan of Thai green curry, I cook it quite often but was not aware of the other 'sister' Thai red curry until I came across a Pumpkin Red curry recipe in a magazine. I found that green curry pairs well with summer vegetables while red curry pairs beautifully with winter vegetables like pumpkin. Since then, pumpkin red curry appears often on my menu, especially during cooler months.
One of the hacks to Asian cooking is using ready-made pastes, and they store well in the freezer for a year. Make sure to choose the paste that contains pure ingredients without artificial ingredients and preservatives. This is a meatless recipe, but the paste is not vegetarian as it contains dried shrimp. You can add chicken or pork too.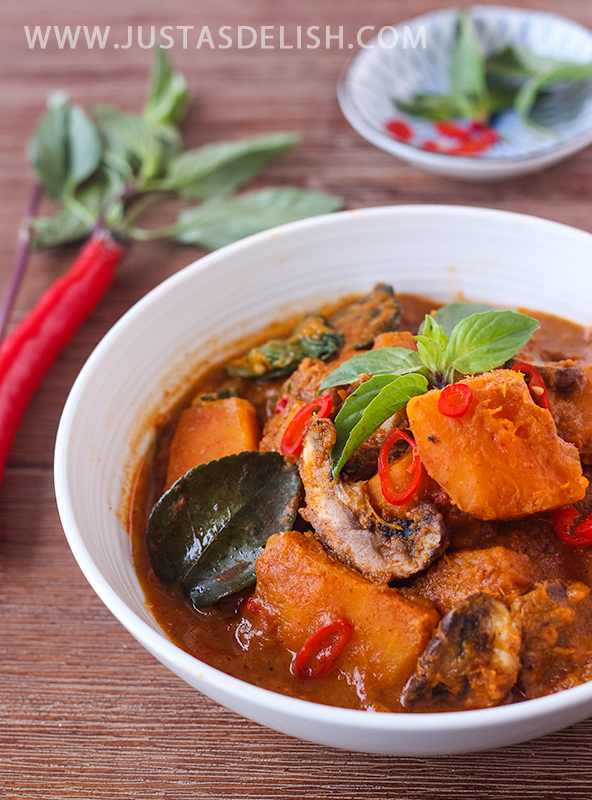 I normally cook a double portion as the curry tastes even better the second day when the curry flavour in the pumpkin deepens further
Thai Pumpkin Mushroom Red Curry
Thai Pumpkin Mushroom Red Curry in 15minutes, meatless and comforting on cooler days
Ingredients
3 tablespoons Thai red curry paste
100ml coconut milk
600 grams pumpkin - cut into cubes
1 cup brown mushrooms / oyster mushrooms - sliced
1 tablespoon fish sauce
2 kaffir lime leaves
A handful fresh sweet basil
½ red chili - thinly sliced
Instructions
Bring coconut milk to a boil in a large pot over high heat, stirring frequently.
Just before boiling add the curry paste and stir to mix well homogeneously. Once blended, add water and pumpkin. Boil until pumpkin is cooked through, less than 10 minutes. Check the pumpkin by piercing with a sharp knife, it should retain some firmness (al dente).
Add in the mushrooms and fish sauce. When it is cooked, add the Thai basil leaves or kaffir lime leaves, stir in to mix and then immediately switch off the fire.
Serve with more fresh herbs and chili.
Notes
If Thai sweet basil is not available in your area, either omit or substitute with coriander