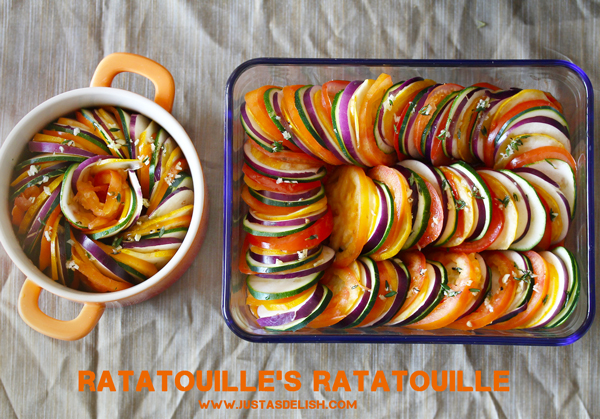 Ratatouille's Ratatouille is by far my most elaborate and crazy cooking attempt. It took me 4 hours. Phew. My Wild Mushroom Quiche for Nutriplus baking competition looked easy compared to this dish. The 4 hours of hard work was worth it after the photo received lots of "wow" when I posted on my social media accounts and it was featured on Sorted Food's Eye Candy Video. 
Normally I would not even finish reading complicated recipes or try to simplify them but this time I decided to challenge myself in cooking with French techniques. Sometimes we just had to try new things and constantly challenge ourselves. Learning, living, making mistakes, pushing yourself, stretching, growing much more than we ever thought possible. Don't worry if you make mistakes. Try and try again, just like Remy – the rat with a whisk and a dream.
This recipe is not the usual ratatouille recipe where the vegetables are fried before baking. Top French chefs had been preparing the ratatouille vegetables in thin slices (known as confit byaldi) instead of the traditional rough-cut ratatouille. American celebrity chef Thomas Keller of the acclaimed French Laundry restaurant did a variation to the "byaldi" dish in his cookbook, The French Laundry Cookbook, which was later used in the movie Ratatouille. His variation added two sauces, a tomato and bellpepper sauce at the bottom (pipérade), and a vinaigrette at the top, and serving the dish by fanning the vegetables out accordion-style.
According to Thomas Keller's recipe, a pipérade is made of peeled, finely chopped and reduced peppers, yellow onions, tomatoes, garlic, and herbs. The pipérade is spread thinly in a baking tray or casserole dish, then layered on top with evenly sized, thinly sliced rounds of zucchini, yellow squash, Japanese eggplant, and roma tomatoes, covered in parchment paper, then baked slowly for several hours to steam the vegetables. The parchment is removed so that the vegetables may then roast, acquiring more flavor through caramelization. To serve, the pipérade is formed into a small mound, and the rounds arranged in a fanned-out pattern to cover the piperade base and drizzled with balsamic vinaigrette around the dish.

Are you tired yet just reading the description? The total cooking time took me longer than it should have been, due to the high precision in the mise-en place which I'm not used to. The mise-en place could have been faster if a mandoline is used for slicing and if I can finely dice at a faster pace. I was struggling with manually slicing the vegetables into 1/16 inch (how can that be done without a mandoline is beyond me). You would have noticed these slices were definitely far from 1/16 inch. It reminded me of how Julia Child practice dicing onions for hours and days to get it perfected in the movie "Julie & Julia". I too need to get into the long hours of practice sessions. Mastery is key.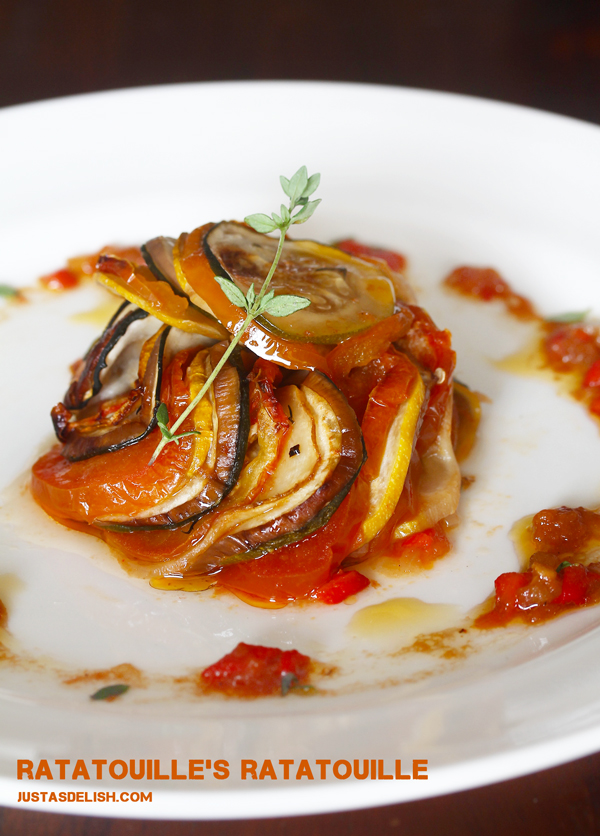 This confit byaldi recipe makes such a beautiful and elegant presentation, with lightly caramelized and savory flavors. Despite the delicate preparation and presentation, confit biyaldi, like most ratatouilles, improves with age overnight in the refrigerator. Even though I've not tasted ratatouille before, I felt the flavours are a tad bland. Adding a bit more vinaigrette greatly enhanced the overall taste.
Having recovered from this attempt, now I'm off to find my next challenge. Hmm.. what's next? What do you suggest?

Ratatouille's Ratatouile (Thomas Keller's Confit Byaldi)
Ingredients
PIPERADE
2 Red Bellpepper (Capsicum) - seeds and ribs removed
2 tablespoons Extra Virgin Olive Oil
1 teaspoon minced Garlic
½ cup finely diced Yellow Onion
340g (12 ounce) Tomatoes - peeled, seeded, and finely diced, juices reserved
1 sprig Fresh Thyme
1 sprig Flat-leaf Parsley
½ a Bay Leaf
Salt to taste
VEGETABLES
1 Green Zucchini (100g or 4ounces) - thinly sliced
1 Yellow Zucchini (100g or 4ounces) - thinly sliced
1 Japanese Eggplant (100g or 4ounces) - thinly sliced
4 Tomatoes - thinly sliced
½ teaspoon Minced Garlic
2 teaspoon Olive Oil
⅛ teaspoon Fresh Thyme Leaves
Salt and freshly ground Black Pepper
VINAIGRETTE
1 tablespoon Extra Virgin Olive Oil
1 teaspoon Balsamic Vinegar
Thyme
Salt and freshly ground Black Pepper.
Instructions
For piperade, heat oven to 232C or 450F. Place pepper halves (cut side down) on a foil-lined tray. Roast until skin loosens, about 15 minutes. Remove from heat and let rest until cool enough to handle. Peel and chop finely.

Combine oil, garlic, and onion in medium skillet over low heat until very soft but not browned, about 8 minutes. Add tomatoes, their juices, thyme, parsley, and bay leaf. Simmer over low heat until very soft and very little liquid remains, about 10 minutes, do not brown; add peppers and simmer to soften them. Season to taste with salt, and discard herbs.

Heat oven to 135C (275F). Spread piperade in bottom of an 20cm (8-inch) baking dish or casserole dish.
From the side of dish, arrange a strip of alternating slices of vegetables over piperade, overlapping so that ¼ inch of each slice is exposed. Around the center strip, overlap vegetables in a close spiral that lets slices mound slightly toward center. Repeat until dish is filled; all vegetables may not be needed.

Mix garlic, oil, and thyme leaves in bowl and season with salt and pepper to taste. Sprinkle over vegetables. Cover pan with foil and crimp edges to seal well. Bake until vegetables are tender when tested with a paring knife, about 2 hours. Uncover and bake for 30 minutes more. (Lightly cover with foil if it starts to brown.) If there is excess liquid in pan, place over medium heat on stove until reduced. (At this point it may be cooled, covered and refrigerated for up to 2 days. Serve cold or reheat in 350-degree oven until warm.)

For vinaigrette, take a tablespoon of piperade from the baking dish, combine with oil, vinegar, herbs, and salt and pepper to taste in a bowl.
Notes
If there are leftover vegetables, stir fry them with the vinaigrette.