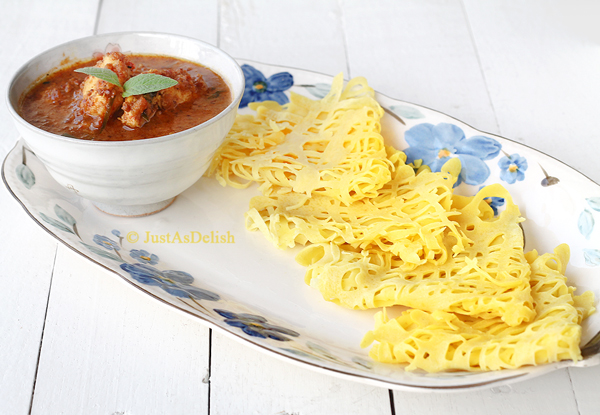 I was selected as the top 20 finalists in the Asian Food Channel (AFC) Foodie Face Off about a month ago. We have to create 2 dishes with a 'Raya Celebration' theme. When I receive the news, I was travelling & only had very limited time to practice before the competition day. Even though it was stressful, I knew I would learn so much from this challenge. I could only imagine the recipes in my head, practiced and prayed for the best. The competition was indeed an eye opener, not only it's a test of skills, creativity definitely plays a major point clincher. With dishes served in champagne glasses and test tubes, I definitely have to up my game in the next competition.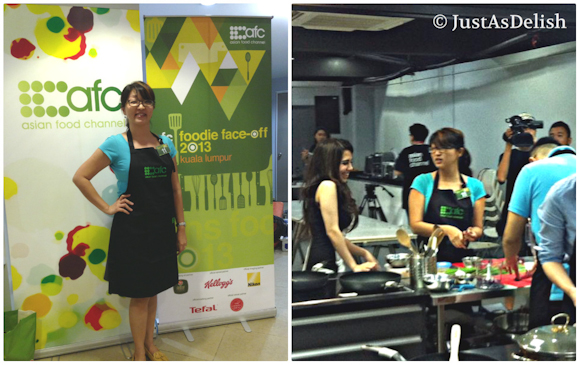 For my first dish, I combine two of my favourite recipes together – Roti Jala (Fishnet Crepe) & Kuah Kacang (Satay Sauce). Who wouldn't love a good Satay Sauce. Instead of skewered meat, I add the chicken into the satay sauce. Strange combination for some, but the judges say the flavours work well and Chef Anis commented that my kuah kacang taste exactly like her grandma's. That couldn't have made me happier.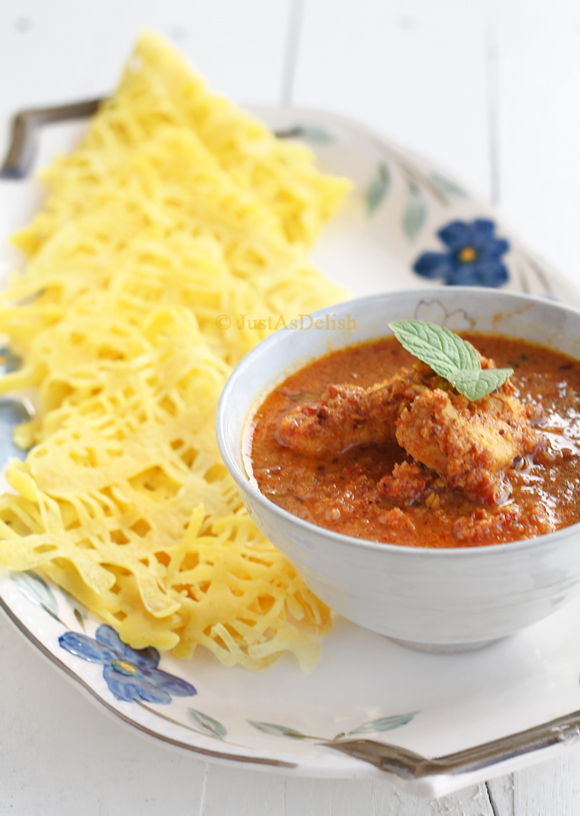 Roti Jala, means "net bread" literally, is another Malaysian delicacy. These lacy and net like pancakes/crepes served with curries are usually eaten for breakfast or afternoon tea snack. I can eat these anytime of the day. There's a special cup mould with 5 holes, to make roti jala, but you can also use a plastic sauce bottle with 3 sprouts (or also known as Japanese Mayo Bottle) to squeeze and swirl the lace. You can get this bottle at Daiso or some baking supply shops. Watch this video on Roti Jala swirl technique. You can make the circular rounds pattern or zigzag pattern like how I did mine.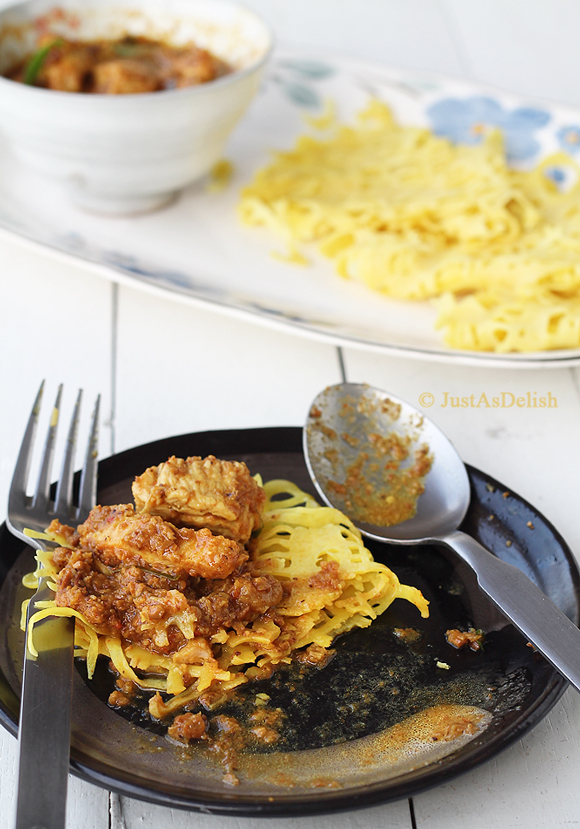 Wishing all my muslim friends & readers Eid Mubarak & Salam Aidilfitri. Share with me the dishes you will have for Eid celebration.

Roti Jala (Fishnet Crepe)
A Malaysian delicacy - lacy and net like crepes served with curries are usually eaten for breakfast or afternoon tea snack.
Ingredients
Roti Jala
120g (1 cup) Flour (60g Rice Flour + 60g Starch for gluten free option)
60ml (1/2 cup) Milk or coconut milk
180ml (3/4 cup) Water
1 medium Egg
½ teaspoon Salt
½ teaspoon Turmeric Powder
½ tablespoon Oil
Instructions
Roti Jala
In a big bowl, mix all the ingredients well together (except the oil).
Heat up a non-stick pan on medium heat. If using normal pan, grease it with an oiled kitchen towel.
Place the mold on a plate, pour some batter into the mold. Test the flow of the batter on the bowl, make sure it flows out well.
Bring the plate with mold over to the pan. make circular rounds or zig zag patterns around the pan to form the net patterns, as the batter flows through the holes of the mold.
After the crepe has turns light yellow, transfer it onto a large plate and fold it into triangle shape twice.
Continue with the rest of the batter.
Kuah Kacang Ayam (Satay Sauce Chicken)
Fragrant peanut sauce chicken, so good you can even eat it on its own
Ingredients
Kuah Kacang Ayam (Satay Sauce Chicken)
500g Deboned Chicken Thigh - cut into 2 inch pieces
500g (2 cups) Roasted Peanuts - pound / grind roughly
2 tablespoon Brown Sugar / Jaggery
1 teaspoon Salt
2 inch Turmeric Leaf - chiffonade (roll up and thinly slice) - optional if you can't find turmeric leaf
250ml (1 cup) Water
Chili Paste
10 Shallots
3 Garlic
1 inch Ginger
1 inch Lengkuas / Galangal
2 stalks of Lemongrass
10 Dried Chili - remove seeds & soak in warm water
Instructions
Grind chili paste ingredients in processor or pound with pestle & mortar into paste. If using blender, add some cooking oil to assist the blending.
Heat up a medium pot with 3 tablespoon of oil, add in chili paste and saute until the oil breaks away from the paste. Add chicken and saute 2-3 minutes until it is fragrant and cook through. Add in ground peanuts, turmeric leaf and 1 cup of water, bring to a boil and reduce heat to simmer for about 15 mins until the sauce thickens. Remember to stir the sauce occasionally so that it doesn't burn at the bottom of pot.
Finally add sugar & salt to taste. Serve warm with roti jala or nasi impit (compressed rice cake).