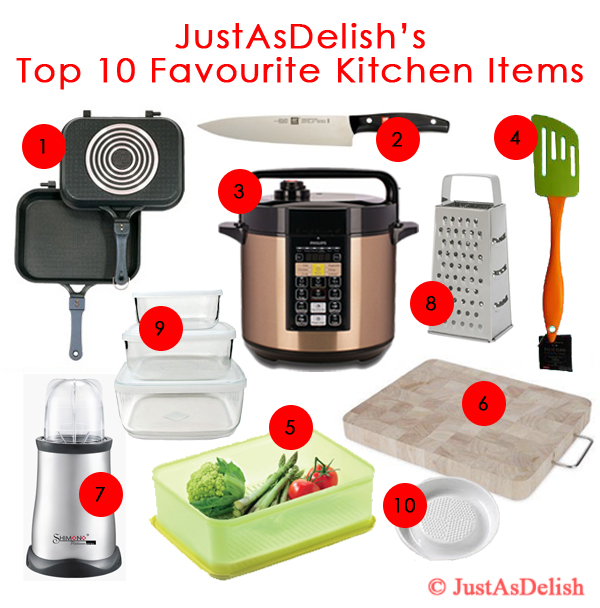 There's always the newest gadgets promising to slice, chop and cook better than the rest and before you know it, the kitchen is overflowing with food processors, electric squeezers and objects with interesting names like Mandoline, Microplane and Silpat. Of course, a well-equipped kitchen is any foodie's dream and the greater the variety of cooking utensils you have, the more you'll be able to do. But sometimes it's easy to overlook the essentials — those classic cooking tools that make it possible to prepare our food. Here's my top 10 Favourite Kitchen Items (essential & time saving items) that can make a lot of everyday food.  They are all very useful, practical, and inexpensive.
1. Wok & Pan
A wok (in chinese cooking) & a pan is essential. Now I use this Nutrilite Double-sided Grill Pan pan everyday to saute, or grill. It is non stick & pressurized, cooks fast with less oil or sometimes no oil, less smoke & grease. I love that it's hassle free, healthier and faster way of cooking.  I got mine during a Nutrilite promotion and it's no longer available. Similar double sided pan on at Lazada from RM190 or Amazon from USD98
2. Chef's Knife
If you had to survive in the kitchen with just a single knife, a good chef's knife is the ideal choice. The chef's knife is the most versatile, all-purpose kitchen cutting tool. This Zwilling J.A. Henckels is a wonderful knife and going strong. USD60 at Amazon
3. Electric Pressure Cooker
Want to cook more often? Get a pressure cooker. This Philips pressure cooker is perfect for busy cooks. Makes stews, curries, rice, porridge and soups in 30 minutes, and it even steams & bakes. RM499 at major departmental stores.
4. Heat Resistant Silicon Turner & Spatula
Who doesn't need more spatulas? I love silicon spatulas for cooking & baking, easy to clean and doesn't stained like the wooden ones.  Zwilling Silicone Turner on Amazon looks amazing, but I just go for Daiso spatulas at RM5 each.
5. Vegetable Storage Crisper
No more wrapping vegetables with newspaper. Or throwing away wilted vegetables because dinner plans changed and you're just too tired to cook. My vegetables now remain fresh & green up to 2 weeks in this Tupperware Modular Keeper with Grid. Saves a lot money especially organic ones are expensive. RM89.90 at Tupperware
6. Butcher Board
Get a chopping board that is made of real wood, it will be durable and last you for a long time. Back To Nature Butcher Board RM69.90 at Lazada.
7. Multipurpose Blender & processor
This Shimono multipurpose blender is a power packed mini processor that blend, chop, mixing, blending, whipping, grinding and more. RM299 at Shimono. or Premium Multi-Purpose Blender at Amazon.
8. Universal grater
Grater saves time when vegetables need to be chopped or sliced. From RM10 at your local supermarket.
9. Glass/Metal container set with cover.
I store my leftover meals in glass or metal containers, and reheat them straight away on the stove. From RM60 at departmental stores.
10. Garlic & Ginger Grater
I use garlic / ginger grater all the time, for quick stir fry or seasoning my salad dressing. RM5 at Daiso
What's your favourite kitchen item? Share with us in the comments below
Note: Amazon links above are affiliate links, if you click & buy the products, I will learn a couple of dollars.