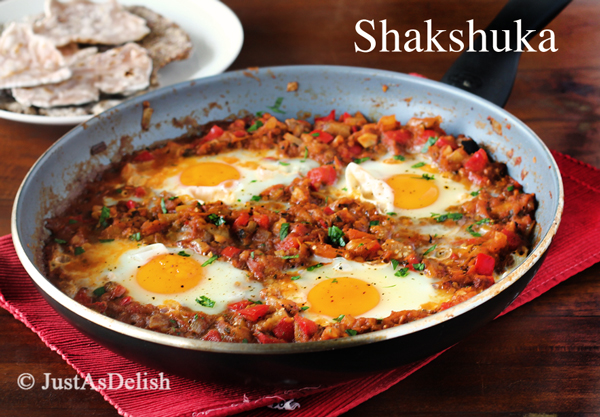 When I first saw Javelin Warrior made Shakshuka, I immediately cooked it for next day's breakfast. There's something about this "Eggs Poached in Tomato Sauce" that is so irresistible. I'm hooked on my 1st bite and Shaksuka is now one of my favorite brunch. I've made this dish many times, it's easy to prepare, makes a big breakfast/brunch and very delicious!
Javelin Warrior got the Shakshuka recipe from Helene of Masala Herb, an Austrian French expatriate in Goa India. According to Helene, Shakshuka is a favourite breakfast among the Israelis living in Goa, enjoyed with pita bread.
Later I found out that Shakshuka is a dish that traveled with North Africans, especially North African Jews, spread all over to Middle East and the Mediterranean. When I posted my Shakshuka photo on Google+, Yllona Richardson recommended me to try Israeli/Italian chef Yotam Ottolenghi's traditional preparation of Shahsuka, she said the recipe is a closer to the original recipe in North Africa. His recipe uses more herbs and does not require tomato paste. Yotam Ottolenghi's Shahsuka recipe with video can be found here.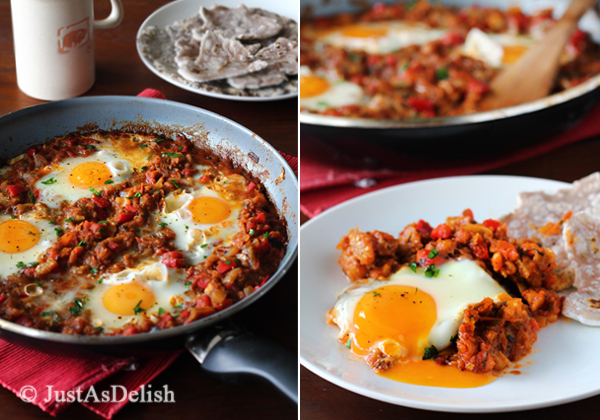 Look at this tomato egg goodness. Savour Shakshuka with bread, or just have it on it's own.  Whatever you do, it's perfect for brunch. Or any time of the day.

Shakshuka (Eggs Poached in Tomato Sauce)
Shakshuka (Eggs Poached in Tomato Sauce). North African dish. This tomato capsicum egg goodness is easy to prepare, very delicious and makes the perfect Sunday brunch.
Author:
Adapted from www.masalaherb.com
Recipe type:
Breakfast / Brunch
Ingredients
Olive Oil
1 big Onion - sliced
4 Garlic cloves - chopped
600g (about 4 large) ripe Tomatoes - roughly diced
1 small green Capsicum - roughly diced
100 ml Tomato paste (I replaced with 1 more tomato)
4 large Eggs
1 teaspoon Paprika Powder
1 teaspoon Cumin Powder
a pinch of Oregano / Thyme
Sea salt & freshly cracked Black Pepper to taste
Parsley for garnish
Instructions
In a medium frying pan, add the olive oil and fry the onion translucent throw in the Garlic too.
Add in the tomatoes and cook for 5 minutes.
Add in the rest of ingredients except parsley, and cook for 15 minutes on a low flame. If it is dry and stick to pan, pour in some water and mix well. Shakshuka is supposed to be dry, not watery liquid. Season with salt & pepper to taste.
minutes before serving, make 4 gaps in vegetable mixture and crack in the egg, one at a time. Cover the pan and cook on low flame for 5 minutes. The eggyolks should not be hard but soft cooked, so be careful not to overcook the eggs.
Garnish with parley & serve immediately with bread or just as delicious on this own.