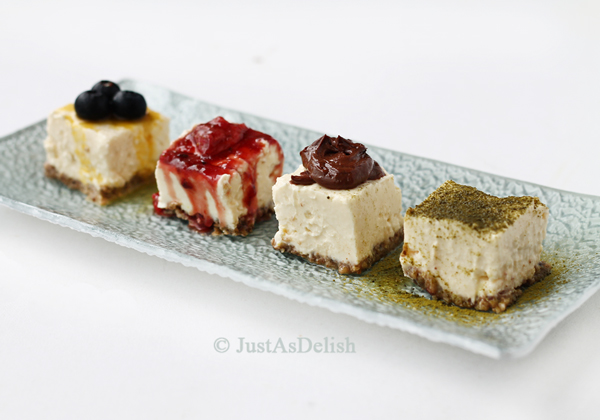 Every now and then, I do crave for rich & creamy desserts like cheesecakes. When I do come across recipes I like, I try to make the recipes lighter & healthier. The baked cheesecake requires patience (which I don't have when it comes to baking) and lots of spare time. This is a quick and simple no-bake dessert that is slightly healthier, that you would happily indulge. And doesn't these No Bake Ricotta Cheescake Bites with Pecan Base and colourful toppings make a pretty dessert?
The filling is just a combination of ricotta (yes, the earlier homemade ricotta recipe is for this) and cream cheese, flavored with lemon and honey; it's deliciously creamy when first produced, but sets up well once chilled. Adding ricotta with the cream cheese makes it lower in calorie (ricotta is half the calorie of cream cheese) and by making them into bite sizes, I get to control my portion intake. Instead of the traditional digestive biscuit-butter crust, I use pecan date crust for low carb & gluten-free alternative. Bits of ground pecan adds a nice flavour to the cheesecake.
This No Bake Ricotta Cheesecake doesn't have the firmness of a baked cheesecake, which usually contains eggs or cornstarch. Instead, it's quite a delicate thing. But it is firm enough to cut (carefully), and sit up straight on a plate. And good thing it doesn't require a springform pan.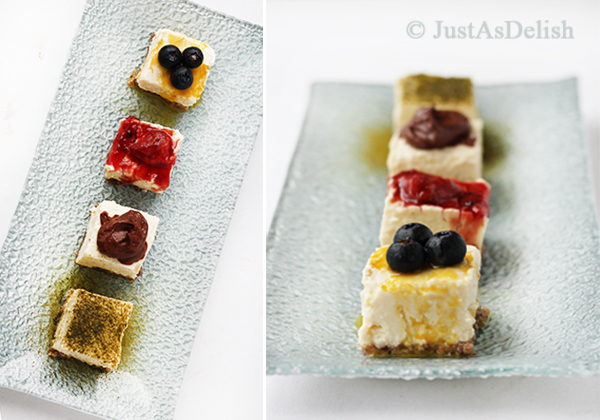 As always, I reduced the level of sweetness in my recipes, please add more sugar/honey if you don't find it sweet enough. My cheesecake bites are topped with what I have in my kitchen – Blueberry with passionfruit sauce, Strawberry sauce, Chocolate ganache and sprinkle of Green Tea powder. You could also top with any soft fresh fruits like berries, peaches or nectarines or  Or you can make a kind of berry sauce (just cook berries with a little water and sugar), and spoon it over the cheesecake.
Just as creamy and heavenly..

No Bake Ricotta Cheesecake Bites with Pecan Base
Quick & Easy No Bake Ricotta Cheescake Bites with Pecan Base - healthier, less calorie, gluten free and helps portion control
Ingredients
1 225g Cream Cheese - bring out from fridge to soften
1 225g Ricotta Cheese
1 tablespoon Honey, or to taste
Zest of 1 Lemon
Base
100g moist Dates - pitted
100g Ground Pecans or Walnuts
Topping
a handful of Blueberries
Passionfruit Sauce
Strawberry Sauce
Chocolate Ganache
Green Tea Powder
Instructions
Combine the Base Ingredients in a food processor.
Press the processed based evenly into bottom of a 20cm square tray/container (lined with parchment paper) to form a crust about ½cm thick.
Using the food processor or mixer, combine cream cheese, ricotta, honey, lemon rind and blend until smooth.
Spread cheese mixture carefully and evenly over crust, using a spatula or butter knife to smooth top. Chill for 1-2 hours, or until set.
When you are ready to serve, cut into 4cm squares and add the topping.
Blueberry with Passionfruit Sauce Topping
Scoop out passionfruit pulp and press out the juice using a sieve. Cook the juice over low heat with sugar until thicken. (or you can add some pectin to juice to thicken). Place blueberry on cheesecake and spoon passionfruit juice over it.
Strawberry Sauce
Cook strawberry with a bit of water & sugar, until slightly thicken.
Chocolate Ganache Topping
Cook 2parts cream, take off heat and stir in 1 part 70% chocolate until chocolate have melted.
Notes
* This is cheesecake bites is to be served immediately. The cheesecake bites does not keep well because the liquid from the cheese seeps into the base and makes it slightly watery the next day. * You can also opt for digestive biscuit base. Combine 16 crushed biscuit with ¼ cup ground pecans or walnuts & 3 tablespoon melted butter